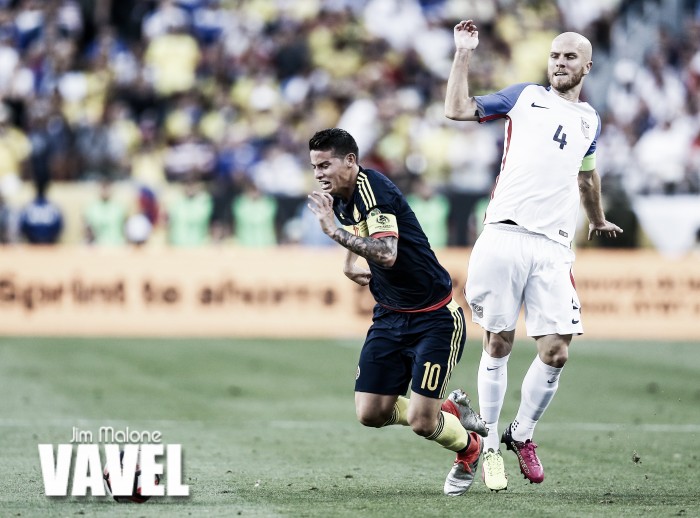 The United States were beaten 2-0 by Colombia in the opening game of the Copa America Centenario on Friday night. A handful of United States players reflected on the result after the game.
Looking ahead
Captain Michael Bradley said post-match that it's "time to move on" from the result, with plenty still to play for in Group A. The midfielder went on to say, "It didn't go our way tonight, now we have no choice but to respond and come back in a big way on Tuesday."
Bradley also praised Colombia's tactical display, saying "they were very organized" and "were able to make things difficult on us." The 28-year old maintained that the team need to respond in a big way in games two and three.
Jermaine Jones, who played alongside Bradley in a three-man midfield, also highlighted that the side's "main focus has to be on us [United States], not on other teams." The Colorado Rapids midfielder reiterated Bradley's comments by saying, "You have to go into that game [against Costa Rica] and you have to beat them...It's a big game."
The Big Decision
DeAndre Yedlin, meanwhile, addressed the most controversial topic of the night: a penalty after he handled the ball inside the box, just before halftime.
Farid Diaz's cross in the 42nd minute struck the right back's hand as he turned away from the ball, causing the referee to point to the penalty spot.
Yedlin told the media, "In a perfect situation, I don't turn my back on the ball...Unfortunately, it got my hand and the ref thought it was enough to call a penalty."
Yedlin went on to say that it "all happened so fast", but he did feel it hit his hand.
The defeat leaves the hosts with a huge test against Costa Rica on Tuesday in a game they must win and Klinsmann's men have plenty of work to do to get out of the group stage.