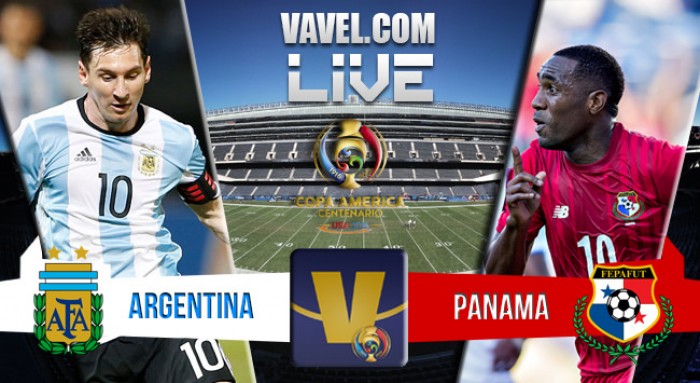 That's it! Argentina wins 5-0! They stay at the top of Group D with the win.
90' : GOAL AGAIN! IT'S SERGIO AGUERO!!
87' : ANOTHER GOAL FROM MESSI! THIS MAN IS UNBELIEVEABLE!
84' : Ball is in the back of the net thanks to Sergio Aguero but he is ruled offside.
79' : GOOOOOAL FOR ARGENTINA! IT'S MESSI AGAIN WITH THE FREE KICK!
73' : Chance for Panama on the counter! They have a 2 on 1 but Mascherano breaks it up! What a missed chance.
68' : GOAL FOR MESSI! A DEFLECTION OFF OF HIGUAIN GIVES THE BALL RIGHT TO THE LITTLE MAN AND HE DOESN'T MISS! 2-0 ARGENTINA!
66' : Messi's arrival has seemed to be a spark for Argentina.
Messi is subbing in!
Messi is warming up.....
54' : Chance for Argentina! Higuain is played in but his shot is blocked at the last moment!
53' : Gaitan has a chance but his volley goes high over the bar. The flag was up as well so it wouldn't have counted anyway.
48' : Chance! A cross comes in for Argentina and Marcus Rojo's shot takes a deflection off the defender and the ball trickles to the goal line but it's gathered by the keeper.
48' : Yellow card for Armando Cooper of Panama for essentially slapping Nicolas Gaitan, who was running down the wing.
46' : Second half has started!
That's the end of the first half! Argentina lead 1-0!
2 minutes of stoppage time
43' : Big blow for Argentina....Di Maria walks off injured. Erik Lamela comes on for him.
39': Argentina back to controlling possession....
Rough for Panama. They played so well up until that red card. Impressive bounce back from giving up a goal but then it's wiped out by a red card.
32' : RED CARD FOR PANAMA! IT'S ANIBAL GODOY WHO GETS SENT OFF!
29' : CHANCE! A free kick is forced to be saved by Romero and on the corner following it, a shot has to be blocked in the box. Panama is pushing right now....
28' : Free kick for Panama just outside the box
26' : Di Maria found some space on the left wing but he is ruled offsides.
23' : Crowd chanting for Lionel Messi. Sadly don't know if they will be enough to bring him on in the first half.
20' : Panama get their first effort on goal as Sergio Romero is forced to make a save but saves it easily.
18' : Chance for Panama! A free kick is floated towards the right post but its header goes just wide.
17' : Javier Mascherano and Blas Perez get into it. Fiesty so far.
12' : Panama with back to back corners and are now forcing pressure.
8' : Argentina with another chance! Gonzalo Higuain forces a good save from Alex Rodriguez!
7' : GOALLLL ARGENTINA. IT IS NICOLAS OTAMENDI WHO GETS A HEADER ON TARGET OFF A FREE KICK AND IT GOES IN! 1-0 ARGENTINA!
6' : Blas Perez earns a yellow card and he is suspended for the next match against Chile.
4' : Panama force a corner and the initial header looks to cause problems but a foul wipes away the threat.
1' : Argentina force a corner......but a foul inside the box wipes out the corner threat.
1' : Here we go! Panama will kick it off going from right to left.
National Anthems are done. We are all set for kickoff!
Teams have been warming up for quite a while now. Biggest crowd out of any the Chicago games so far, from what it looks like from the press box.
For Panama : Penedo, Miller, Gomez, Perez, Cooper, Rodriguez, Machado, Pimentel, Henriquez, Quintero, Baloy (Captain)
Lineups announced! For Argentina, the same XI that started against Chile : Romero, Mercado, Di Maria, Fernandez, Higuain, Funes Mori, Mascherano (Captain), Rojo, Otamendi, Banega, Gaitan
The key man will obviously be Perez who has scored all of Panama's goals so far in Copa America. He is a danger man in the MLS for the Vancouver Whitecaps and is proving to be the same for his national team. The opening goal he scored was Panama's first ever in Copa America and he will be looking to take advantage of a shaky Argentina backline. Both Nicolas Otamendi and Ramiro Funes Mori are tall and big defenders but they are prone to silly mistakes at the back. In all honesty, the only defender that impressed against Chile was Gabriel Mercado who was playing as the right back. We saw in last year's Copa America that Argentina can switch off on defense and Perez will be hoping to take advantage if that moment arises this year as well.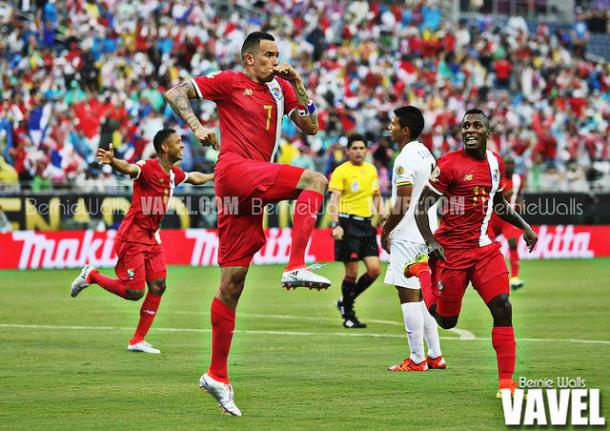 Panama got off to a great start in Copa America Centenario as well as they beat Bolivia 2-1. It was a brace by Blas Perez that helped Panama seal the three points for his home side. He scored in the 11th minute to give Panama the lead. But it was canceled out in the 53rd minute thanks to a good chip over the goalkeeper by Juan Carlos Arce. But once again, it was Perez who scored for Panama and his 87th-minute goal turned out to be the winner. In a group with the likes of Chile and Argentina, this was a game Panama need to win and that is exactly what they did. Now the knockout stages are a real possibility if they are able to grab at least a draw from their next two games.
Mascherano, who plays centre-back for his club team FC Barcelona, plays in his more natural role of the defensive midfielder for Argentina. He sits in front of the back four and cleans up any mess before it can get to the center backs. He plays great at centre-back but he plays even better at CDM. It's amazing to see a player so versatile in defense and it also helps that he is not willing to get down and make a tackle. In an Argentina defense that can sometimes be prone to silly errors, Mascherano is the leader in terms of cleaning everything up. If not for him, Argentina would not have made the World Cup final. His tackle on Arjen Robben in the dying minutes of the game helped keep the game tied and keep Argentina alive in the tournament.
If Messi doesn't start, the two important players for Argentina are already on the pitch. Those two players are Angel Di Maria and Javier Mascherano. Di Maria was the main man on offense against Chile and scored the opening goal by receiving a great through ball, running right by his marker, and slotting it home. It was a goal that seemed to open up the game for his team and the PSG midfielder. Di Maria is a fantastic player that has struggled with injury when it comes to the national team. But he was healthy and causing problems down the left wing. Without Messi, Di Maria is the only player capable of creating shots for others. He can attack directly and simplify things in the final third. He is a special player and shows a bit of that against Chile.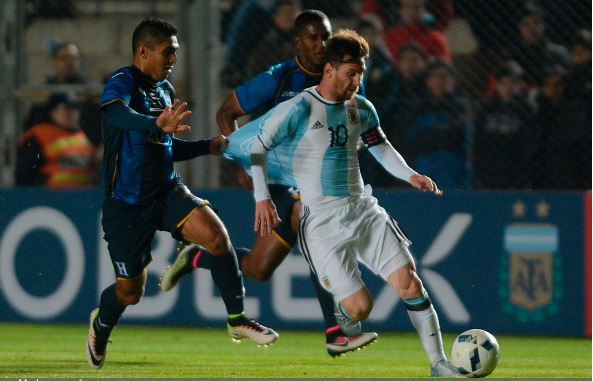 Lionel Messi, who is no doubt Argentina's best player, didn't feature in their clash against Chile and is still hampered by a back injury that he suffered weeks before the competition. It could have been much worse as it looked like he received the same knee in the back injury that Neymar received when he got hurt at the World Cup. But thankfully for Argentina and FC Barcelona, Messi escaped mostly unharmed with the exception of a bruised back. But he trained with the team this week and could feature this week. Even if it is for 20 minutes, Messi could use the playing time. Argentina doesn't really need him until the knockouts but at the same time, they don't need him to be rusty as well.
Argentina is coming off a great win against South American rivals Chile on Monday. Even without superstar Lionel Messi, Argentina took control of the game thanks to two first-half goals by winger Angel Di Maria and midfielder Ever Banega. They each took advantage of a mistake in the Chilean defense and both beat keeper Claudio Bravo at his near post with Banega's coming in via a deflection. Argentina was able to get revenge on Chile after losing the final against Chile in the Copa America last year. In the end, it was a 2-1 win for Argentina as they took control of Group D.
Hello, and welcome to VAVEL USA's live coverage of Argentina - Panama in the Copa America Centenario at Soldier Field in Chicago, IL. My name is Vijay Vemu and I will be providing updates for you as well as coverage for the game. The match will start at 9:30 PM Eastern Time, so make sure to stay tuned here for updates.