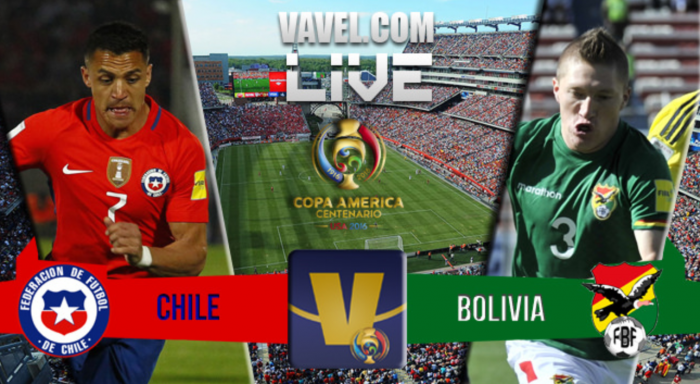 A crazy match! I hope you enjoyed tonight's LIVE of the match. Thank you for following along. Stay tuned for complete post match coverage from the players and coaches here in Foxborough. From Gillette Stadium, I'm Josef Leizerowitz, signing off.
Fulltime: Chile 2 Bolivia 1
90+11' Close for Bolivia! On the restart, Bolivia almost scores. A shot in the box is just wide of the post.
90+10' GOL CHILE! Vidal converts, and Chile takes the lead in the 100th minute!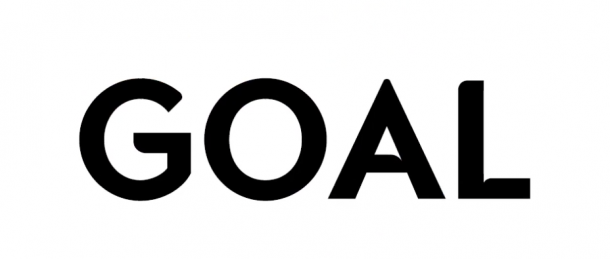 90+7' PENALTY TO CHILE! A ball played into the box is touched by a Bolivian arm.
90+' Eight Minutes of Added Time in the Second Half
90+3' Play finally resumes after the injury scare.
90' A Bolivian player is down injured as he took a bicycle kick to the face.
87' Close! Alexis and Vargas both come close to scoring, as the ball was pinging around the six yard box.
82' Substitution: Veizaga on for Duk (BOL)
79' Yellow Card awarded to Pedro Pablo Hernandez (CHI)
78' Yellow Card awarded to Jhasmani Campos (BOL)
77' Substitution: Fuenzalida on for Isla (CHI)
74' Close again! Alexis gets a chance in the box, but he can not control the ball and it ping pongs off the goalkeeper and out of bounds.
73' Save! Alexis' free kick and the rebound are both saved by Lampe.
71' Free kick for Chile right on the edge of the box.
68' Substitution: Puch on for Orellana (CHI)
65' The match has opened up since the Bolivian equalizer. Both sides believe they can achieve a victory tonight.
61' GOL BOLIVIA! A spectacular free kick goal by Jhasmani Campos, who had just been brought into the match. A masterpiece of a goal for Bolivia! 1-1.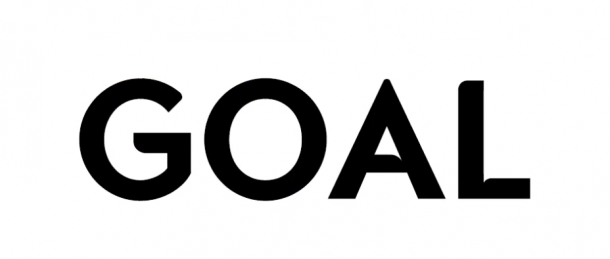 58' Substitutions: Vargas on for Pinilla (CHI), Castro out for Campos (BOL).
55' Alexis taken down in the box, but no penalty given....
54' Substitution: Ramallo on for Duk (BOL)
46' GOL CHILE! Right on the first attck of the half, Vidal slots home a ball from the top of the box. 1-0 Chile.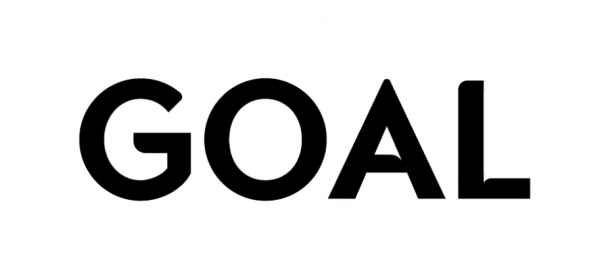 46' Second half underway
Halftime: Chile 0 Bolivia 0
45+' Bolivian keeper wasting a lot of time, and the Chile players crowd the ref to complain.
45' Three minutes of added time in the first half
40' Close! Scramble in the box with Vidal and other La Roja players attempting to put the ball past a scrambiling keeper, but Zenteno blocks the shot on the goal line!
37' Hernandez's volley from the top of the box is just over the bar.
27' Chile continue to lack the sharpness in the final third, while Bolivia have looked incouring on the counter.
17' Bolivia's first chance at goal is a shot wide of the right post.
14' Nice passing by La Roja spirngs Aranguiz into the box, but the ball goes out for a goal kick.
8' Pinilla's header is just wide of the goal.
7' Chile awarded a free kick on the left flank outside the box.
4' Yellow Card awarded to Ronald Eguino (BOL)
3' Chile with most of the possesion so far....
0' Kickoff in Foxborough!
The teams are on the pitch for national anthems!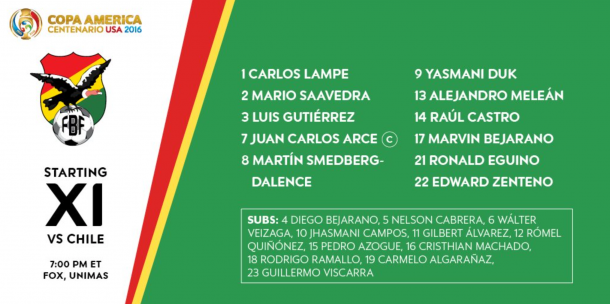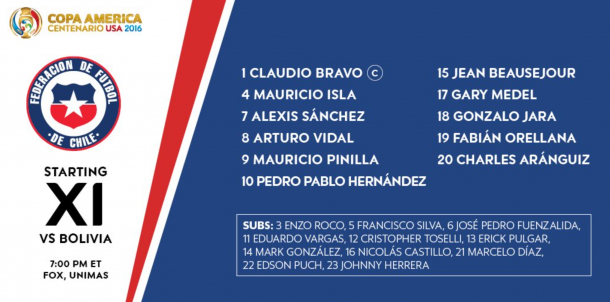 Opta Facts: This will be the 14th Copa America meeting between these two Nations: Chile lead by nine wins (including the match in 1953 suspended due to Bolivia retirement when they were 2-2) to two, with two draws.
Chile has been dominating against Bolivia throughout its history, winning 26 and only losing six games. There have been 10 draws in the history of this matchup as well. Bolivia has not beaten Chile since 2000 in a World Cup qualifying match.
"We know we're facing a very mature team, very strong players, but I think that tomorrow will be another game, 11 against 11, and we will demonstrate that Bolivia is really motivated to achieve a victory," Arce said.
Juan Carlos Arce, captain of Bolivia, knows that they have nothing to lose when other teams face them.
"They're internationally recognized but they're human beings just like us," Bolivia manager Julio Cesar Baldivieso said, "We will be careful but we will also know that we can play a pretty good game."
Bolivia is not worried about facing world renowned Chile.
Opta Facts: Chile is unbeaten in their last four Copa America clashes against Bolivia, winning three and scoring four goals per game on average in the process.
"Logic and statistics would suggest we should win against Bolivia. But it would be a tremendous mistake to rely on that - we know that we must win. We know the Copa America is very tough and we have to continue to improve."
Former Liverpool striker Mark Gonzalez told Chilean media, "There will always be criticism and of course it affects you but it is part of our job to deal with it. If we beat Bolivia it will be a different story. The team is confident of what it can do despite what happened against Argentina. But it would be a mistake to take Bolivia for granted because strange things can happen in the Copa America as has been demonstrated in this tournament already."
Opta Facts: Only against Brazil (3.9) have Bolivia have conceded more goals per game than versus Chile in the Copa America.
"After the game we tried to analyze what happened and after a few days we agreed on the diagnosis," Pizzi said Thursday. "We made many mistakes against a very difficult rival that is unforgiving with any mistakes that you make in this game. With regards to what's happening, well, we continue with the same hope. We are optimistic, we look forward to this game."
"My philosophy is to respect any rival that we face," Pizzi said. "I have done this, I have had this approach with all the other national teams, even with teams that are not going through a good moment, who are having a rough time.
"I have the highest respect for any team that we face and Bolivia will be no exception."
Chile manager Juan Antonio Pizzi has seen his team lose three straight games, not the best start to his La Roja stint.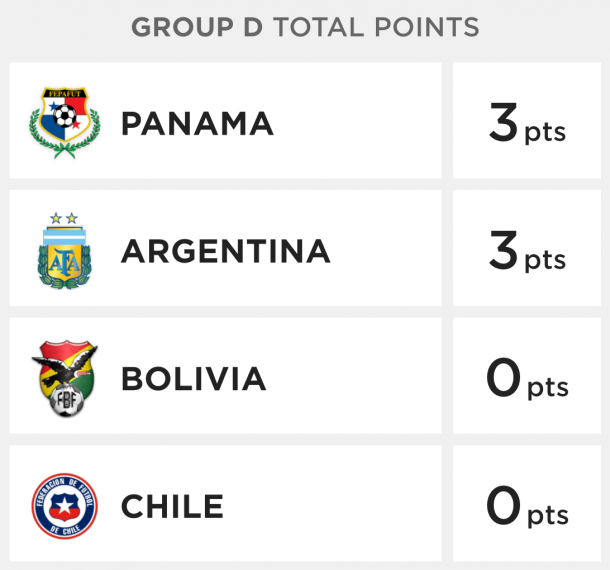 Opta Facts: Bolivia has failed to find the net in four of the last six Copa America encounters against Chile, scoring two goals in each of the other two matches.
Bolivar striker Juan Carlos Arce equalized the game at the 54th. Perez scored his second goal of the contest with three minutes left before full time to seal the win for Panama at Camping World Stadium in Orlando.
Blas Perez scored the opening goal in the 11th minute for Panama, who took care of the one-point lead until the halftime break.
Bolivia opened up their Copa America play in Orlando, losing 2-1 to Panama.
Opta Facts: Chile has found the net in 12 of the 13 previous Copa America meetings against Bolivia, averaging 3.5 goals per game.
"If you make mistakes in these games you pay a high price and that is what happened today," Chile goalkeeper Claudi Bravo said in a televised interview after the game in Santa Clara.
Argentina sprung to life in the second 45 by scoring twice in ten minutes to move top in the crucial match of Group D. Goals from Angel Di Maria and Ever Banega were enough to see off the defending champions.
Chile grew into the game after a slow start and Sanchez was again the danger man moments after his first chance. His curling free kick from 25 yards out forced Romero to come across and catch. The first half had plenty of action but no goals to show for it, despite both sides coming close on various occasions.
Chile lost to Argentina, 2-1, in their first group match.
Hello, and welcome to VAVEL USA's live coverage of tonight's crucial Group D encounter at the Copa America Centenario! My name is Josef Leizerowitz, and I'm genuinely thrilled to be bringing you tonight's match between Chile and Bolivia. We've got plenty of time until kick-off, so sit back, relax, and let me walk you through the build-up to the match.