 After a league-wide international break, Seattle Reign is eager to host the Houston Dash this weekend in the Pacific Northwest.
Seattle Looking Low
Despite typically coming out on top of the league by the end of regular season, the two-time shield winners have found themselves in seventh place, right under Western New York Flash and Sky Blue FC. The unusually low spot on the table is something Seattle probably hasn't seen since their rough inaugural season in 2013. In the last month, the Reign have only scored three goals, each occurring in separate games. They were only able to come away with three points total in two out of five games played throughout May, with the last game resulting in a scoreless draw against Portland Thorns FC.
It's been admittedly difficult for this team from the west to perform as they typically do with one of their key midfielders, Jessica Fishlock, ruled out due to a fractured tibia. Lucky for them, the Wales international was able to return to the pitch in Seattle's friendly against Arsenal Ladies at the end of May, and she made her NWSL return in the match against Portland two weeks ago. Despite having Fishlock back on the field, Coach Laura Harvey signed Japanese midfielder Rumi Utsugi last week. Utsugi has competed in the past three World Cups for Japan, taking the championship in 2011 and runner-up in 2015. The accomplished midfielder, who is expected to join the club in early July after her contract with current French team Montpellier HSC ends, will definitely add a spark to an already strong Seattle attack.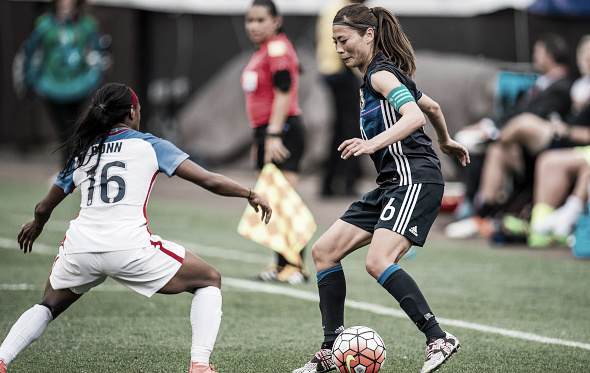 Dash Rained Out
Houston's weather had been causing problems all over the city a few weeks ago, and unfortunately the Dash was no exception. Their match against Washington Spirit two weeks ago was postponed due to weather conditions, and will be made up sometime later in the season. This left the Dash without a game and practice was a little difficult to plan with the weather conditions around town. With one less game and their current record, they sit right below Seattle on the table at eighth place, one point separating the teams.
Despite missing out on their scheduled NWSL game, the Dash were able to travel to Dallas last week to play a friendly against FC Dallas, a new team in the Women's Premier Soccer League. Playing in the rain, the team was able to pull through with a 3-0 victory despite eight international players' absences. Coach Randy Waldrum was able to experiment with lineups we could very much see when international players depart for Rio. Forward Melissa Henderson returned to the field in this match after spraining her MCL in preseason, scoring the game's first goal. A performance like this should please Waldrum, seeing as they've been struggling to find the forwards that are able to produce and efficiently play off of each other when it comes to game day.
Result Up in the Air
All previous match ups between Seattle and Houston have been much kinder to the team from the Pacific Northwest. Houston has yet to win or draw against the 2014 and 2015 shield winners. Their latest match up resulted in a 2-1 victory for the Reign during Portland's preseason tournament. Seattle has always been the stronger side in the past, but - as with everything else this historic fourth season - things could possibly be changing.
Despite the depth of this Seattle side, the team has been struggling to find goals where they need them the most, letting their standings slip quickly as the season goes on. With Fishlock back, she'll allow midfielder Kim Little to play higher, letting the Scottish international do what she does best: score. Meanwhile, Houston's bench is arguably deeper than it has ever been, and they're on a mission to prove they're just as good as anyone else. Though they still struggle with finding the right combination of attacking players up front, if Waldrum can tweak it right this weekend, they're looking to earn their first win against Seattle.
Seattle and Houston kick off 7:00 PM ET at Memorial Stadium on Sunday, June 12.