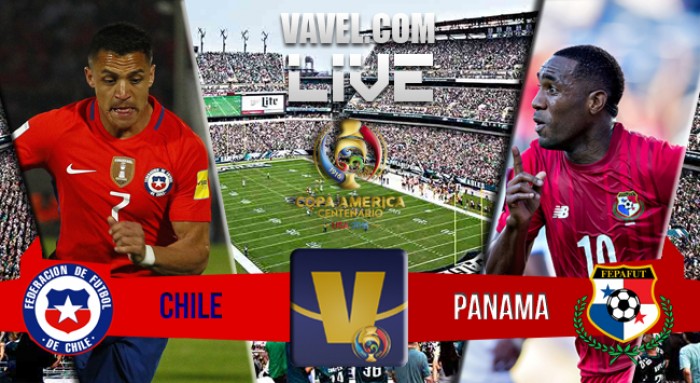 Signing off, this is Eevry Goren, thank you for joining us for this exciting match.
FULL TIME CHILE 4 PANAMA 2
90+1' Free kick to Panama and a yellow card for Isla. The free kick is hit over the bar from the left wing.
89' Sanchez powers home Fuenzalida's cross for a fourth goal!
GOAL SANCHEZ
87' Puch barrels past a Panamanian defender but his shot his parried wide by Penedo.
85' Cummings clears for a Chile corner, but leaping kick from Vidal sails over the bar.
84' Free kick to Chile hit well wide by Arturo Vidal.
83' The attendance has been announced, it's 27,260!
82' Gabriel Torres found himself in miles of space but the Colorado Rapids striker was way offsides.
80' Luis Henriquez skies the attempted cross.
75' Arroyo bundles the ball across the line for a Panama goal after latching onto the rebound from the free kick.
GOAL ARROYO
74' Panama with the free kick following a Chilean hand ball
71' Alberto Quintero comes out for Ricardo Buitrago
70' Chilean fans with the wave across the stadium!
68' Diaz's free kick is punched clear emphatically by Penedo.
66' Torres is played into space but it's called offside for Panama.
63' Chile in control at the moment, Panama can barely get a touch.
61' Edson Puch comes in for Jean Beausejour.
59' Arroyo's shot from right outside of the box rolls just wide of goal much to the relief of Claudio Bravo. Panama's best spell of the half.
57' Machado's shot from the edge of the box is nowhere near goal.
55' Torres with yet another opportunity in front of goal but Isla's tackle causes the shot to go over Claudio Bravo's goal.
54' Substitute Gabriel Torres evades the tackles of four different Chile defenders but his curling effort on goal is just wide.
50' Alexis Sanchez hits the half volley into the back of the net following a lofted pass across the box from Vargas.
GOAL SANCHEZ
48' Sanchez plays in Beausejour but Machado tackles the ball away for a Chile corner.
46' Substitute Abdiel Arroyo nearly levels it for Panama!
SECOND HALF KICK OFF IS UPON US
HALF-TIME 2-1
43' Chile lead! Vargas headed home from a Beausejour cross from the left wing.
GOAL EDUARDO VARGAS
40' Beausejour skies the shot from thirty yards out after collecting Sanchez' rebound from the freekick.
37' Chile earn yet another corner, but Gary Medel's headed effort falls into the grateful arms of Penedo.
34' Luis Henriquez with the tackle on Vidal but no card is given.
33' Panama foray into the Chilean half but Camarago's cross is headed to safety by Gonzalo Jara.
32' Mauricio Isla crosses from deep but Eduardo Vargas' header drags agonizingly wide of goal.
29' Panama are struggling to get out of their own half at the moment.
28' Vargas' attempted volley goes wide after he latched onto Vidal's blocked shot.
27' Roberto Nurse with the wonderful opportunity on the counterattack but his pass to Tejada is intercepted.
25' Fuenzalida's last ditch attempt to keep the ball in play falls kindly into the arms of Jaime Penedo.
24' Fuenzalida wins a corner for Chile following a poor attempted cross ricocheting off of a Panamanian defender. It's been all Chile since their equalizer.
22' Vidal puts the header wide of goal following a cross from Alexis Sanchez on the left wing.
21' Gabriel Gomez with another lofted ball into Tejada whose header falls to a Chilean defender.
18' Araguiz with the shot following a lofted ball in from Vidal but claimed well by Penedo.
GOAL EDUARDO VARGAS
15' Sanchez' initial shot is kept out of goal by Penedo but Vargas slams in the rebound.
14' Cummings clears the ball with a dramatic overhead kick before Sanchez can latch onto it right in front of the goalkeeper
11' Vidal with plenty of space in the box following a pass from Araguiz but the assist referee called offsides.
10' Effort from the corner for Chile but the ball is cleared and Chile reset the attack once again.
8' Medel plays a long ball out from the back but it floats past the players out of play. Chile are struggling to find an incisive pass early on.
6' Miguel Camarago's shot from distance slipped through the hands of Claudio Bravo for the first goal of the match.
GOAL PANAMA
5' Gabriel Gomez with the free kick floated into the box but Luis Tejada can't get to it
3' Fuenzalida cuts in from the wing to earn the first corner of the match but no one pounces on Sanchez' delivery, goal kick Panama.
1' Chile lose possession in midfield after a misplayed pass and Panama pounce on the ball for a counterattack.
0' Kickoff is upon us at Lincoln Financial Field!
The national anthems have concluded followed by a moment of silence for the victims of the Orlando attack and we're ready for kick off.
And the players are walking out!
The Panamanian starting line up here
With a little under a half an hour to go till kick off the teams are out and warming up! To view the live feed click here: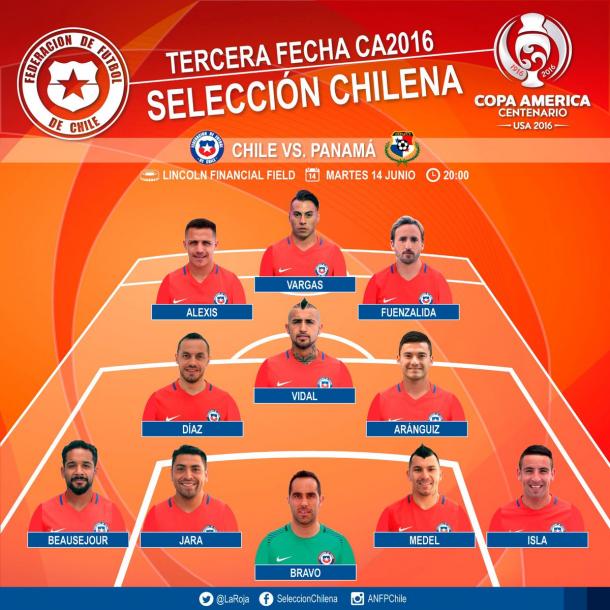 With just a little over an hour before kickoff, the starting lineups are out. First, for Chile:
As for Panama, the inclusion of Luis Tejada for the suspended Blas Perez should not change the formation or the approach of the team going forward. Tejada, who stands at 6ft ½ in is a physical striker and an excellent header of the ball much like Perez. Tejada is likely to play the lone forward role against Chile. Defensively, Gabriel Gomez will be expected to break up attacks for the Panamanians who will look to remain compact against the pace and counter attacking ability of Alexis Sanchez and company. The former Philadelphia Union man is all-time leading appearance maker for Panama with 127 matches since 2003. He's likely to play the holding midfield role as he did in the three-man midfield that Panama played against Argentina and could have a number of different midfielder partners given Godoy's suspension with Amílcar Henríquez the most likely option to sit aside him and Valentin Pimental who appeared against Argentina as well.
Despite failing to score a goal or assisting a goal, it's no surprise that when deployed in his natural position which allows for more space to operate for Sanchez, Chile won their match.
Offensively, Sanchez has been deployed at both his natural right wing position and his less preferred central striker role through two matches in the tournament. Sanchez' pace and goal scoring prowess remain his biggest assets with the Arsenal man accumulating 31 goals in 97 appearances for La Roja.
Tactically, both Alexis Sanchez and Arturo Vidal remain key players for Chile despite their less than stellar performances. Vidal and fellow midfielder Charles Aránguiz are likely to have their hands full against a very physical Panama side who've committed 37 fouls in two matches and accumulated 11 yellow cards in the process.
Also missing for Panama is Anibal Godoy of Major League Soccer side San Jose Earthquakes. Midfielder Godoy is suspended for the match having picked up two yellow cards in the first half of Panama's 5-0 loss versus Argentina. Also missing are Armando Cooper and Felipe Baloy of Arabe Unido and Atlas respectively, also through suspension.
A number of notable players will be missing for Panama including Panama's sole scorer in the tournament, Blas Perez of Major League Soccer side Vancouver Whitecaps. Perez, whose two goals secured Panama's first ever Copa America victory against Bolivia on June 6th in Orlando is suspended for the Chile match after picking up his second yellow card of the group stage against Argentina in Chicago. Perez is Panama's second all-time leading scorer with 41 goals in 107 matches and is expected to be replaced in the lineup by Panama's all-time leading scorer, Luis Tejada. Tejada, who plays for Juan Aurich in Peru's first division holds the all-time goal scoring record for Panama with 42 goals in 92 games. This would be Tejada's first start of the tournament, having come off the bench on two previous occasions.
Should the two nations draw, Chile would go through on goal difference boasting a +0 goal difference compared to Panama's -4.
Due to the nature of this tournament being Panama's introduction to the Copa America, neither have met each other within the context of the tournament; however, Chile and Panama have played each other on three occasions all time, the first being a 6-1 win for Chile in March of 1952 at the Panamerican Championship, the region's first attempt at a united Copa America as well as friendly matches including a scoreless draw in June of 2008 and a Chilean 2-1 victory in January of 2010.
Both Chile and Panama sit on three points through two matches each in Group D with similar results, having lost to Argentina, 2-1 and 5-0 respectively as well as having beaten Bolivia 2-1. With Argentina having qualified for the next round, this leaves Chile and Panama to duke it out for the remaining spot in the knockout round. Given that Chile are the current holders of the Copa America, having won the 2015 edition against Argentina on penalties, they'll be itching to retain their crown despite some regarding the tournament as a money making opportunity as opposed to a legitimate tournament. Despite being the current holders, Chile has had a less than stellar start to the tournament, having lost to Argentina in Santa Clara in a lackluster performance followed by a labored victory against Bolivia which required a penalty in the tenth minute of added time to seal the win for the Chileans. European-based stars Alexis Sanchez of Arsenal and Arturo Vidal of Bayern Munich have been criticized in the process, having not performed to expectations. Panama meanwhile appears to be enjoying the experience in their second major tournament in the space of a year having finished in third place at the 2015 CONCACAF Gold Cup following a penalty shootout victory against the United States at PPL Park in Chester, Pennsylvania.
Chile qualified for the tournament automatically as a member of CONMEBOL whereas Panama were one of two teams to win the Copa América Centenario qualifying playoffs in January when they defeated Cuba 4-0 in Panama City, the other being Haiti who defeated Trinidad and Tobago 1-0.
Hello, and welcome to VAVEL USA's live coverage of tonight's do or die Group D encounter at the 2016 Copa America Centenario! My name is Eevry Goren, and I'm pleased to be bringing you tonight's match between Chile and Panama. We've got plenty of time until kick-off, so sit back, relax, and let me walk you through the build-up to the match.