 After four games, the Seattle Reign are finally able to come out on top with a win. Forward Havana Solaun scored her first professional goal, helping the team climb up the standings with their win against the Houston Dash.
Even first half
With both teams looking for a necessary three points, both teams came out eager to score. It was a fair half between the two teams with chances coming from both sides as soon as the whistle blew. With the international break last week, Seattle and Houston had some players who had played earlier in the week. While Seattle was able to have all their internationals return for the match, the Dash was missing English forward Rachel Daly, who is still in England trying to get her visa worked out.
Midfielder Jessica Fishlock was everywhere, doing her best to create chances for the Reign. It didn't seem to be enough due to goalkeeper Lydia Williams making saves left and right. Houston was able to get a few shots in too due to the return of U.S. midfielder Morgan Brian. Brian's presence in the midfield seemed to be able to keep the Dash together and forge decent attacks as the half went on. Neither team was able to score as time ticked down, and they left the game to be decided in the second half.
Classic Seattle breaks out
In the first couple of minutes of the second half, the Dash were alive with energy and a hunger to score. Players such as Chioma Ubogagu and Kealia Ohai were able to link up and create chances for their team. This didn't last long though, because Kim Little and Jessica Fishlock suddenly came alive when Seattle came away with the ball, opening up the game for themselves and their teammates. Suddenly, Houston was struggling to do so much as get the ball out of their half. Seattle's number of chances grew and Williams was having a busy night in goal.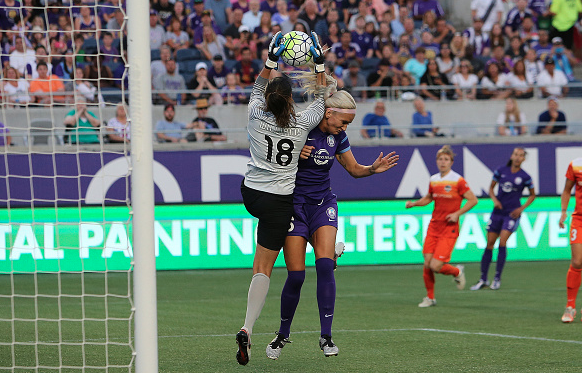 Patient build up by the Reign was rewarded in the 66th minute when forward Havana Solaun scored her first goal of her professional career. A series of passes outside of the box ended up with Solaun receiving the ball twenty yards out. With a touch and a look up, the young forward found the back of the goal, giving Seattle the lead. The goal was more than enough to rattle the Houston Dash, who could not seem to come back after the goal.
As the game wore on, the Dash's play lacked momentum and urgency. Meanwhile, Seattle was alive, with almost every single player being included in their attacks. Houston coach, Randy Waldrum, used substitutions in hopes for an answer to Seattle's goal. He even took out right back Allysha Chapman, replacing her with a high positioned Stephanie Ochs, but when the final whistle blew Houston was scoreless against a powerful Seattle.
What this means for both teams
With this win, Seattle's record now changes to 3-3-2 at sixth place. This Seattle side showcased tonight is a team most NWSL fans are more familiar with. Jessica Fishlock's return was definitely noticeable with how active she was throughout the game. This game drops the Houston Dash's record to 2-4-1, sliding them down to eighth on the table. The questions for Waldrum and his team grow louder as they struggle to win and score goals.
The Seattle Reign will travel to Yurcak Field next Sunday to face east coast team Sky Blue FC. Meanwhile, the Houston Dash will return back home to BBVA Compass Stadium for a match again two-time champions FC Kansas City on Sunday as well.