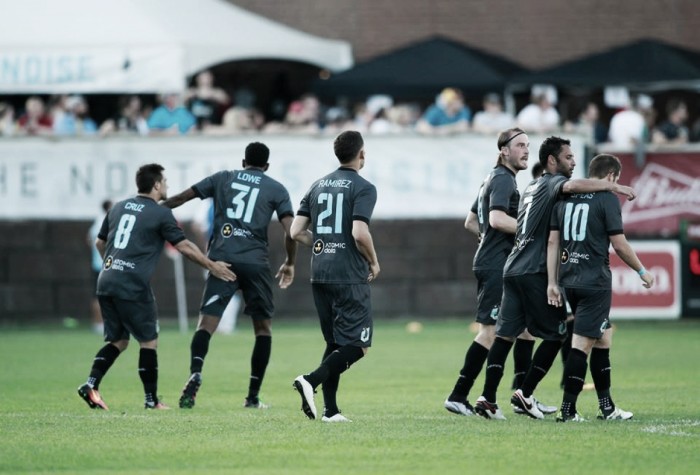 Minnesota United FC is making the jump to Major League Soccer next season, and on Wednesday night, they will get a preview of the level of competition as they host Sporting Kansas City in the fourth round of the 2016 Lamar Hunt U.S. Open Cup.
About Sporting KC
Sporting Kansas City enters the match with a 5-8-3 record in MLS, putting them in eighth place in the Western Conference. Their top goal scorer is Dom Dwyer, who has scored six goals this season. Saad Abdul-Salaam has four assists to lead the team thus far on the season.
Goalkeeper Tim Melia has recorded all five wins on the season, with four of those being shutouts. As a team, they are allowing 1.13 goals per game, while scoring 0.88 goals per game.
Their last game was on June 2 when they drew with the Los Angeles Galaxy 0-0. Their last win was May 15 when they defeated Orlando City SC 2-1 behind goals from Dwyer and Jacob Peterson.
About Minnesota United FC
The Loons enter the match with a 5-4-1 record, which puts them in fourth place in the North American Soccer League after the spring season. Christain Ramirez leads the team in scoring with five goals, while Kevin Venegas has five assists to lead the team.
Sammy Ndjock has been their main goaltender this season, as he has five wins and four shutouts, similar numbers to Melia. Ndjock does have a slightly higher goals against average, as he has allowed 1.20 goals per game compared to Melia's 1.13. He has been picked up by the offense, who are averaging 1.60 goals per game, which is double what Sporting KC has.
The Loons last played on Saturday, when they ended the spring season with a 3-1 victory over Miami. It was a disappointing end to the spring season, as they were on top of the league heading into the final month.
About the Lamar Hunt U.S. Open Cup
The Open Cup is a knockout-style competition has been held annually since 1914 and is the third-longest running open soccer tournament in the world. The winner of this year's tournament will walk away with $250,000 and a guaranteed spot in the 2017-18 CONCACAF Champions League.
The fourth round of the 2016 tournament will see the 17 MLS clubs based in the United States enter the competition in the fourth round on Tuesday and Wednesday. The fourth round winners will then be placed in a fixed, 16-team bracket and divided geographically (regardless of league affiliation) into groups of four. A random draw on Thursday will then determine the fifth round pairings within each group.
Sporting KC are the defending tournament champions, as they defeated the Philadelphia Union last year in a penalty shootout after a 1-1 draw.