 Whenever talking about the goalkeeping position, you automatically think of Hope Solo: A World Cup Champion, three-time Olympic medalist, and winner of the 2011 and 2015 FIFA World Cup Golden Glove Awards.
In 2009, Solo was the first goalkeeper to win the U.S Soccer Female Athlete Award. During the United States Women's National Team season in 2009, Solo only allowed one goal to reach the back of her net. Solo is known as the best goalkeeper in the world and if you've ever seen her play, there is no doubt about her being on top of her game to prove that she is the best. She has more caps, wins, shutouts, and starts than any other goalkeeper in U.S. history.
Although Solo is widely known as a gold medal-winning goalie, she actually started playing forward on the Richland High School soccer team. During her High School career, she scored 109 goals. When she went to the University of Washington in 1999, Solo then started playing goalie and knew that this is what she was meant to do. Solo remains the University of Washington's all-leader in having 18 shutouts and 325 saves.
Solo also plays for Seattle Reign, which is a club team based in Seattle, Washington that was founded in 2012. Seattle Reign trains and plays at Memorial Stadium, which is right at the foot of the Needle where Solo has childhood memories with her father.
Solo has been the starting US goalkeeper since 2005. Through the years, she's come a long way despite the countless shoulder injuries, drafts, law suits, and other battles that some may never know about. Solo has such a great eye in seeing the footwork of players and knowing their next move. She's always one step ahead of the game and it contributes to what makes her an amazing player.

There have been countless saves by Solo, who leaves spectators cheering with excitement as she makes amazing comebacks. This past March, the USWNT faced France in the 2016 She Believes Cup at Nissan Stadium in Nashville, Tennessee.
In the fourteenth minute, France took a shot on goal and US midfielder, Carli Lloyd, attempted to save the ball with her left leg, which hit her own goalpost. As the ball rebounded, France came in strong taking a shot on Solo, who came back just in time from the other side of the goal to block their shot. Solo continues to leave so many American fans speechless with her incredible saves.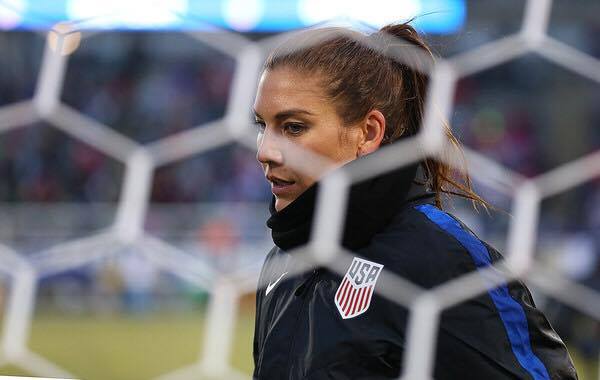 Will Zika Virus Prevent Solo's Appearance In 2016 Olympics?
With the Olympics taking place this August in Rio, there have been many concerns from the USWNT players regarding the Zika virus breakout, which is a disease that can cause birth defects and is spread by mosquitoes. Solo herself was even unsure of attending the Olympics due to the high risks in her health. In a public interview with CNBC, Solo stated:

"I strongly believe that no athlete should be put into this position — to decide between your Olympic dreams and your own health."
In this interview, Solo also mentioned how the USWNT hopes to come home with an Olympic gold medal as no other team has won a World Cup and an Olympic tournament back to back. There will be many more opportunities for Solo to showcase her talent to the world in such a competitive tournament this summer. On August 3, the USWNT will be facing New Zealand to kick off the 2016 Olympic Games in Rio.