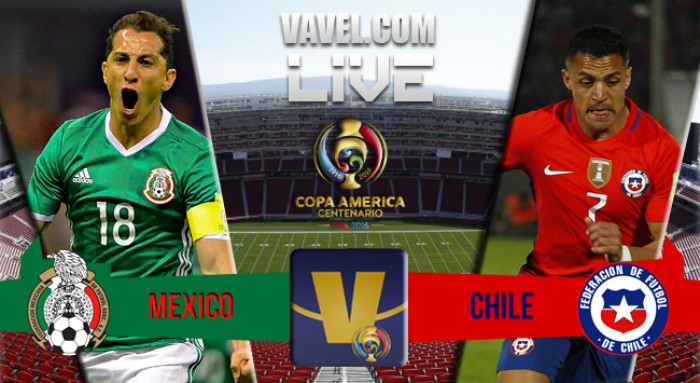 With your live coverage, I've been Zach Drapkin. Have a great evening everyone! On Chile goes!
So a shockingly dominant performance from the defending champions. Mexico thumps out with a bang while Chile will face Colombia in the June 22nd semifinal.
90' FULL TIME - MEXICO 0-7 CHILE
88' Relaxed run from Sanchez in transition is worked around to Puch, who chips it in for his second goal of the match. 7-0!
88' - GOAL - CHILE - EDSON PUCH!
87' Mexico corner after Jimenez's attempted ball is deflected out of danger.
85' Great Ochoa save on a strike from Silva!
83' Puch down with injury, he'll be kept safe with this game all decided. He is carted to the sideline and Chile is down a man in garbage time.
82' Vidal with another tough miss on a wide-open chance. Lucky enough for him, it won't matter too much, being that his team is up by six goals and all.
79' Mexico has already given up. Chile has not. That's the story of this game once it was made 3-0 in the 49th.
75' Chicharito nearly with a consolation goal but his effort is wide of the post.
74' A narrow second rebound from the narrowest of angles is fired in from Vargas to make it 6-0!
74' - GOAL - CHILE - EDUARDO VARGAS!
73' Vargas nearly with a fourth goal as he misses just wide left on a strong-footed strike!
72' Mark Gonzalez in for Jean Beausejour.
71' Mexico trying atop the box but Chile's defense is just swarming to everything and breaks it up.
67' A finesse shot from Sanchez just tapped out for a corner by Ochoa. Still 5-0.
65' Corner, Mexico. Backheel redirection into the middle is cleared out by Chile.
64' Layun gets a yellow card.
61' Diego Antonio Reyes on for Corona.
61' Good move into the box for Mexico but a Guardado chance is blocked and trickles out for a corner.
60' Medel is coming off for Enzo Roco for Chile.
60' Yellow card for Guardado on a nasty challenge he slid into on Gonzalo Jara.
59' Vidal misses a shot from the left and it could have been 6-0! Mexico has collapsed!
58' Another phenomenally-worked play in transition from Chile and a rebound is bounced up to Vargas, who finishes it clinically into the back of the net. 5-0! Madness!
58' GOAL - CHILE - EDUARDO VARGAS!
57' Diaz comes out with injury as Francisco Silva enters the match.
55' Marcelo Diaz down for Chile.
52' Vargas finds his way to the end of a deflected through ball from Sanchez. From there it's a footrace and he beats everyone out, sliding a shot by Ochoa from the left to make it 4-0!
52' - GOAL - CHILE - EDUARDO VARGAS!
49' Sanchez now tied with Ivan Zamorano on the Chilean goalscoring list.
49' Great work passing the ball on the break and Sanchez trails behind and finishes easily from the center of the box! 3-0!
49' - GOAL - CHILE - ALEXIS SANCHEZ!
47' Bravo with a great diving parry on a Mexico free kick!
46' Carlos Peña and Raul Jimenez in for Mexico.
45+1' Bravo boots a ball up the pitch and we hear the halftime whistle(s). 2-0 at halftime, the reigning champs have found their red-hot fire!
44' Vargas gets a great ball from Alexis coming across to the left of the box and uses his weak foot to hit the ball past Ochoa and into the far-post netting. 2-0, Chile!
44' - GOAL - CHILE - EDUARDO VARGAS!
42' Chile on a fast attack to the box but nothing is happening and Mexico pushes possession back to midfield.
40' Vidal down behind the play as an Alexis move on the left is cleared out for a throw-in.
39' Yellow card for Vidal as much as he tried to avoid it. Suspended for the next match if Chile advances. Late challenge was not worth it.
37' Goal for Vargas on a break for Chile called back. Offside.
36' Tecatito with a phenomenal move on the far left wing but his low cross in has nobody on the other end. Good opportunity for Mexico.
34' Through ball for Javier Hernandez skips past and out for a Chilean throw-in.
32' Charles Aranguiz down on the pitch in pain.
32' Long-distance shot from Marcelo Diaz far right for Chile.
31'? Now it's getting spicy from Mexico's attack.
30' Contact in the box from Puch as Layun tries to get forward on the left. He goes down but there's no call and the ball rolls out for a Bravo kick.
29' Sanchez scuffs a shot from the box and it's back to a goal kick for Ochoa and Mexico.
28' Promising Miguel Layun cross flies over everyone and out for a Bravo goal kick.
27' No rhythm for Mexico. Can't find the lanes to Hernandez that they're searching for.
26' Loose ball in the Chilean area goes to Chicharito but a GREAT job tackling and clearing by Vidal and Gary Medel.
25' For Chile, so far attacking has not been their method of keeping this lead.
24' Nothing doing as the ball is flipped back to an offside Guardado.
23' Great block out for a corner by Beausejour. Mexico to take, captain ?Andres Guardado lines up for it.
22' Can't call it pressure but looks like Mexico is starting to find some better attacking possession.
20' El Tri now trying to find something, holding solid possession in the front half. Chile comfortable staying back and maintaining a deep line.
18' Chile isn't stopping there. Lots of chances coming back up the pitch and scaring Mexico.
16' Keeper Guillermo Ochoa came out way too far on that ricochet.
16' Long shot from Marcelo Diaz is saved but Puch punches in the rebound to make it 1-0 for La Roja!
16' GOAL - CHILE - EDSON PUCH!
15' Still waiting for that one big chance. The forward work rates are sky-high on both ends.
13' Shot from Mexico's Jesus Dueñas. Way over the bar and wide left. El Tri turning up the attack.
12' Good pressing on behalf of both sides but the defenses are holding up nicely.
10' Chile wins a tackle and attacks quick! Edson Puch gets a great run up the center-right portion of the pitch and his attempt is heroically deflected by Nestor Araujo.
9' Jose Pedro Fuenzalida cross from the right cleared away by a Mexican header.
7' Counterattack for Chile ends in a cringe-worthy chip from Eduardo Vargas outside the penalty area.
6' Foul on Alexis.
5' Jean Beausejour with a nice run on the left, ball caroms last off his leg, however. Goal kick.
4' Both sides looking to take it down the pitch via the wings, no success yet in doing so.
2' A fast break for both sides, nothing eventful though.
1' And we are underway!
Teams taking the pitch.
National anthems being played right now.
Less than 10 minutes to go!
Gonzalo Higuain scored an early brace in that match, and while a Salomon Rondon goal for Venezuela gave hope to the underdogs, Lionel Messi and Erik Lamela scored one each to close the overwhelming result for La Albiceleste.
The first result of this Saturday, at Gillette Stadium in Foxborough, Massachusetts, went 4-1 in favor of Argentina over Venezuela.
And we are back, now with just 45 minutes until kickoff!
Stick around as the match begins Saturday night, June 18, at 10 PM EST. We'll be right here with all the updates and commentary you could ask for, so stay tuned with VAVEL USA for this match and all your Copa America Centenario needs.
Mexico has one more unique advantage in this one. While the United States is the host country, Mexican fans have been dominating the stands in each of their team's matches, beating out the USA fans in attendance by almost 20,000 each game. It's a virtual home-field advantage with group stage matches in the southern cities of Phoenix, Pasadena, and Houston, and Santa Clara isn't too far away for El Tri supporters to show up once again. Chile has a good share of traveling fans as well, but certainly not enough to beat out a sizeable Mexico fan base capable of filling 100,000 seats for classic showdowns with the USMNT.
This match, the last of the quarterfinals, may be the most intriguing, with the champions of last summer seemingly the underdogs facing up against a Mexico squad which had won eleven straight matches before drawing Venezuela on Monday. Two relatively new coaches face off in a battle of CONCACAF and CONMEBOL sides, both with quite a bit to prove. Chile surely does not want to be known as a one-time champion, while Mexico would like to redeem its poor showings of the last two Copa Americas, their only two since joining in 1993 that the team did not advance past the group stage. The poor showings in 2011 and 2015 had to do with CONCACAF squad restrictions, but now that the Copa America and CONCACAF Gold Cup won't collide for the special centennial Copa, El Tri can put its full force into claiming a Copa America title.
Sanchez himself is now just four goals away from Marcelo Salas' national record of 37 international goals. Alexis will be the key for Pizzi and company in this quarterfinal versus Mexico, as his ability to stretch a defense may prove to be the X-factor in the effectiveness of runs at goal by Vargas, Vidal, and whichever other Chileans decide to push up on the attack. Fullback-wingback Mauricio Isla will be on the sideline serving a one-game ban due to yellow card accumulation, and his replacement may become a big talking point as to where Mexico will be able to exploit the defending champs.
Chile's final game was held at Lincoln Financial Field in Philadelphia, Pennsylvania, and the team's fans created a dominant pro-La Roja atmosphere against Panama. The team needed either a draw or a win to advance past the group stage, and the attack finally kicked into form with 98-cap Alexis Sanchez moved back to the left wing. Eduardo Vargas scored a first-half brace and Sanchez duplicated his efforts in the second half to book a 4-2 win in which Bravo put Chile in danger with a pair of goalkeeping blunders.
It was certainly a shaky road to victory for the team over the next two matches, the first of which came against stingy Bolivia. After an ugly, scoreless first half, Arturo Vidal fired the Chileans to a 1-0 lead in the 46th minute, only to have his mojo sapped by a marvelous equalizer of a free kick from Jhasmani Campos, who curled a ridiculous top-corner ball past struggling goalkeeper and captain Claudio Bravo, who leads Chile's national team in all-time caps, with 103 since his 2004 debut. Luckily for Chile, after a bizarrely long injury delay and stoppage time, a handball penalty was called against the Bolivians and Vidal converted the ensuing kick to grab a full three points.
The Chileans have not looked to be in great form recently under new coach Juan Antonio Pizzi, falling to Jamaica and then obviously Mexico in their pre-Copa friendly fixtures. La Roja then fell to rivals Argentina to open their Group D campaign in Copa America Centenario in what was a rematch of the 2015 tournament's final hosted on Chilean soil. Chile clinched its first-ever title in penalties last year but fell, 2-1, to La Albiceleste at Levi's Stadium on June 4.
Chicharito and the Mexican attack look unstoppable, and with the team's 22-match unbeaten streak still intact, it will be a tough task for Chile, which fell to El Tri in a pre-Copa America tune-up in San Diego on June 1. Hernandez himself is one score away from tying the nation's all-time international leading goalscorer, Jared Borgetti, who tallied 46 goals with the selection from 1997 to 2008. He scored a header to beat Chile in that friendly and will look to do the same as he and the Mexicans embark on the next phase of their historic surge.
In its first two games, Mexico pushed past Uruguay and Jamaica by a pair of two-goal margins. Their group-opener, against the Uruguayans on June 5, ended with a 3-1 result after Rafa Marquez and Hector Herrera scored late goals to negate a 74th-minute Diego Godin equalizer. Mexico had gone up 1-0 in the fourth minute on an own goal by Alvaro Pereira of Uruguay. The next game opened with a Javier "Chicharito" Hernandez strike in the 18th minute and Oribe Peralta made it 2-0 over Jamaica to seal a spot in the knockout stages.
Mexico comes into this one fresh off finishing first in Group C, which featured an unexpected challenger for the top spot. While it was widely expected for Uruguay and Mexico to compete and grab the top two spots of the group, Venezuela overtook and eliminated Luis Suarez-less La Celeste within two fixtures to set up a group-deciding match with El Tri at NRG Stadium in Houston. Jesus "Tecatito" Corona forced a draw and a Mexico group victory on goal difference with his 80th-minute equalizer against La Vinotinto on June 13.
Hello, everybody! My name is Zach Drapkin and I will be bringing to you live updates of the Copa America Centenario Quarterfinal match between Mexico and Chile. Follow along with VAVEL USA as the two sides kick off at 10 PM EST from Levi's Stadium in Santa Clara, California. You can find all goals, bookings, and other notable events right here, so stick around as the match approaches.