 At age 33, Carli Lloyd contributes her amazing skill and talent to NWSL team Houston Dash and the United States Women's National Team. Lloyd has also been awarded the 2015 FIFA Women's World Player of the Year and the 2016 FIFA Player of the Year along with the Golden Ball award.
Knee Injury to affect Rio?
This past April, the 2015 World Cup Champion and two-time Olympic Gold Medalist was injured during a season game against Orlando Pride. In the fourth minute of this match, she had a severe knee injury and was scheduled to have an MRI the following day. Since then, Lloyd has been taking the steps to a smooth recovery and has even been showing her fans her workouts and drills with the videos she has posted on Instagram. Several days ago, Lloyd tweeted:
"Injury Update: feeling really good. Continuing to progress daily. NOT QUITE 100% but close. By July 1, I should be ready to go! #Rio"
With this injury and the Olympics coming up, this top scoring midfielder seems extremely determined and ready to get back on the field to face the opposing teams that the USWNT will face this summer.
James Galanis, who is one of the top coaches and teachers, is Lloyd's personal trainer who has helped her grow immensely in her playing tactics. Lloyd is consistently working with Galanis to improve and recover so that she can be ready for the upcoming Olympic games.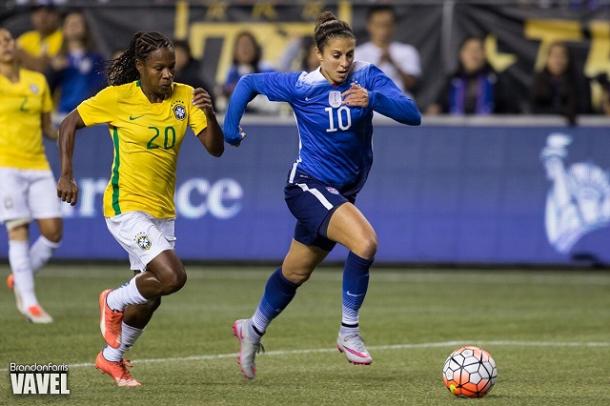 Lloyd has made a huge impact in women's soccer as she has made the winning goals in the 2008 and 2012 Olympics. This past summer, many fans tuned into the final game where the US and Japan faced off yet again for the gold medal. Within the first sixteen minutes of the final match, Lloyd scored three goals, completing an incredible hat trick that has made history. As most know, the US won 5-2 against Japan and returned to America as the 2015 World Cup Champions.
How Equal Pay Equal Play impacts Lloyd and USWNT players
Lloyd along with four other USWNT players: Hope Solo, Becky Sauerbrunn, Alex Morgan, and Megan Rapinoe filed a complaint against the U.S Soccer Federation this past year regarding discrimination against equal pay for equal work.

"Simply put, we're sick of being treated like second-class citizens. It wears on you after awhile. And we are done with it." - Carli Lloyd
The USWNT has three World Cup Champion titles and four Olympic medals. Meanwhile, the USMNT has zero World Cup titles and Olympic medals. The men's revenue for the 2014 World Cup for reaching the round of sixteen was $9 million. When the women took first place in the 2015 World Cup, they were awarded $2 million. The women's team is far much undermined even though they have more titles than the men. Even though the men are paid much more, the women still support and love the USMNT, but just don't agree with the unequal pay and that's what Lloyd along with the others are trying to get their point across to the U.S Federation.
"When I joined four teammates in filing a waged discrimination complaint against U.S Soccer it had nothing to do with how much I love to play for my country. It had everything to do with what's fair, and with upholding a fundamental American concept: equal pay for equal play."
Marriage to come after the Olympics
Lloyd and her fiancé Brian Hollins began to date at Delran High School in New Jersey. Although Lloyd doesn't invite her family or her fiancé to important games that are vital to her career, such as the World Cup and Olympic games, they are very understanding and supportive of her decision. According to Lloyd these games are business and doesn't want to have to worry or focus on seeing her family in the crowd. She wants to be completely focused and ready for the competition that's ahead of her. The High School sweethearts plan to get married after the 2016 Olympics are over.