Postgame - Thank you for joining me tonight here on VAVEL USA. Make sure you follow me on Twitter @littletwinsfan, and enjoy the rest of your night! Stay tuned for a recap from the game.
90' - The final whistle has blown, and Club Leon wins a 4-2 match over Minnesota United.
84' - Juan Cuevas puts one in the back of the net to put Leon up 4-2.
83' - Carlos Guzman had a shot for Leon, but he chose to pass, which ended up in the possession of a United player.
81' - Ndjock took a huge risk, as he left the net to cut down a scoring chance, and it nearly backfired, as the ball got past him, but a well-placed United player was able to kick the ball away and stop the scoring chance.
80' - Leon gets another chance, but they are called offsides, negating the shot.
78' - United gets a chance off a loose ball, but Yarborough is able to dive on the ball and stop the scoring chance.
75' - Juan Cuevas puts the free kick in the back of the net to give Leon the lead.
74' - Kevin Venegas gets called for a foul to give Leon a free kick.
68' - J.C. Banks scores for United to tie the game at 2! What a change from the first half for the Loons.
68' - Laing with the run and shot but it goes over the net. Another good chance for United, but again it ends with no score.
66' - Mauro Boselli with the header, but it goes wide.
63' - Christain Ramirez with the goal for Minnesota United! That cuts it to a 2-1 deficit.
62' - Lance Liang takes the free kick and puts it on goal, but Yarborough makes the save.
61' - Minnesota now gets awarded a free kick off of a Leon foul, although Leon are vehemently arguing the call, but to no avail.
59' - Minnesota gets a scoring chance, but it is called back as a foul is called on them, much to the dismay of the home fans.
58' - Leon gets another chance, but a pass goes long, and United gets a goal kick.
56' - Leon gets another scoring chance, but Ndjock makes an easy save.
50' - Leon takes a 2-0 lead on an own goal by a Minnesota player. Such bad luck for the home team as they have a two-goal deficit to come back from.
48' - Leon has made a full slate of substitutions to start the second half, including putting American William Yarborough in the goal.
47' - United gets a quick attempt, but the goaltender makes the save to keep it 1-0.
45' - The second half is underway.
Halftime - It will be interesting to see how the teams treat subs during the rest of the match, as they have unlimited substitutions, but no re-entry once a player is removed from the game.
Halftime - Here are some halftime stats courtesy of Minnesota United FC Media Relations.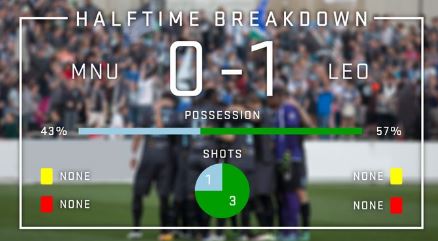 45' - The teams head into the halftime break with Club Leon leading 1-0 on a goal by Guzman.
41' - J.C. Banks gets a shot for United, but it goes just wide.
38' - Leon has three shots on goal so far, while Minnesota has just one.
32' - Leon gets another run, but Andres Andrade is unable to finish the job.
30' - The ball deflects out of play for a throw-in for United, despite the protests of some Leon players.
25' - GOAL! Club Leon gets on the board first with a beautiful header to put them up 1-0 over the home team. German Cano gets credited with the goal.
24' - Leon gets another chance, but it is deflected out for a corner kick.
20' - The referees are letting a lot of rough tackles go tonight, much to the dismay of the fans.
19' - Leon with a great scoring chance, but goalie Sammy Ndjock makes the save for United! That was the best chance either team has had all night.
17' - Leon finally gets a scoring chance, but a careless pass ends the threat without a shot on goal.
16' - United gets called for offsides, giving Leon a free kick.
14' - United gets another scoring chance, but Leon is able to steal the ball.
8' - United is getting the majority of scoring chances so far, but still nothing to show for it.
6' - United gets a scoring chance, but Christain Ramirez's header attempt goes over the net.
3' - United gets a free kick after a foul by a Leon player.
1' - Leon kicks off, and we are underway from Target Field.
7:22 PM CT - The national anthems have been sung, and we are just moments away from kickoff.
7:16 PM CT - Club Leon will wear their white tops and shorts tonight, while Minnesota will wear Grey tops and shorts.
7:14 PM CT - Pre-match introductions are underway.
7:12 PM CT - Kickoff has been delayed to 7:25 CT to make sure that all of the weather has passed.
6:50 PM CT - We are getting closer to kickoff here at Target Field. While it is a baseball stadium, tonight's playing surface is situated from the right field foul line to the left field warning track and stretches slightly onto the infield.
6:40 PM CT - Both teams are now on the field for warmups, as we are getting closer to kickoff.
6:30 PM CT - It now looks as if the storms that were heading for the stadium will miss it, meaning that the game will start on time, and should not have any delays.
6:20 PM CT - Tonight's referees are Fotis Bazakos, Igor Reznik, Jonathan Oppenheimer, and Will Reid.
6:16 PM CT - Here are the lineups for Club Leon. Martinez; Velarde, Torres, Navarro, Novaretti; Cano, Montes, Andrade, Ibarra, Rocha; Moralez
6:12 PM CT - Here are the starting lineups for tonight's match for Minnesota. Ndjock; Davis, Calvano, Kallman; Pinho, Mendes, Venegas, Vicentini; Pinho, Ramirez, Banks
5:57 PM CT - Here is the current view of Target Field from the press box as we are about one hour away from kickoff.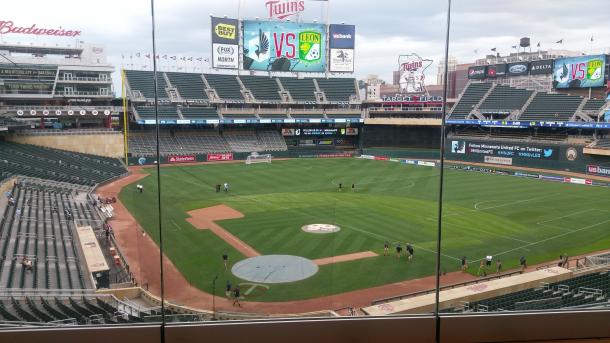 5:50 PM CT - Once again, good evening everyone, my name is Stevie Larson, and I am live from Target Field for tonight's international friendly. The weather right now is 91 degrees, with mostly cloudy skies. Radar is indicating a possible storm heading towards the stadium, but as of now no rain has fallen.
The weather is expected to be a factor tonight, as The Weather Channel predicts that at kickoff it will be 82 degrees, with a 16 MPH wind. There is a 75% chance of rain at kickoff.
Mauro Boselli is the other player to watch for Leon, as he led the team in scoring last season with 23 goals in 34 appearances, the most that he has scored in a single season in his 11-year career. He has been with Leon since the 2013-14 season and has averaged 19 goals per season for Leon. He has 117 career goals, with no red cards in his career.
With the Spring Season over, here is a look at the current standings for the NASL. Indy Eleven has clinched a spot in the playoffs which come at the end of the season, by virtue of winning the spring title thanks to tiebreakers over the New York Cosmos. United finished in fourth place, with 16 points.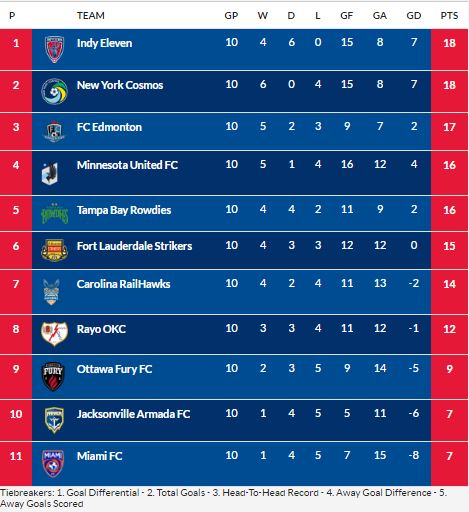 The Loons got some good news this past week, as it was announced that Ramirez and Kevin Venegas were named to the final NASL Team of the Week of the season. Venegas had an assist and three interceptions in United's win over Miami FC. Ramirez, meanwhile, had one goal and one assist against Miami to lead the Loons to a 3-1 victory to close out the Spring Season.
Club Leon is coming off a phenomenal season, in which they finished third in the league standings, but were eliminated by Club America 5-3 on aggregate. At the same time, they were also competing in Copa MX, where they went 4-2-0 in the group stage to claim the top seed. They went on to shut out both Cruz Azul and Atlas to advance to the finals against Guadalajara. That match was tied at 0 until late in the second half when Guadalajara scored a goal to give them the championship.
The spring season just ended for United, and they finished in the fourth position, with 16 points. Indy Eleven won the spring title with 18 points to guarantee a spot in the playoffs, which occur after the fall season.
This will be the third straight season that the Loons have hosted a top international team, as in 2014 they faced Swansea City of the English Premier League, and upset them by a 2-0 score in front of another sellout crowd.
These two teams have met before, as last July they played to a 1-1 draw in front of a sellout crowd at the National Sports Center. In that match, Ibarra played the first half for Minnesota and the second half for Leon. Leon scored in the first half, but the Loons salvaged a draw when Pablo Campos put home a goal in the closing minutes.
Minnesota's player to watch is Midfielder Christain Ramirez, who rose to stardom along with Ibarra. He has played in 10 games this season, with five goals. He is also widely considered to be one of the top talents on the Loons.
One notable player to watch for the visitors is Miguel Ibarra, who before being sold to Leon was the star player for Minnesota. In four seasons with the Loons, Ibarra scored 18 goals. During his stint with Leon, he has played in eight games with just one goal scored.
Tonight's visiting team is Club Leon, who are from Mexico. They are coming off a 2-1 loss to Pachuca back on May 22. In that match, Pachuca had a 1-0 lead at halftime, but Leon got a goal from Elias Hernandez in the 60th minute to tie the game. It remained that way until the third minute of stoppage time when Hirving Lozano scored the goal that put Leon away.
"We showed that we can play, we showed that we're relatively well-organized, we showed that we can put a very good side on the back foot, but we showed that if we make rudimentary mistakes against good sides we'll get punished, and I thought that was the difference," MNUFC Head Coach Carl Craig said after the loss to Sporting KC. "I have to praise them for their ruthlessness, but I'm disappointed."
The home team tonight is Minnesota United FC, who are coming off a loss to MLS team Sporting Kansas City 2-1 in the fourth round of the Lamar Hunt US Open Cup. That match was tied at one until extra time when Kansas City was able to get the goal that would end up being the game-winner to knock Minnesota out of the tournament.
Tonight's game is being played at Target Field, home of the Minnesota Twins of Major League Baseball. The stadium was completed in 2010 after a long battle to secure the funding. This is the first soccer game to ever be held in the stadium, although it has hosted a bunch of concerts.
Hello, and welcome to VAVEL USA's live coverage of tonight's friendly match between Minnesota United FC and Mexico's Club Leon. My name is Stevie Larson, and I will be taking you all the way through the final whistle tonight. Without further ado, let's jump into some pre-game notes.