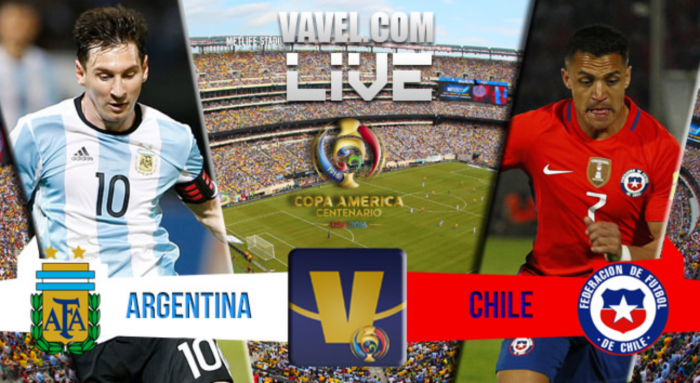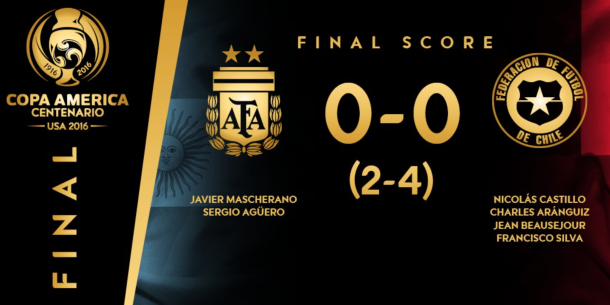 CHILE ARE COPA AMERICA CENTENARIO CHAMPIONS!
R5' Silva (CHI): GOAL √
After round #4: Argentina 2 Chile 3
R4' Biglia (ARG): NO GOAL X
R4' Beausejour (CHI): GOAL √
After round #3: Argentina 2 Chile 2
R3' Aguero (ARG): GOAL √
R3' Aranguiz (CHI): GOAL √
After round #2: Argentina 1 Chile 1
R2' Mascherano (ARG): GOAL √
R2' Castillo (CHI): GOAL √
After round #1: Argentina 0 Chile 0
R1' Messi (ARG): NO GOAL X
R1' Vidal (CHI): NO GOAL X
We will have a penalty shootout to decide the title!
130' End of Extra Time: Argentina 0 Chile 0
116' Argentina throws the kitchen sink at Bravo but none of the header get on target.
115' Messi free kick from 25 yards out is deflected out.
111' Substitution: Lamela on for Banega (ARG)
110' Romero comes out to slide tackle the ball as Castillo was close to getting in on a one on one.
109' Substitution: Vargas off for Castillo (CHI)
106' Underway in the second half of extra time
Halftime of Extra time: Argentina 0 Chile 0
103' Alexis Sanchez off for Fransisco Silva (CHI)
100' Close! Aguero's flick header off a Messi free kick is just tipped over by Bravo.
98' Close! Vargas' header is just saved by a diving Romero.
97' Mascherano's slide tackle stops a Chile counter.
94' Yellow Card awarded to Matias Kranevitter (ARG)
92' Aranguiz is down injured.
91' Extra time is underway
Fulltime: Argentina 0 Chile 0
90+' Messi's shot is ripped wide of the goal.
90' Three minutes of added time
90' Close from Chile! Alexis almost tips it home.
90' Banega's shot is wide.
84' MISS! Aguero dribbles a defender and is in one on one with Bravo, but he skies his shot!
80' Substitution: Puch in for Fuenzalida (CHI)
80' Vargas' shot from the slot is punched away by Romero.
77' Alexis down injured and recieving treatment.
73' Aguero's shot puts the ball into orbit.
70' Substitution: Higuain off for Aguero (ARG)
69' Yellow Card awarded to Chalres Aranguiz (CHI)
64' Chile counters, but the cross field pass to Sanchez in the box is offside.
63' Even play so far this half, both sides have had good amount of possesion.
57' Substitution: Di Maria off for Kranevitter (ARG)
57' Isla's risky shot from outside the box is wide.
55' Higuain's shot is high and wide over the bar.
52' Yellow Card awarded to Jean Beausejour (CHI)
50' Ball ping pongs to Vargas in the box, but his shot is well wide and a foul had been called on Chile as well.
46' Second half udnerway
Halftime: Argentina 0 Chile 0
45' Five minutes of added time
43' Rojo gets a red despite not touching Vidal on the tackle. The replay shows it was all ball. Vidal on the floor now getting treatment.
43' Red Card awarded to Marcos Rojo (ARG)
41' Yellow Card awarded to Lionel Messi (ARG)
40' Messi falls in the box but nothing is called. Chile players want a yellow for diving...
37' Yellow Cards awarded to Javier Mascherano (ARG), Arturo Vidal (CHI)
37' Dangerous challage outside of Argentina's box leads to a scuffle and yellow cards.
33' Argentina with most of possesion now up a man, Chile will have to defend and counter if they have any chance now.
29' Red Card (second yellow) awarded to Marcelo Diaz (CHI)
22' Another close chance for Argentina, hitting the side netting. They are getting close to the first goal.
21' ANOTHER MISS! Higuain is gifted a free run at Bravo from the midfield, but he chips the ball just wide of the goal. Another crucial miss from the Napoli man in a final...
20' Alexis swinger is brought down in the box but Vargas can't reach it and it is cleared.
17' Messi's free kick goes right to the hands of Bravo.
16' Yellow Card awarded to Marcelo Diaz (CHI)
16' Messi and Higuain break out and Marcelo Diaz stops Messi with a kick to the mid section.
13' Now Vargas is down injured. He does not require medical treatment and plays on.
10' Very physical match so far. Di Maria, Alexis, and Aranguiz have all needed medical treatment in the first 10 minutes.
5' Vidal a force all over the field early on, making clean hard tackles on Messi and the Argentinian midfield so far.
4' Mercado takes down Alexis from behind, but no call. Alexis limping pretty badly.
2' Fiesty game early. Vidal with a hard but clean tackle springs a Chile counter, but nothing doing there.
1' Early shot. Argentina goes right down the pitch and a Banega shot from outside the box is wide of Bravo's goal.
0'Kickoff in New Jersey!
Anthems have been sung, moments away from kickoff......
Teams making their way on to the pitch now. Anthems next!
The atmosphere is building inside the stadium as the PA announcer reads the starting lineups...
Here is how the sides will lineup (via FOX Sports):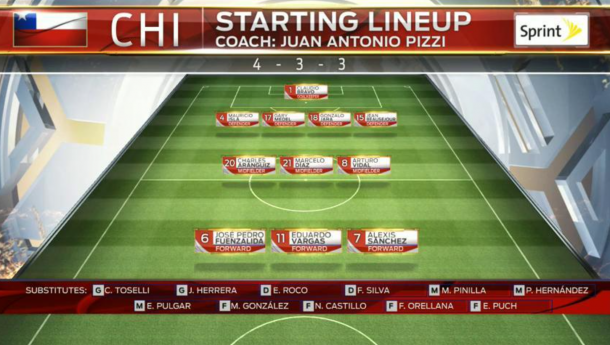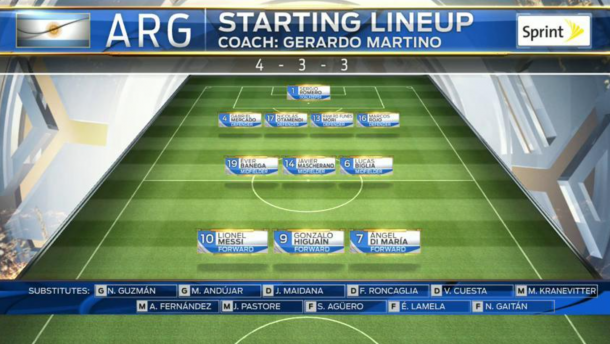 Here is the official lineup card: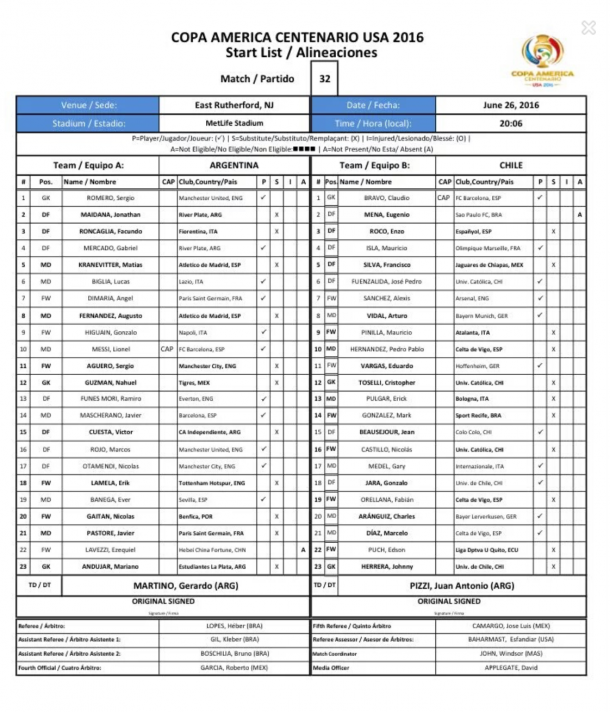 In place here at MetLife Stadium. Lineups coming out shortly.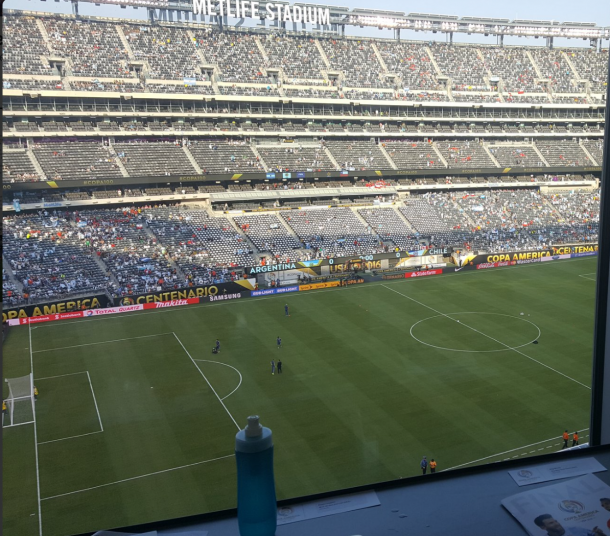 It's been almost a year since the last Copa América, and I think that made us stronger as a group, and as a team. We grew a lot, in a lot of ways, and above all, even though we didn't win, it helped us," Messi said. "Now is the time to give everything because we are very close to achieving the objective that we came here to achieve."
I don't know if it's the last chance to win a title. But we should take advantage of it," he added. "I would like to change history and be a champion with the national team. Argentina was a very solid team throughout the tournament. I don't know if it would be a failure, but it would be a big disappointment losing a third consecutive final.
"We arrive in amazing [form]," Messi told reporters on Friday at a press conference. "On the field, we have to show it against a national team doing very good things. It'll be very difficult, but we are confident.
Messi knows this chance to win silverware is as good as it will ever be for him and his national team.
"I don't think a lot of analysis is good to do right now. We have to focus on the final ahead." Martino said when asked about reflecting on back to back final faliures in the last two years. "When I refer to the analysis we've done about the past [second-place finishes], it's asked a lot and a lot is written about the answers I give. I prefer for it not to be written. What I prefer is to play well tomorrow and to win the game."
And if Argentina don't win? "And if we don't win, they shouldn't come back," Argentina legand Diego Maradona said.
Leo Messi will be looking for his first major trophy with Argentina on Sunday night. Despite having been close before in Copa America (losses in the final to Chile and Brazil) and the World Cup (lost 2014 final to Germany in extra time), the geratest player on the planet has his country's backing to win their first major trophy in over twenty years.
Despite reaching a major final this week, not all has been happy in the Argentina camp. Leo Messi complained on Instagram about the national federation when the team's flight was delayed. Messi also took part of a press conference on Friday at the team's hotel in New Jersey, something he rarely partakes in. Messi spoke that they just wat tranquility. The AFA is now under FIFA's control after its president was charged with fraud.
Martino expects to have Angel Di Maria available. The PSG man has been out with an adductor injury since the second game of this tournament. Di Maria scored against Chile in their first match of the tournament.
Chile coach Antonio Pizzi believs this match is "the most important match of my career. The hope and the trust that we can play a good match and that we can win the cup once more."
"The players are practically the same ones," Diaz said on Saturday. "Our tactics are precisely the same. We just need to keep in mind that we are able to defeat Argentina because we are a team with a lot of confidence in our abilities, not just individually but collectively. That's where we are the strongest."
While Martino would like to forget last year's result, saying, "This is a new game, with new possibilities," Chile midfielder Marcelo Diaz believes this final is very fimilar to the one Chile won in 2015.
"If we can press further up, we'll surely do it," Martino said. "If we're not so well-positioned further up the field, we'll do it in the middle, as far away from our goal as we can. Chile is a very determined team. They come with a lot of players in the attack, and really we're trying to play the match farther away from our goal, which would be different than the last final."
Although Chile are known for their high pressure tempo, Argentina coach Tata Martino believes his side are just as able in pressuring the opponent.
The final is also a rematch of Group D's first match of the tournament, when Argentina defeatd Chile 3-1 in Santa Clara without Leo Messi.
Sunday's decider will be Argentina's third major final in as many years, but Abeceliste are hoping for a different outcome this time around. Argentina lost the 2014 World Cup Final to Germany and the 2015 Copa America Final to La Roja.
Argentina - Chile is a rematch of last year's Copa America Final, where La Roja were able to win their first Copa title on home soil in penalties.
Chile fought off James Rodriguez and the weather in Chicago. A halftime delay that last almost three hours due to a storm did not stop La Roja from overcoming Colombia.
In Houston, Leo Messi scored a matsterful free kick and Higuain added a brace to help lead Argentina to the final over the hosts. After scoring the opening goal of the match, Pocho Lavezzi injured himself in a freak accident during the secind half and will not be able to play in the final.
In the semifinals, Argentina defeated hosts USA 4-0 while Chile dispatched Colombia 2-0 in Chicago.
Hello, and welcome to VAVEL USA's Live coverage of tonight's big final between Chile and Argentina at the Copa America Centenario! My name is Josef Leizerowitz, and I'm genuinely thrilled to be bringing you tonight's match straight from MetLife Stadium in New Jersey!