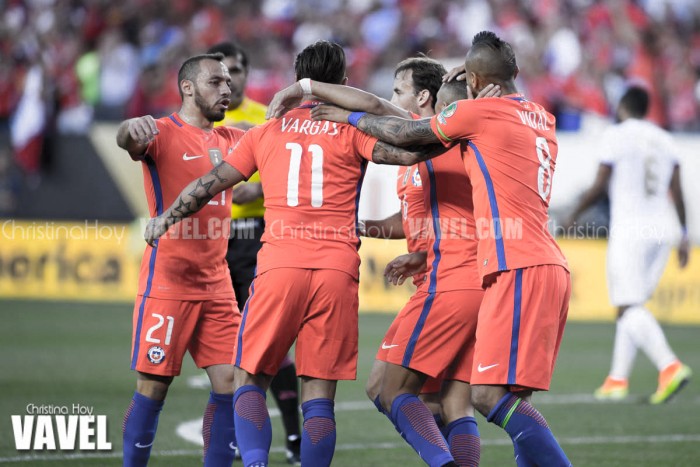 Chile is back in the Copa America Final and ready to take on Argentina yet again on the trek to defend the nation's first major international title, which was claimed last year on home soil. The path at Copa America Centenario in 2016 was a treacherous one, but it was worth the tough times; La Roja is looking great heading into the big day.
So how did this summer's journey begin? Not prettily, that's for sure. Entering the centennial of the world's oldest international tournament, Chile was without its title-winning coach from last year, Jorge Sampaoli, and in terrible form under new top man Juan Antonio Pizzi.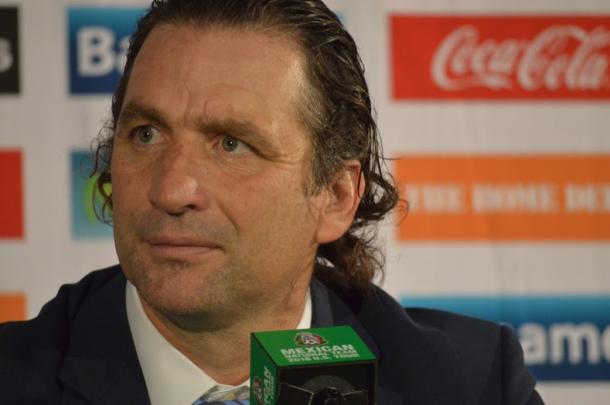 Pre-Copa tune-ups
Prior to Copa-linked play in 2016, Chile had gone 1-1 in World Cup Qualifying, falling to the Argentines by a 2-1 scoreline on March 24 and taking Venezuela down, 4-1, behind braces from Mauricio Pinilla and Arturo Vidal.
The buildup, or rather tune-up, to Copa America Centenario started with a dreadful 2-1 friendly loss to Jamaica in home territory. In that match, Chile's lone goal came in the 82nd minute, when newcomer Nicolas Castillo deflected a clearance into the goal from the right side of the box.
Chile's final match before Copa kickoff against Argentina on June 6 came against Mexico, CONCACAF's fiercest side. An even match ended in favor of El Tri by way of an 86th-minute header from Javier "Chicharito" Hernandez. So La Roja was headed into its crucial title-defending Copa America having lost three of its last four.
First match: Argentina 2-1 Chile
The team played a great first half against the Lionel Messi-less Argentines but it didn't profit, as the two sides entered halftime without a score. In a single snap of the fingers, Angel Di Maria and Ever Banega made it 2-0 in La Albiceleste's favor, scoring identical transition chances past Claudio Bravo from the left side of the box. A stoppage time header from Jose Pedro Fuenzalida was too little and too late as the final whistle was blown with the score 2-1.
Argentina simply outpaced Chile in the second half, mounting countless fast breaks, which the Chileans were too cautious on after the Gonzalo Higuain scare from the 2015 Final.
Second match: Chile 2-1 Bolivia
Bolivia was supposed to be the most beatable opponent for Chile since the Venezuela match in March, but this group stage matchup was far from easily won. The first half was once again scoreless and Arturo Vidal made it 1-0 in the 46th minute, but Bolivian midfielder Jhasmani Campos curled in a sensational 61st-minute free kick to equalize. From there, Bolivia fully parked the bus and made it real tough for the Chileans to gain the full three points.
Time-wasting was at a high in the closing 20 minutes of this bout and after a five-minute injury delay, the eight minutes of stoppage time were nearing their close. And then the ref called a handball on Luis Gutierrez in the penalty area to grant Vidal a chance from the spot to save the three points for Chile. Two minutes and two yellow cards later, the Bayern Munich man knocked in the 100th-minute penalty to take a 2-1 lead. Bolivia came very close to equalizing once again on the ensuing kickoff but the crisis was avoided and Chile had won.
Third match: Chile 4-2 Panama
The situation versus Panama was simple. Don't lose and you're in for the knockout stages. And not lose the Chileans did. While Bravo had a forgettable night in goal and conceded a fourth-minute shot from Miguel Camargo, Eduardo Vargas and Alexis Sanchez took over. Vargas scored two in the first half and Sanchez did the same in the second half to clinch the victory, though it came close near the end when Bravo fumbled a shot from Abdiel Arroyo into his side-netting to make it 3-2 with 16 minutes to go.
Chile looked much different in this one, at least attacking-wise, spacing the attacks much better and going north-to-south in the passing game at a desirable rate. Sanchez scored a phenomenal volley in the 49th minute and the overall body language of the team was positive compared to that of the previous two matches.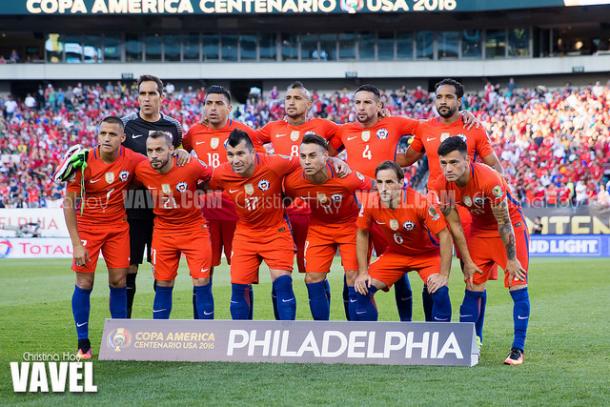 Fourth match: Chile 7-0 Mexico
Nobody could have predicted how much the momentum would carry over for Chile against favored Mexico. The opponents were coming in with an undefeated streak of 22 matches, but that came to a grinding halt in Santa Clara. La Roja exacted revenge in an extravagant way, demolishing El Tri by a margin of 7-0. Edson Puch and Eduardo Vargas scored first-half goals before Alexis made it 3-0 in the 49th, Vargas scored thrice more, and Puch added a second to his tally in the second half to eliminate the foes that had beaten Chile just two days before the tournament started.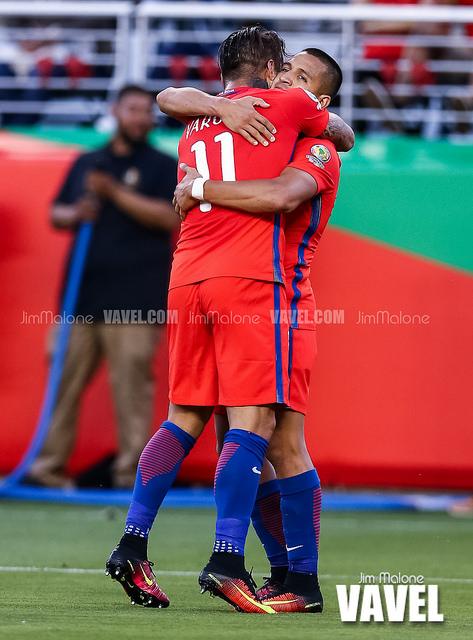 Claudio Bravo, who was still struggling in net, wasn't even faced with a single shot on target, comfortably spectating as the full Chilean side went all out in embarrassing Mexico. Every player on the pitch in red outworked its opposing counterpart and the result put Chile right back on a heavily-favored road to repeat its Copa America glory.
Fifth match: Chile 2-0 Colombia
A two-and-a-half-hour weather delay couldn't prevent Chile from moving into the Final on a stormy Chicago evening, as early goals by Charles Aranguiz and Jose Pedro Fuenzalida pushed La Roja past pesky Colombia. The field was slippery and hard to maneuver over the final 45 minutes but a red card for Colombia's Carlos Sanchez in the 56th minute put Chile a man up while two goals ahead.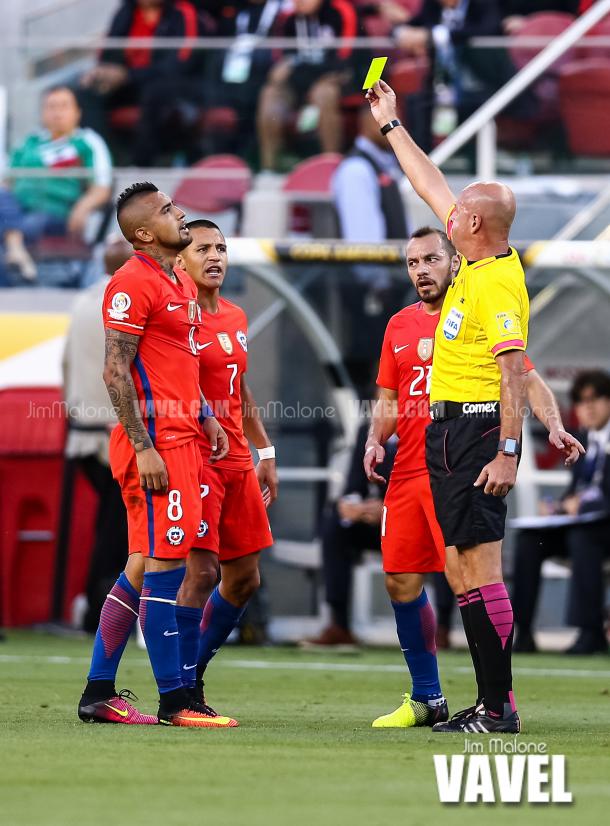 Bravo made some great saves in this match to earn a clean sheet while the defense minimized the effectiveness of James Rodriguez. Arturo Vidal was absent due to yellow card accumulation but Francisco Silva and Pedro Pablo Hernandez did a fine job of replacing him (before Hernandez got injured). Marcelo Diaz was also absent from the midfield due to a nagging injury.
Final match
Chile has now arrived back at the Copa America Final, where they'll face Argentina for the third time of 2016 after winning the Copa America 2015 Final versus these favored rivals. Messi has been performing excellently alongside Higuain but Angel Di Maria and Ezequiel Lavezzi will be missing due to injury on the left wing for La Albiceleste. These two sides have both hit their peak form and should make for another great final match.
Argentina is not only looking for revenge, but it is in search of a final victory after squandering chances in the finals of last year's Copa America and the 2014 FIFA World Cup. Lionel Messi has no major title to his name on the international stage, and over the past 23 years, neither do the Argentines. Meanwhile, Chile has found its golden generation and with the momentum the men in red are carrying at the moment, it looks as if they could beat anyone.
The final will be a matchup of the world's first and third-ranked international sides. Can Chile pull the repeat and defend its title? Seeing the rapid improvement and acceleration of the team's success under Pizzi the last three weeks, the chances are as high as they could be for Sunday's MetLife Stadium showdown.