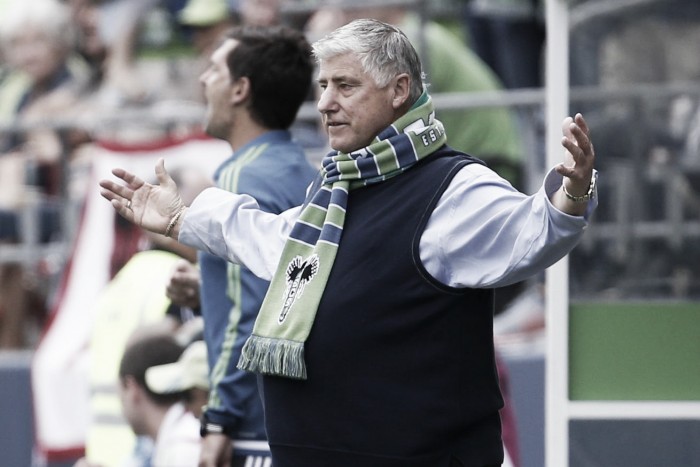 Almost at the halfway point in the 2016 MLS season and the Seattle Sounders find themselves almost at the bottom of the Western Conference table. After 15 games played, they have a total of 16 points (5-9-1, W-L-T) and are have been struggling all season to find consistency. One player on the team is not holding anything back in regards to his team's performance.
Captain Brad Evans holds nothing back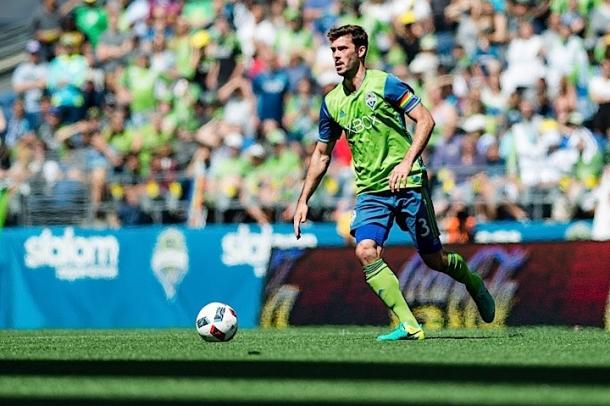 Sounders captain Brad Evans let it be known after the game that he is not happy with how some of his teammates are playing. After the Sounders recent 2-0 loss to New York City FC, Evans let everyone know exactly how he felt.
"Certain guys are maybe okay with how it's going," Evans said. "Maybe they've been at teams before where losing is a tradition and you wait for next season to get a fresh start. But that doesn't happen here. We don't have losing seasons. We're not okay with it."
"I've never in a game had to scream so many times for people to wake up to the point where I almost lost my voice," Evans continued. "It should be given that you have to work your (expletive) off at home. Every ball, every bouncing ball, when you lose the ball, you've got to track back and win it.
"The givens aren't there, and that's why we're losing games."
Seattle is struggling, bad
In their last six games, Seattle is 1-5-0 and look nothing like a team that has always found themselves at the top of the Western Conference or Supporters' Shield standings. The team has lacked a legitimate scoring threat in nearly every game. Their leading scorer is rookie Jordan Morris with five goals. Seattle has only scored 13 goals while conceding 19 in 15 games played. Anytime you score less than a goal a game and give up more than a goal a game, it's not a good sign. They have already lost as many games this season at home, 4, as they did in 2015. Their next home game, against the LA Galaxy, doesn't make anything easier for them either.
They have won only once on the road and they head back on the road this weekend to take on Sebastian Giovinco and Toronto FC. Things don't look good for Seattle to pick up their second road victory of the season. Before they head to Toronto, they take on Real Salt Lake in the quarterfinals of the 2016 Lamar Hunt U.S. Open Cup. This comes three days after the team put in a lackluster effort against New York City.
Will things change in Seattle?
Seattle will get U.S. international Clint Dempsey should be back for this weekend game, but it is not known how much he will play if even at all. Dempsey is coming off of six games in 22 days and head coach Sigi Schmid may not have him travel with the team just so he can get some rest.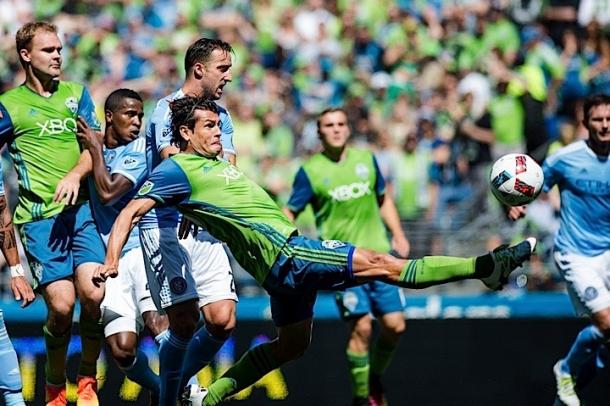 With the summer transfer window coming up on July 8th, the Sounders may need to start looking for some attacking players to bring to their team. Dempsey and Morris can't do it all on their own. Nelson Valdez, who signed on August 7, 2015, has done absolutely nothing except scoring on his debut against Orlando City on August 16, 2015.
It's clear that Seattle has struggled all year and sorely miss the attacking genius of Obafemi Martins. Dempsey has not been the same player without Martins and it shows on the scoresheet. Schmid and the front office need to get this figured out and soon. If not, the city of Seattle could be watching the 2016 MLS Cup Playoffs without their team in it.