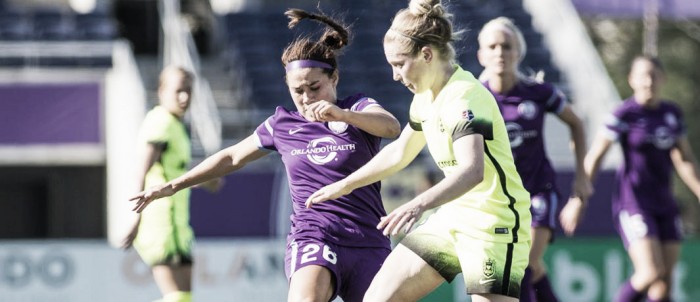 In what was essentially a must-win game for both teams in Week 14 of the National Women's Soccer League, the Seattle Reign FC hosted the Orlando Pride in one of the last game of the season for both teams before the league takes a break until late August for the Olympics.
Due to results elsewhere, a win for either team would put them right back into the mix for a playoff position and both teams hoped to get all three points on Saturday. The Reign were close to full strength while the Pride were missing a lot of players particularly in the back line and the Reign had no problem exploiting that all night long.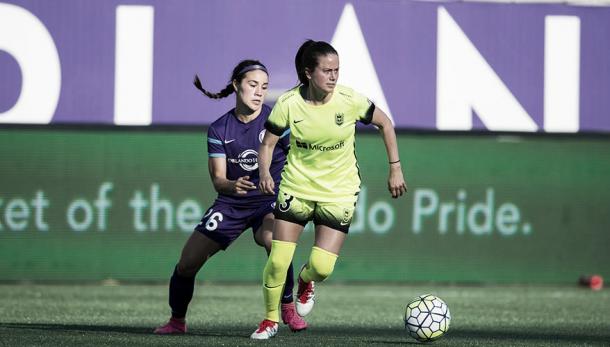 Variation in formation helps Seattle dominate
The Reign's formation on the team sheet seemed to indicate that they were playing in a 4-3-3; however, it soon became apparent that they were playing in a 4-4-2 diamond formation from almost the first whistle. This allowed captain Keelin Winters to play further up the field while Jess Fishlock patrolled the defensive half of the midfield and it worked to great effect as Fishlock's positioning prevented the Pride from using their pace on counter-attacks. Winters was also able to win the ball high up the field and connect with Kim Little, Nahomi Kawasumi, Manin Melis or Merritt Mathias.
From early on Seattle aimed to press high on Orlando and prevent them from finding the pace of Jasmyne Spencer or Jamia Fields to any great affect. It also allowed Seattle to play quick combinations passes amongst themselves and find openings during transitional plays such as in the ninth minute when Little lifted the ball over for Kawasumi only for her shot to be blocked by a last-ditch tackle from Orlando's Samantha Witteman.
In the 14th minute, Orlando showed some signs of life as a nice through ball by Kristen Edmonds found Spencer. She tried to round Seattle goalkeeper Hayley Kopmeyer , but Kopmeyer was up to the task and blocked her shot.
Seattle pressure gets its reward
Apart from a brief foray here and there, Orlando spent most of the half trying to stop Seattle from pelting shots at their goal; for the most part, they were unsuccessful. In the 20th minute, after some nice build-up play from Seattle, a corner kick was not cleared far enough from danger by Orlando. Seattle's Carson Pickett immediately put the ball back into the box and during the scramble to get it away, Dani Weatherholt fouled Winters and a penalty was awarded to Seattle. Little sent Orlando goalkeeper Kaitlyn Savage the wrong way and Seattle took the lead.
Immediately after the kick-off, the ball found its way to Kawasumi out on the flank and the Japanese international powered forward but only managed to send her shot wide. Little, finding a lot of space in midfield due to Seattle's tactics, found an onrushing Winters in the 29th minute but Winters' touch failed her and the ball went out for a goal-kick. One minute later, a free-kick by Kawasumi was again not cleared well by the makeshift Orlando defense and it fell to Fishlock who powered home Seattle's second of the night.
The last clear chance of the half fell to Cristina Burkenroad in the 38th minute, who was starting at forward for Orlando ahead of usual starter Sarah Hagen. She managed to lose her marker before rounding Kopmeyer and sending in an angled shot on goal. Kendall Fletcher then made a diving save off the goal line as she raced back to prevent Orlando from scoring. It was a fantastic moment by Fletcher and one that encapsulated her Player of the Match performance.
Half-time does not slow Seattle down
The Reign continued to push for more goals in the second half and they got one almost immediately. A give-and-go between Little and Pickett in the 47th minute ended with Little sending a great cross into the box. Orlando fullback Camille Levin and Savage had a communication breakdown which resulted in Levin heading the ball away from her goalkeeper who had come out to catch the cross. The ball ended up at former Dutch international Melis' feet and she had an open goal to tap the ball into for Seattle's third of the night.
Orlando were down by three goals but they had not given up on the match and they kept pushing to get a goal of their own, which they finally managed in the 52nd minute. A rare misplaced pass by Little in Seattle's defensive third allowed the ball to fall to Fields, who swung in a beautiful cross that found Spencer in the box. Spencer made no mistake with her touch and Orlando had pulled a goal back.
It took five minutes for Seattle to respond and extend their lead though. Some great footwork in midfield led to Kawasumi finding Melis with some space behind Orlando's backline. Witteman stayed with Melis and put in a great tackle to prevent a shot goal. From the resulting corner, defender Lauren Barnes found Fletcher making a near post run and Fletcher headed in Seattle's fourth from a tight angle.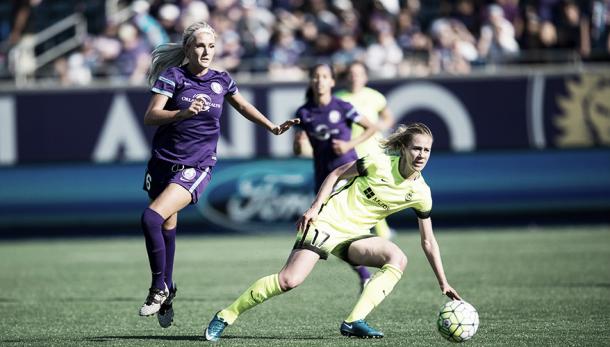 Teams trade goals at the end of the match
Seattle continued to create chances but it was not until the 87th minute when substitute Lindsey Elston did not give up on a ball that they found a fifth goal. Her initial pass was cut out by Kyle and it fell right back to her to try and pass again and it was her second pass that was then deflected in by Toni Pressley leaving the scoreline at five goals to one in favor of Seattle.
Credit to Orlando as they did not let their heads drop but continued to try and create chances for themselves. Two minutes after the Reign's fifth goal of the night, Orlando substitute Sarah Hagen found Edmonds out wide. Edmonds used her pace to break away from her defender and fired in a low shot which squirmed under Kopmeyer to give Orlando a consolation goal. Kopmeyer herself will probably not be happy with that goal as it should have been easily saved by her.
Seattle has now moved ahead of Orlando in the NWSL standings and is currently two points off the last playoff position that is held by Sky Blue FC. There is still all to play for as the season reaches its climax in a month's time once the Olympics are over. Orlando's chances will certainly be boosted by the return of so many of their international stars whereas Seattle will welcome back only two internationals but those two players are world-class players which will undoubtedly boost Seattle's playoff chances.