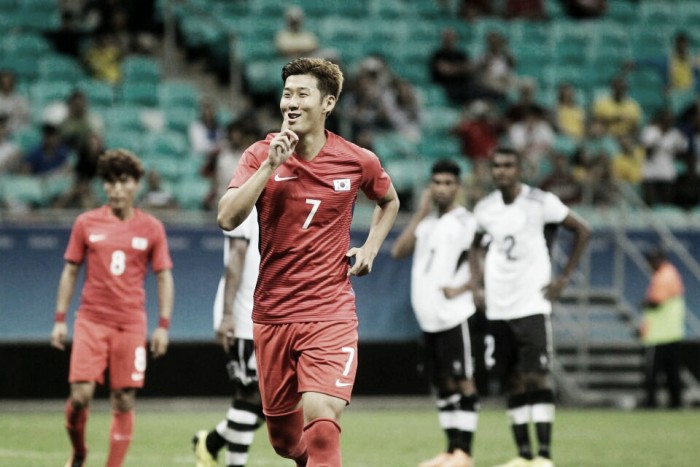 South Korea broke open a surprisingly close game after halftime with an 8-0 drubbing of newcomers Fiji In the opening game of the Olympic tournament.
Fiji plays inspired first half, holds Koreans to just one goal
In being placed in Group C, where games against Germany and Mexico lie ahead, South Korea entered their Olympic men's soccer tournament against Fiji in search of a dominant result as they looked for the perfect start. Thanks to Fiji keeper Simione Tamanisau, it took the Koreans some time to get rolling offensively, but once they did the Oceania representatives did not have an answer. The Koreans controlled the action throughout, but they were unable to crack the Fiji defense until the 30th minute.
Ryu Seung-Woo's first goal of the match in the 30th minute gave South Korea a 1-0 lead, and they had the opportunity to expand that margin eight minutes later. A foul committed in the box gave South Korea a penalty, but Moon Chang-Jin's left-footed shot hit off the post. From that point onward Fiji remained just a goal down, with their 34-year old keeper heroically stopping South Korea at every opportunity. Fiji entered halftime just that one goal behind, unaware of the onslaught that was about to come.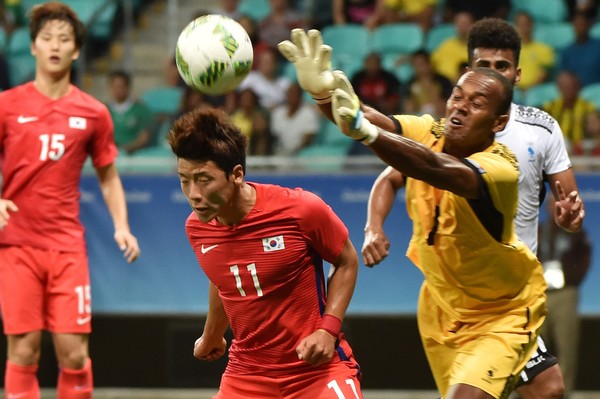 South Korea wastes little time in breaking open the game, scores seven past helpless Fiji
Fiji did well to limit the powerful Koreans to a solitary goal, but it was only a matter of time before the Asian side found the back of the net again and they did so early and often in the second 45 minutes. Kwon Chang-Hoon scored in the 63rd minute, which was to be the first of three goals in a three-minute span for the Koreans, turning the match into a rout. South Korea was now ahead 4-0 and they piled on four more goals, including a penalty by Son Heungmin in the 71st minute, just one minute after he entered the game as a substitute. From there, Korea scored three more times to make the final score 8-0.
Ryu Seung-Woo tallying a hat trick, becoming the first player in the men's tournament to record three goals in a game since Carlos Tevez in the 2004 Summer Olympics in Athens. Kwon and Suk Hyun-Jin scored two goals apiece for South Korea. With Germany and Mexico playing out an entertaining 2-2 draw earlier in the day, South Korea's massive win gives them a crucial advantage as goal difference may very well determine who advances to the knockout stages.