The USWNT and Seattle Reign starting goalkeeper, Hope Solo, issued a statement after a tough loss to the Sweden Women's National Team (SWEWNT) in the quarterfinal. Former teammates, current teammates, and ex-U.S. Men's National Team (USMNT) members have all weighed in on her comment. Many others are calling for her to be removed from the team and/or punished by the International Olympic Committee (IOC).
What was said
Not long after suffering arguably the greatest loss of her career, Hope Solo gave a statement to the media including her feelings about the game. Pieces of Solo's statement started flying around the internet in almost no time, however the full quote wasn't available until Grant Wahl, a sports journalist, posted it. In the statement, Solo accused Sweden of being "cowards" for how they played. Described by many as 'parking the bus,' Sweden took to a mostly defensive style of play by putting most of their players on defense, nearly completely blocking the other team's attack. She said "Sweden dropped off. They didn't want to open play," which definitely made it hard for Alex Morgan and others to get past.
Solo also mentioned them "countering with long balls," which is an iconic coaching style of ex-USWNT and current SWEWNT coach Pia Sundhage. While obviously bitter about the result, Solo spoke to Wahl again and acknowledged that Sweden "found a way to beat [them]." By saying "And not all [her] wins have been pretty," shows that Solo recognized Sweden did what they had to do, just as she's done in the past.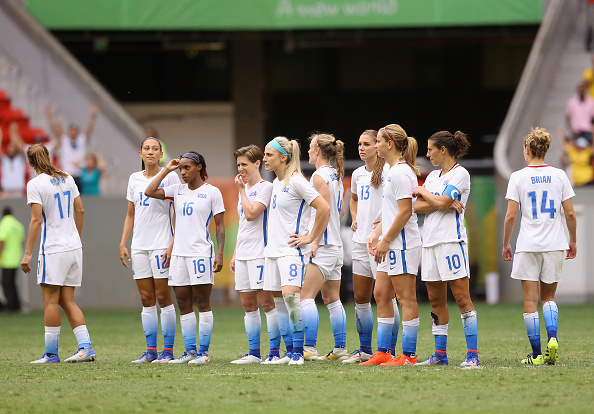 The responses
Almost instantaneously, people began sharing their opinions on what Solo said. Many took to Twitter, and throughout the day NBC announcers mentioned it on their recap of the game. The Swedish players didn't take the comment to deeply, and Sundhage was quoted saying "I don't give a crap" about the comment. However it became much more than a simple post-game statement when people began to plead with the IOC to suspend her or punish her in some way. An IOC spokesperson, Mark Adams, issued a response to the complaints and pleas. Although he didn't approve of what the goalkeeper said, the IOC isn't going to take action because "things are said in the heat of the moment."
Even that response didn't stop others from sharing their opinions. ex-USMNT player Alexi Lalas has been talking about Solo's comments for a few days. In an interview, Lalas said he didn't believe Sweden were "parking the bus," but a team as powerful as the USWNT should expect teams to defend them heavily. But does that excuse Sweden not putting numbers forward and relying on long-balls? The statistics say Sweden had three shots with one on goal compared to the U.S. with 26 shots and five on goal. Before the interview where he said something similar, Lalas tweeted he didn't know why the USWNT allows Solo to define the team. Hope Solo's two statements never mentioned the team agreeing with her.
In agreeance with Lalas, former USWNT player and teammate Michelle Akers also wrote a response on Facebook. Akers questions why "it is still happening" when Solo hasn't made any comments of similar nature in recent history. She says the team is supposed to be "gutsy" and "tough," but it must not apply to off the field. Being those things is being interviewed immediately after the team's worst Olympic performance and still remaining honest. The former midfielder was surprised her teammates didn't take action against what Solo said. Perhaps she expected the team to berate, isolate, and exile Solo as she, and other beloved former members, did after Solo made a comment about goalkeeper Briana Scurry's performance in a game during the 2007 World Cup, still the worst loss in team history.
Solo's current national team and Seattle Reign teammate Megan Rapinoe decided to weigh in on an interview with NBC. Rapinoe says to be "really disappointed" with Solo's comment like so many are really disappointed with her Olympic performance. Former USWNT members Heather Mitts, Lori Lindsey, Julie Foudy, who are known to still be heavily and emotionally invested in the team, all agreed with Rapinoe. Alex Morgan was quoted saying she doesn't "feel like those are opinions she doesn't share," considering her and Pia don't have much bad blood, but she did say the style of play frustrated them and even Brazil.
Whether the SWEWNT played cowardly or not, it got them to the gold medal match against Germany. The game plan worked, and that's what matters in the end. If it can get them the gold medal, then more power to them. However, there's one thing Sweden did that was rather cowardly that is being overshadowed, possibly because the article is in Swedish. During the last group game of Group E, all Sweden and China needed was a draw for both teams to enter the quarterfinals. During halftime Sweden's Caroline Seger asked Sundhage if the team should try to win to which Sundhage responded with "0-0 is good." What kind of coach tells their team to not do their best and win the game? In addition to that, Sweden found it beneficial to hold back and "rest" during the game to get the draw and avoid travelling. They wanted to stay in Brasilia to get the USWNT from Manaus, where six or seven teams have lost their next game after playing there. Did that strategy work? Obviously, they're guaranteed a medal. It's a genius method, really. It may not be for the same reason, but Hope Solo may have a point.