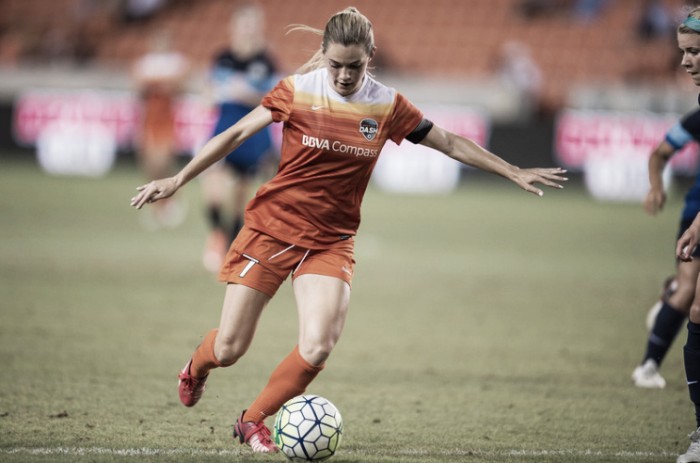 Being involved with youth national teams since the young age of 13, 24-year-old Kealia Ohai has always had a bright future in soccer. From being a four year starter at the University of North Carolina to finding a place in the starting XI with the Houston Dash, it's like she hasn't missed a single beat. The forward has quickly turned into a leader and veteran for her NWSL team, and she does it all without vision in her right eye.
A pro before going pro
Even back in high school, Ohai was something special. In her high school career, she netted 126 goals and led her team to four straight championships. As she went on to continue her career in Chapel Hill with the Tar Heels, she became a crucial player, playing in all 24 matches and starting 22 of them. In 2012, she helped her team win the NCAA College Cup, where she was named Most Valuable Offensive Player. In the same year, she was also a Mac Hermann Trophy semi-finalist. By the end of her career, the forward scored 40 goals and tallied 27 assists for North Carolina and was named 2013 Senior CLASS Award winner in NCAA Division I women's soccer.
On the international level, Ohai's biggest moments come from her time with the U-20 United States Women's National Team. In the 2012 CONCACAF U-20 Women's Championship Final, she tallied two assists to help her team secure the victory. Later that year, Ohai was named to the 21-player roster for the 2012 U-20 Women's World Cup in Japan. She scored the assurance goal in the semi-finals against Nigeria, and then went on to score the game-winning goal against Germany in the 44th minute to win the World Cup final. Going into the pros, Ohai was definitely a force to be reckoned with.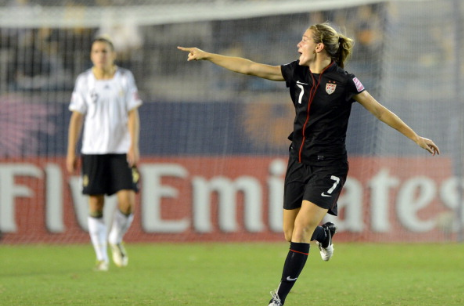 Finding her place with the Dash
In the 2014 NWSL College Draft, Kealia Ohai was picked second overall by the Houston Dash. The forward played in 17 games, scoring three goals and tallying one assist in her rookie season where the Dash saw struggle with not enough experience and the typical woes of an expansion team. Despite this, she was already being seen as a big player for the Dash. In the following year, she tallied four goals and five assists, putting herself in second for most assists in the league. She was also named Team MVP and Players' Player of the Match.
This year, Ohai has been named captain for the team and rightfully so. With the past two seasons under her belt, she's proved herself a leader. When asked about how easy the transition has been for her going from rookie to captain, she credits all the former leaders that have been on the team before. "Ella [Masar] and Erin [McLeod] and those older girls - even Jess [McDonald] - They were really honest and really tough on me, but they were so kind and I think it gave me a chance to really develop as a player," she explained. "I had confidence because they were so kind to me and really helped me." Ohai also understands that plenty of other rookies don't have the guidance she did when she was starting out, and is thankful for the veterans she had because they've made the transition to her leadership role a lot easier.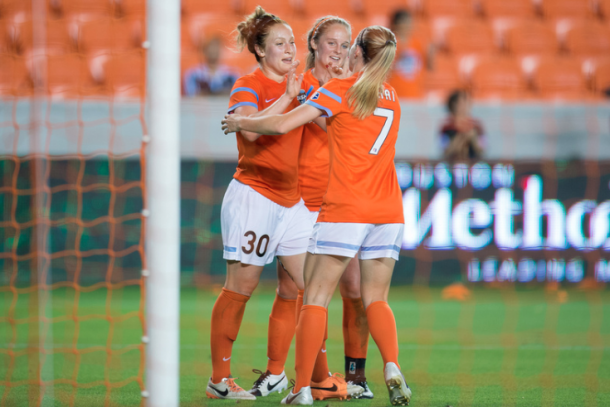 Another thing that's changed over the years aside from the 24-year-old's role is the Dash's roster. Only three players from the original 2014 squad remain, Ohai being one of them. In regards to these changes, though it can be difficult she admits, "I think that Brian [Ching] and Chris [Canetti] and Randy [Waldrum] have done a great job of getting players around us and building the team." The seasoned forward feels confident that things are slowly starting to work out for the Dash with the players they're bringing in and the experience they now have.
Leading a struggling team
The Dash's campaign this season has been a bit disappointing after the performance they put on opening night, where they showcased their firepower in a 3-1 victory against the Chicago Red Stars. That night Ohai assisted rookie Janine Beckie's goal for the win. On top of injuries and Olympic players being called away for duty, the Dash suffered a long and unfortunate goal scoring drought and winless streak from May 14 to July 16, where all the matches during that time resulted in 1-0 losses.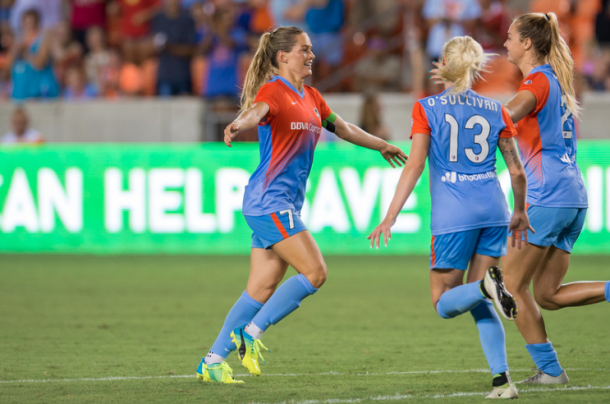 Even with odds not looking to be in their favor, the Dash didn't throw in the towel. "One thing we always talk about is we never lose that fight. We don't give up," the captain says about her and her teammates. "We went on a six game stretch where we didn't score. We really turned it around since them."
Ohai and her teammates' determination paid off on July 16. The Dash hosted - at the time - top of the table Portland Thorns, delivering a whopping 3-0 win. Not only were the goal drought and winless streak over, but the Dash captain was able to score her first goal of the season. Going 10 games into season without scoring was admittedly hard for Ohai, who's known to punish backlines and take shots from outside of the box. "It's really difficult as a forward when you're not scoring. It's such a psychological thing and it's really hard on your confidence," she told VAVEL USA. "Even if you're playing the best soccer you've ever played, if you're not scoring goals, it's really difficult to keep going." Since then, she's scored two more goals, both against the Western new York Flash before the Olympic break.
Coming back after the Olympic break, the forward and her teammates are hoping to continue momentum they have going for them. Playoffs looks really far from where the Dash stand, but at the end of the day, Ohai and her teammates will fight through the rest of the season no matter what. "We wanna just get as many points as we possibly can," the 24-year-old explained. "We're not out of it yet, so we're not going to give up until the very end."
Ohai and her teammates hosted the Washington Spirit in a makeup match earlier this week, where they fell 2-1 - Ohai being the only goal-scorer for the Dash. They will be on the road next Saturday to take on the Western New York Flash.