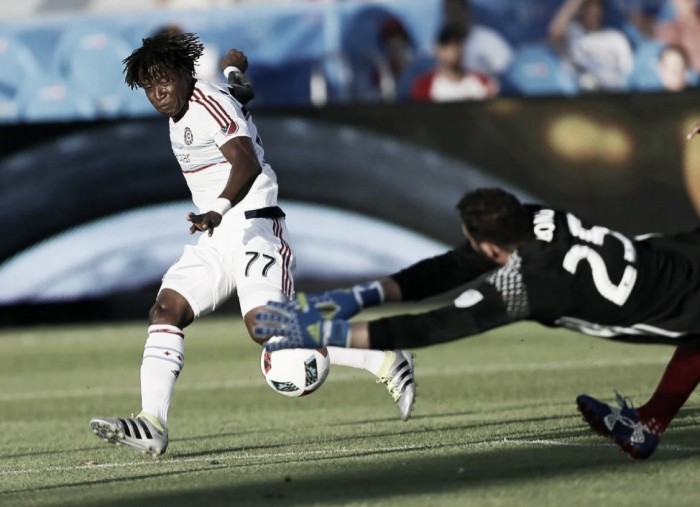 Thank you for following tonight's match between DC United and the Chicago Fire. The recap of this match will be up shortly. This is Matt Niksa saying "so long!" Hope you all enjoyed the game as much as I did.
FINAL: DC 6 Fire 2. DC striker Patrick Mullins scores his first MLS hat-trick to help down the Fire. Nyarko, Acosta and DeLeon scored DC's three other goals. The Fire played well in the first half but grew more fatigued as the game went on. The red card to Khaly Thiam played a big role in tonight's match as DC wore down the 10-men Fire from the 34th minute on. Overall it was an entertaining match at RFK Stadium and many of the DC fans in attendance will be proud of their team's performance.
90': There will be two minutes of second half stoppage time.
90': GOAL! And just as I say that DC score their sixth! Acosta is again the provider, finding Nick DeLeon at the top of the Fire's box, and DeLeon fires the ball past Johnson to score his first goal since last season. DC 6 Fire 2. DC just pouring it on now.
89': Game winding down now. Fire have been stifled by DC's defense in the second half. DC has taken their foot off the gas.
DC actually made their second substitution in the 76th minute: DC MF Nick DeLeon for MF Marcelo Sarvas. They have used up all three subs.
82': DC MF Acosta with plenty of space and time to put one on frame from outside the box, but his shot sails well over Johnson's goal.
80': SUBSTITUTION: DC MF Patrick Nyarko for former Fire player Kennedy Igbonanike. Nyarko put in a man-of-the-match performance tonight.
79': DC right back Franklin is still making runs into the Fire box. DC looks like they want to score six or seven tonight.
What a pickup Mullins has been for DC. His runs off the ball have been fantastic tonight.
74': GOAL! DC FWD Mullins with the hat trick! DC patiently knocked the ball around the Fire's box, the ball is played out wide to Franklin, and Mullins redirects Franklin's cross past Fire GK Johnson to give the hosts a three-goal cushion. DC 5 Fire 2. Should be game, set and match.
72': Fire right back Kappelhof makes a good run down the right flank but sends his cross over his teammates.
70': SUBSTITUTION: Fire MF Matt Polster for MF Michael Stephens. Fire is now out of substitutions.
67': Arshakyan's role with the Fire is clear: hold the ball up, make good runs and make room for Accam. He does well to hold the ball up but Accam's pass goes out for a DC throw-in.
DC spraying the ball to left back Taylor Kemp at the moment. Kemp has plenty of space to run down the left side. His cross towards Mullins is easily cut out by Fire DF Jonathan Campbell.
61': DC chance! Birnbaum wins another header after a corner kick and his header falls to Mullins inside the Fire's six-yard-box. His volley flies over Johnson's goal.
The Fire is looking fatigued at the moment. They played on Wednesday and have played with 10 men since the 34th minute.
Correction. Officials just re-credited Nyarko with DC's fourth goal. That means Mullins will have to score another goal to earn his first-ever MLS hat trick.
It looks like DC's fourth goal has been credited to Mullins, not Nyarko. That means Mullins has his first-ever hat trick!
56': SUBSTITUTION: Fire FWD David Arshakyan for Fire goalscorer de Leeuw. Arshakyan making his Fire debut tonight against DC.
Nyarko deserved that goal after all of the hard work he has done for DC tonight. He's won fouls and assisted on two of DC's four goals.
51': GOAL! DC with their fourth goal of the game! Sam sends a corner kick that Birnbaum heads towards goal. Nyarko volleys Birnbaum's header past Fire GK Johnson to give DC a two-goal lead.
49': DC with a great chance to make it 4-2! DC MF Sam finds Franklin who sends a great ball across the Fire's box. Franklin's pass goes across the box and misses Mullins' right foot by inches.
47': YELLOW CARD: Fire MF de Leeuw earns a yellow after a cynical foul on Nyarko. Nyarko has been the victim of numerous Fire fouls tonight.
Second half begins! DC 3 Fire 2
Accam should bring a large dose of speed to the Fire attack.
Halftime: SUBSTITUTION: Chicago Fire FWD David Accam for Fire MF John Goossens.
What an action-packed half of soccer! DC looked to have sealed all three points after Mullins scored his second goal of the game just before halftime, but Fire MF Cocis had other ideas, scoring via a huge deflection from DC DF Birnbaum to cut his team's deficit to one. The Fire will have to play the next 45 minutes with ten men after MF Thiam was shown a red card in the 34th minute. I look forward to bringing you commentary and results over the next 45 minutes. Should be a fun second half!
End of first half: DC United 3 Chicago Fire 2
47': GOAL! What a crazy game! Fire MF Razvan Cocis receives the ball and takes a shot outside DC's box. His shot takes a wicked deflection off of DC defender Birnbaum and loops over GK Hamid to make it 3-2. DC 3 Fire 2.
46': GOAL! DC scores their third! Acosta with a lovely, no-look pass to Mullins, who shields the ball from a Fire defender and knocks the ball past Johnson. It's all DC at the moment. DC 3 Fire 1.
There will be two minutes of stoppage time added on to the end of the first half.
That Thiam red card seems to have taken the wind out of the Fire's sail. They have not had much of the ball ever since Thiam's red.
That goal was Mullins' first goal of the season. He has been one of DC's most influential players ever since he was traded from NYCFC to DC in late July.
40': GOAL! DC takes the lead! Vincent hits a shot that deflects to Nyarko, who slips the ball back to Mullins. Mullins makes no mistake with a cool left-footed finish that gives Johnson no chance. DC 2 Fire 1. DC playing very well so far.
38': SAVE! DC MF Vincent, who just entered the match, hits a laser from just outside the Fire's box that forces Johnson to tip his shot over the bar. Another corner for DC coming up.
37': SUBSTITUTION: DC MF Rob Vincent for MF Jared Jeffrey.
36': YELLOW CARD: Fire DF Johan Kappelhof earns a yellow with a foul just outside the Fire's box.
What a moment of madness from Thiam. He was angry that he was called for a foul on Nyarko and retaliated by throwing the ball at the DC player. You just can't do that.
34': RED CARD! Fire MF Khaly Thiam is sent off with a straight red card. Thiam fouls DC MF Nyarko and then throws the ball toward Nyarko's face. Referee Drew Fischer doesn't hesitate to show Thiam the red. Fire now down to 10 men.
31': GOAL! The equalizer from the Chicago Fire! Fire MF Matt Polster hits a hard shot from outside the box that DC GK Hamid saves. Hamid can only push the ball to Fire MF De Leeuw, who fires the ball past Hamid to tie the game at 1. DC 1 Fire 1. That goal was De Leeuw's second goal of the season.
30': DC looking for that second goal. DC right back Sean Franklin makes a good overlapping run, receives the ball from teammate Sam and crosses the ball into the box. Thiam clears the ball to safety.
Fire just couldn't withstand all that DC pressure. It was a great goal by DC, though, and the host now takes a deserved 1-0 lead.
25': GOAL! What a goal by DC United! Marcelo Sarvas plays it to Nyarko, who backheels the ball back to Sarvas. Sarvas pounds the ball across the Fire's box and Acosta is there to smash the ball into an empty yet from five yards out. DC 1 Fire 0. That's Acosta's third goal of the season.
24': SAVE! DC DF Birnbaum again wins the header, forces Johnson to tip his header over the bar.
23': Good pressure from DC forces another corner kick. DC starting to put some pressure on Fire now. Fire defense is bending but not breaking.
21': DC MF Nyarko is fouled on the left side of Fire's 18-yard-box. DC's free kick comes to nothing, though.
19': YELLOW CARD: DC midfielder Jared Jeffrey gets the game's first yellow. He is now suspended for DC's next game against NYCFC.
18': Fire MF Goossens tries his luck from 35+ yards out. The ball sails well over DC GK Bill Hamid's goal. Fire is the better team at the moment.
15': DC MF Nyarko slides the ball to a cutting Acosta whose shot is saved by Johnson's legs. Acosta is flagged offside, though.
14': Fire MF De Leeuw's backpass to GK Johnson forces Johnson to make an awkward clearance. Fire coach Veljko Paunovic is not happy with that backpass.
DC is a very good team in the air and they almost take the early lead. Johnson does well to make the save.
11': SAVE! DC defender Birnbaum meets a Sam corner and forces Fire GK Johnson to dive to his right for the save.
9': Thiam finds a cutting Vincent whose cross eludes everybody in the box. Fire is the more threatening team so far.
7': Jeffrey fouls Thiam and Fire midfielder Goossens swings in a free kick that DC knocks out for a throw-in.
3': DC midfielder Jared Jeffrey drops to the turf after an aerial duel with Fire midfielder Khaly Thiam. Jeffrey's head is cut but he looks alright to continue.
And we're underway here at RFK Stadium!
Chicago Fire speedster David Accam starts on the bench tonight. Also of note: Armenian forward David Arshakyan, signed by the Fire on August 2nd from Lithuanian club FK Trakai, is on the Fire bench. Could make his Fire debut tonight.
DC United starting lineup: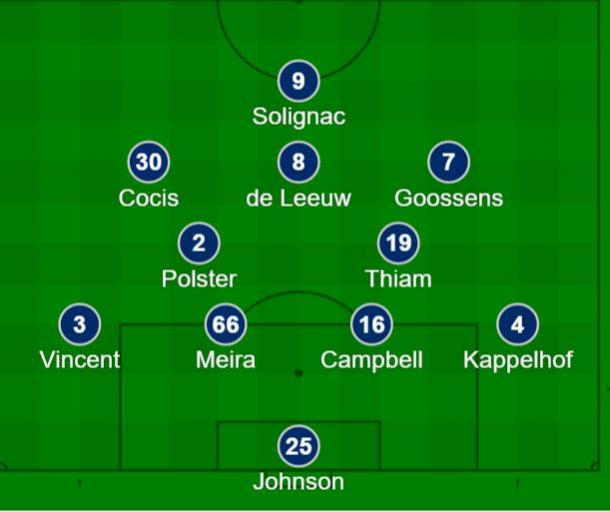 Chicago Fire starting lineup:
Lineups have been announced and players are warming up! Kickoff should be about thirteen minutes from now.
It is currently 89 degrees Fahrenheit and partly sunny in our nation's capital. The temperature should drop to the high 70s-low 80s by the end of tonight's match.
Drew Fischer is the center referee and Claudiu Badea and Gianni Facchini are the two assistant referees. Rubiel Vazquez is the fourth official.
Hello, everyone! My name is Matt Niksa and I'll be covering today's game between host DC United and the visiting Chicago Fire.
Projected final score: D.C. United 2 Chicago Fire 0
Prediction: D.C. United needs to win these types of matches in order to stay above the "red line," which separates the playoff teams from the non-playoff teams in MLS, and this author believes that they will win Saturday's match against the Fire. Even though the Fire secured their first road win in over two years last weekend, they played a majority of their starters on Wednesday and will be fatigued going into Saturday's game. D.C. United started a bevy of backups against the Impact on Wednesday and still earned a positive result, and their first-choice starting XI should be well-rested and ready to play against the Fire. D.C. is one of the best teams in the league in winning loose balls after a set-piece opportunity or cross, which doesn't bode well for the Fire since they conceded a goal against the Galaxy after failing to clear a cross to safety. This author believes that D.C. striker Mullins and midfielder Acosta will take advantage of some poor Fire clearances to punish the visitors and that D.C.'s defense will not allow the Fire to launch any successful counterattacks. With the win, D.C. United will maintain their spot above the red line in the Eastern Conference and will extend their unbeaten run to six games.
Ben Olsen is the manager for D.C. United, while Veljko Paunovic is the manager for the Chicago Fire.
Notable Subs: DF Michael Harrington, MF Khaly Thiam, MF/FWD Arturo Alvarez.
Sean Johnson; Johan Kappelhof, Jonathan Campbell, Joao Meira, Brandon Vincent; Razvan Cocis, Matt Polster; David Accam, Michael de Leeuw, John Goossens; Luis Solignac.
Chicago Fire projected starting lineup/formation (4-2-3-1)
Notable Subs: MF Lamar Neagle, MF Nick DeLeon, FWD Kennedy Igboananike.
Bill Hamid; Taylor Kemp, Bobby Boswell, Steve Birnbaum, Sean Franklin; Marcelo Sarvas; Lloyd Sam, Jared Jeffrey, Luciano Acosta, Patrick Nyarko; Patrick Mullins.
D.C. United projected starting lineup/formation (4-1-4-1)
Here are the projected starting lineups for D.C. United and the Chicago Fire.
D.C. United will be without five players because of injury for Saturday's match: Chris Korb (ACL), Collin Martin (foot), Chris Rolfe (concussion), Alhaji Kamara (hamstring) and Charlie Horton (hand). D.C. will also be without backup center back Kofi Opare after Opare earned a red card for a studs-up tackle against the Impact on Wednesday.
The Fire's Razvan Cocis (knee) and Nick LaBrocca (quad) are questionable for Saturday's match. Fire defender Eric Gehrig is out with a left hamstring injury.
The Chicago Fire's game plan against D.C. United will be to counterattack and to force turnovers in their offensive end. In the Fire's 3-0 road win over the Impact, their first road win in over two years, the Fire counterattacked the Impact to score their first goal, then forced a turnover just outside the Impact's 18-yard-box to score their third goal. The Fire has one of the fastest players in the league in David Accam and a couple of good ball-winners in Matt Polster and Razvan Cocis. All three of these players were involved in the Fire's 3-0 win over the Impact and given United has the second-best defense in the Eastern Conference, the Fire's best strategy against D.C. United will be to counterattack and to exploit turnovers to create scoring opportunities.
D.C. United's game plan against the Chicago Fire will be to win the loose ball after a set-piece opportunity or cross. In D.C. United's 2-2 draw against the New York Red Bulls, United's second goal was the result of center back Steve Birnbaum heading Taylor Kemp's corner kick back across the Red Bulls' 18-yard-box, where striker Patrick Mullins was there to head Birnbaum's pass past Red Bulls' goalkeeper Luis Robles to tie the game at two. United center backs Birnbaum and Bobby Boswell and forward Mullins are all aerial threats and United midfielders Luciano Acosta and Patrick Nyarko can serve dangerous balls into their opponent's 18-yard-box. The Fire had trouble clearing crosses to safety against the Galaxy, and if they can't clear United's crosses, D.C. United will punish the Fire on Saturday.
The Chicago Fire picked up a point of their own after tying the visiting LA Galaxy 2-2 on Wednesday. After Galaxy center forward Gyasi Zardes fired his team into the lead in the 31st minute, the Fire's Arturo Alvarez and David Accam scored in the 34th and 39th minute, respectively, to give the Fire a shock 2-1 lead. But the hosts would have to settle for a point after Galaxy substitute Alan Gordon crossed the ball to Mexican international Giovani dos Santos, who roofed it into Fire goalkeeper Sean Johnson's net. With the draw, the Fire moved to 5-11-8 and moved up to ninth place in the Eastern Conference, six points behind D.C. United.
D.C. United picked up a road point after Wednesday's 1-1 draw against the Montreal Impact. D.C. United midfielder Lamar Neagle converted a penalty kick in the 39th minute to give his team the lead, but Impact center back Hassoun Camara headed in a Marco Donadel cross in the 77th minute to tie the match. D.C. United goalkeeper Bill Hamid made three outstanding saves to preserve the 1-1 tie. With the draw, D.C. United moved to 6-8-11 and climbed to sixth place in the Eastern Conference. The capital club now holds the Eastern Conference's final playoff spot.
D.C. United looks to extend their five-match unbeaten run when they take on the Chicago Fire on Saturday, August 27, at RFK Stadium in Washington, D.C. The game will kickoff at 4:00 PM PT and can be seen on MLS Live. This will be the 54th all-time meeting between the two sides, with D.C. United holding a slim (win-loss-draw) 21-18-14 all-time series lead.
Hi, and welcome to VAVEL USA's LIVE coverage of D.C. United - the Chicago Fire. My name is Matt Niksa and I'm here to bring you minute-by-minute updates of today's match.