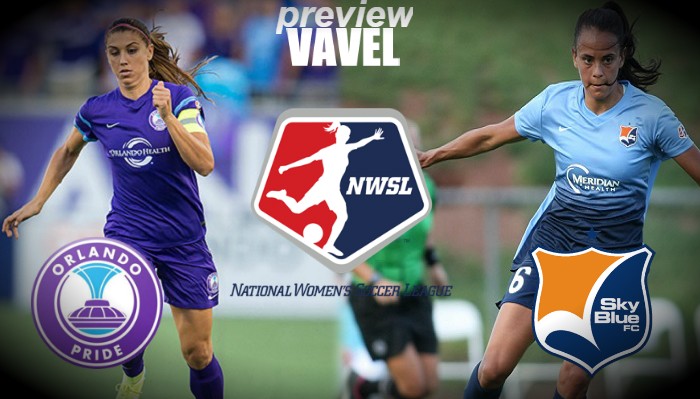 Both the Orlando Pride and Sky Blue are out of the NWSL playoffs, but that won't stop either team from pushing for those three points. With just three days between games, the last match is still fresh in everyone's minds. Wednesday's game ended in a 1-1 draw with goals from the Pride's Alex Morgan (23') and Sky Blue's Samantha Kerr (81'). Although both teams want redemption, the quick turnaround could possibly have a large impact on styles of play and fatigue.
Orlando's second to last home game
The Orlando Pride look to start off their last two home games of their inaugural year with a win. They may not have finished the season like they wanted, but it's important to finish as strong as possible. Their last five matches include four losses and a draw from Wednesday's game against Sky Blue, their first of the season. Head coach Tom Sermanni has a deep enough roster to work around the fatigue and injuries that might come along during Saturday's game.
Something to look forward to is new signing and Australian Women's National Team (AUSWNT) striker Lisa De Vanna to get more playing time than the previous game. De Vanna is known for her speed and excellent ability to break down a defense, which would cause tons of trouble for Sky Blue. Rookies Christina Burkenroad and Samantha Witteman could be seeing more minutes as well.
The most important thing for the Pride to do Saturday is to control the game's pace and keep possession. As they learned Wednesday, Sky Blue is a very quick, explosive team. Slowing them down, closing in on players like Kerr and Leah Galton has the potential to pay off very well for Orlando. Not playing Morgan as the lone striker would allow the Pride to open up the game and use the whole pitch to navigate around Sky Blue's tight defense. Playing her with someone like De Vanna or Sarah Hagen increases the scoring chances by a good amount.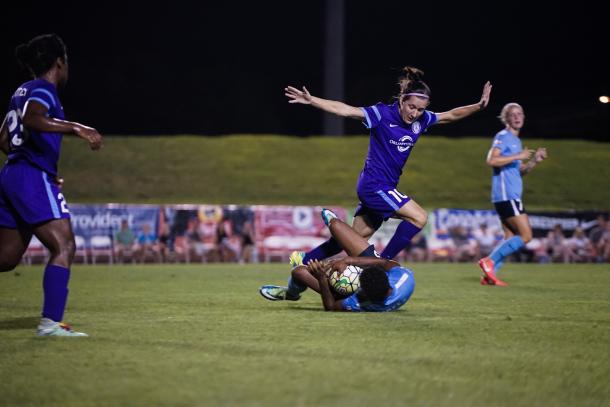 Finishing strong
Sky Blue fought a good battle to come away with a point from Wednesday's game. Kerr's late goal definitely boosted the team's spirits, however, it was far too late for them to really push for another one. Their last five games include three losses, a win, and a draw. Despite showing a ton of promise in those last few games, it wasn't enough to get them into playoffs. Sky Blue will finish in a higher position than the 2015 season, which is very promising for next year.
After suffering a minor ankle sprain in the final minutes against the Chicago Red Stars, defender Kelley O'Hara could possibly make a return. She could pose a slight issue for both Orlando's offense and defense. Kerr had the most shots of the game with eight, and it could be expected for her to aim for more.
To pull off a win, Sky Blue needs to slow down, find defensive holes and capitalize. They have to use their very talented midfield to get the ball forward because the Pride isn't afraid to press. With them being such a fast team, being offside is a frequent occurrence. Players like Galton and Kerr have to watch their speed and placement or it could end up costing Sky Blue valuable chances.
The game will be streamed on the NWSL Youtube channel September 10 at 7:30pm ET.