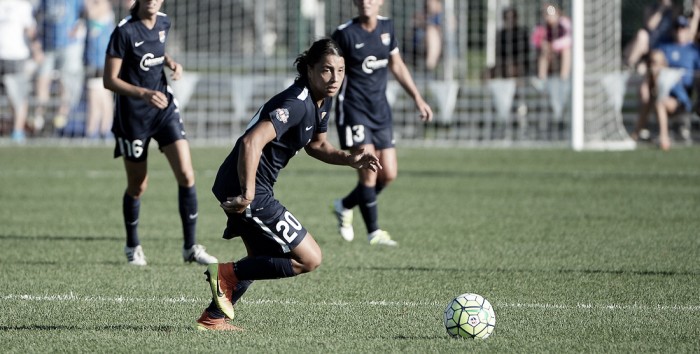 Sky Blue FC forward Samantha Kerr was voted the National Women's Soccer League (NWSL) Player of the Week by the NWSL Media Association for Week 18 of the 2016 NWSL season.
Kerr scored two goals during Week 18 action
Kerr, 23, tallied two goals in Week 18, one goal to help Sky Blue FC earn a 1-1 draw against the Orlando Pride Wednesday, September 7th and a second against the Pride Saturday in Orlando to help Sky Blue win 2-1.

The Australia native scored her first goal of the week in the 80th minute against Orlando when she finished a rebound off Pride goalkeeper Ashlyn Harris from Sky Blue FC forward Maya Hayes inside the box.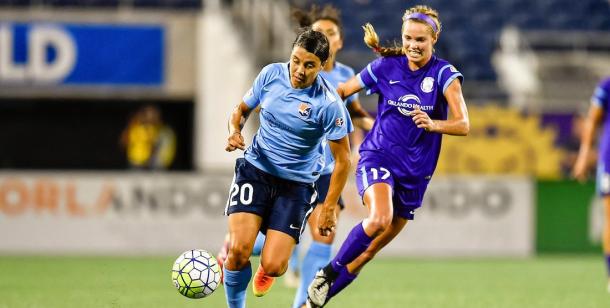 Kerr scored her second goal of the week against Orlando in the 49th minute when she maneuvered the ball around several Pride defender and shot the ball left post past Harris

Kerr played 90 minutes in both games against Orlando. She finished with twelve shots (five on goal) for the week.

It is the second time Kerr has been honored as the NWSL Player of the Week and is the sixth time a member of Sky Blue FC has won the award.
Kerr the consistent spark plug
Despite missing the early part of the season recovering from offseason foot surgery, Kerr has been the most consistent offensive force all season for the Sky Blue. She demonstrates a rare combination of size and speed, either using her power to bull past defenders or using her speed on breakaways.
Kerr led the Sky Blue in goals last year, and along with the now departed Katy Freels and Nadia Nadim, was the only reliable scorer in the Sky Blue attack. If she can remain healthy and continue to hone her skills, there is no reason why Kerr can't lead the league in scoring in 2017.
The NWSL Player of the Week is selected each week of the regular season by the NWSL Media Association, a collection of press that cover the league on a consistent basis.