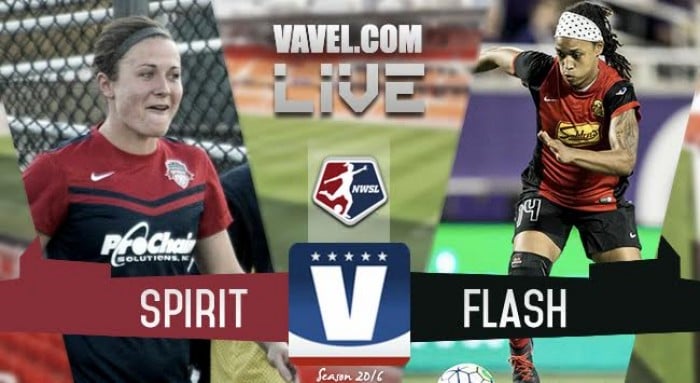 Thanks for tuning in for our live coverage of the NWSL final. Until next year.
Washington misses. WNY Wins!
WNY Misses 3-2
Washington misses 3-2
WNY scores 3-2
Washington scores 2-2
WNY Misses 2-1 Flash
Washington scores 2-1 Flash
WNY scores 2-0 Flash
Washington misses 1-0 Flash
WNY scores their first PK
We're going to PKS!!
Goal scored by Lynn Williams
120 +3 WNY FLASH GOAL
120+2 Yellow card issued to Kelsey Wys for time wasting
There will be 4 minutes of added time
120' Matheson shot is blocked.
118' Lots of passing in the box by the Spirit but the eventual shot is blocked
117' Dunn shot blocked for a corner
115' Shot from Dunn forces a save
113' Flash long throw leads to commotion in the box but it's eventually cleared
113' Stengel enters the game in Ordega's place
110' Play continued but Ordega is still down. Seems to be a lot of pain coming from her knee now.
109' Trainer is on for Ordega who appears to be holding her ankle
FLASH SUB: Hamilton in for Zerboni
That's the end of the first half of overtime! 2-1 Spirit with 15 minutes to go!
105' Shot for Ordega but it goes wide of the goal
104' Referee controversially calls offside against the Flash
100' Dunn called offside
98' Mewis attempts a backheel but misses. Kreiger clears for a Flash throw-in
96' Krieger shot forces D'Angelo to make a diving save.
94' Flash corner
Goal scored by Dunn 2-1 Spirit
92' SPIRIT GOAL
91' We're back! The Spirit start with the ball
The score is 1-1. The game will now go into two 15 minute halves of overtime
That's the end of regulation
90+4 Krieger shot over the crossbar
90+2 Hinkle shot goes over the cross bar
There will be four minutes of added time
90' Flash with a chance but it is cleared
88' D'Angelo taken down, the trainer is called on
83' Yellow card issued to WNY Flash's Zerboni
81' McDonald long throw is cleared by the Spirit
80' Spirit corner does not connect and is out for a throw in on the other side
WNY SUB: Smith for Doniak in the 79th
SPIRIT SUB: Matheson in for Banini in the 79th
78' Flash free kick in the middle of their attacking half
78' Krieger with a shot but it is called offside and goes wide anyway.
77' Dunn is held by a Flash player a few yards above the 18. Free kick taken by Nairn
75' Flash free kick in the middle of their half
74' Another Spirit freekick taken by Nairn
72' Trainer on for Banini, but she is ok enough to walk
69' Washington free kick taken by Nairn
65' WNY cross blocked by Zardorsky, but it goes out for a corner
64' McDonald is attended to by a trainer
62' Crystal gets a chance after almost being tripped in the box. Spirit corner
58' Spirit free kick and quick restart leads to a chance for the Spirit
57' Flash corner
55' Krieger is down and the trainer is called onto the field, but she is well enough to continue playing
54' Ordega called offside
53' McDonald dribbles in towards goal but her back pass is not recieved by anyone
51' Spirit free kick
50' Spirit Corner kick
49' Dydasco has returned to the sidelines on crutches
The Flash are doing a lot of attacking to start the half
We're back!
That's the end of the first half.
45' There will be 3 minutes of stoppage time in the first half.
WNY doing a lot of attacking, but the Spirit starting to look for more chances.
42' Combinations between Krieger and Dunn lead to a shot for Krieger that is bobbled by D'Angelo, but she eventually grabs it.
37' Dunn dribbles down the sideline and beats her defender to get a cross off, but it goes out the opposite sideline
36' Flash free-kick from just above midfield
33' Another shot from Nairn forces D'Angelo to make a diving save
30' Nairn rockets a shot right over the center of the goal
29' Washington Free Kick
27' WNY long throw is cleared
25' Dunn called offside again.
23' Dunn recieves a through pass but is called offside.
21' Handball called and Spirit immideatly restart for a Banini shot
Dydasco is taken off on a stretcher. Will be replaced by Kleiner
17' Dydasco is down, but no foul is called. A trainer is brought onto the field
15' Flash freekick in their defending third
Mewis touches around a defender and finishes 1-1
13' FLASH GOAL
11' Spirit playing in their attacking half, looking for another goal
Crystal Dunn touches the ball past D'Angelo and places it in the back of the net 1-0 Washington
9' SPIRIT GOAL
7' Flash corner is headed in, but the referee calls it back. Still 0-0
5' Mewis takes a shot, but Wys saves it
2' Washington with a shot on goal, but it's easily collected
1' WNY pressing and almost have a shot but recycle instead
0' We're off!
Washington will start with the ball.
The national anthem is over, and the teams are getting ready
We're minutes away from kickoff. The teams are taking the pitch.
SUBS: Cayman, Eckerstrom, Hahn, Hamilton, Niemiec, Smith, Speck
D'Angelo, Dahlkemper, Doniak, Eddy, Ecerg, Hinkle, Kennedy, McDonald, Mewis, Williams, Zerboni
Western New York Flash Starting Lineup:
SUBS: Johnson, Kleiner, Labbe, Lohman, Matheson, Stengel, Williams
Banini, Church, Dunn, Dydasco, Huster, Krieger, Nairn, Ordega, Oyster, Zadorsky, Wys
Washington Spirit Starting Lineup:
That's all for now. Keep checking in as the match gets closer for more updates!
Prediction: Both teams are very strong, so this will be a tough matchup. Both teams have aggressive forwards but equally robust defenses. The game will be tight and be 0-0 at the end of the first half, but a flurry of goals in the second half will lead to a 2-1 victory to the Western New York Flash.
The head coach of the Washington Spirit is Jim Gabbera. The head coach of the Flash is Paul Riley, but he will be suspended for this match
D'Angelo; Eddy, Kennedy, Hinkle; Doniak, Erceg, Mewis, Zerboni; McDonald, Williams
Western New York (4-4-2):
Labbe, Dydasco, Church, Krieger, Nairn, Huster, Lohman, Matheson, Banini, Dunn
Washington (4-3-3)
Here are the projected lineups for both teams.
On the other side, Western New York will rely heavily on their offensive strength to help them win this game. Lynn Williams has found the back of the net time and time again this season, so it is likely that she will find chances on Sunday as well. Jessica McDonald's aforementioned long throw-ins also caused many problems for the Portland Thorns in their semifinal match. It will be absolutely vital for Washington to be able to sort out their marks and keep track of them during their throws because it is clear that they can be as effective as corner kicks. Lastly, Sam Mewis has been a force in the midfield for the Flash. Although only an alternate on the Rio Olympic Squad, she is still a talented player and her national team career is only beginning.
The Washington Spirit are a very experienced team, and that will show in their play on Sunday. Veteran players like Ali Krieger and Joanna Lohman know how to communicate with all of the players, and that communication will be a huge key in their success. The Spirit are a team that may have struggled occasionally to find a rhythm, but once they found it there was no stopping them. On the attack, the return of Estefania Banini from injury will surely help them and of course, the USWNT's Crystal Dunn will be helping create opportunities. Fans should not see her lack of goals this season as a sign of her decline, as she is just playing a different role that allows her to produce chances for other players. Another important key for Washington will be sorting out the Flash's long throw-ins and being able to control their pacy forwards that were able to break Portland down
These two teams have met twice before this season. Their first matchup was a 3-0 Washington victory, but a more recent 1-1 draw proves how much the Flash have improved since the beginning of the season, so a pretty close scoreline should be expected
Hi, and welcome to VAVEL USA's coverage of the 2016 NWSL Championship between the Washington Spirit and the Western New York Flash. My name is Alexandra Grant, and I will be providing you with live updates!