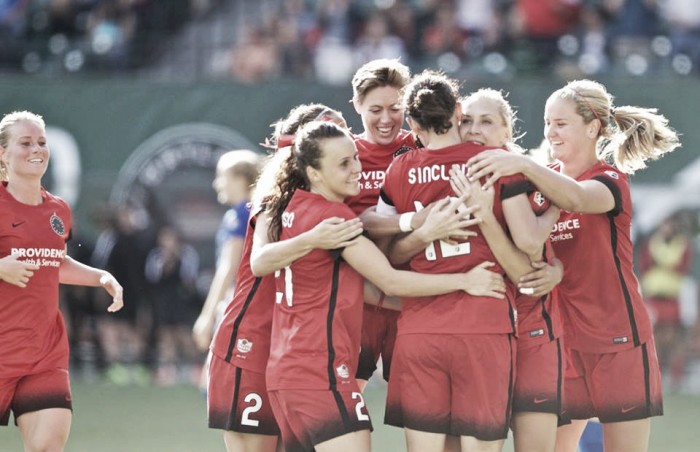 In what could be seen as a "comeback" year for the Portland Thorns, the 2013 NWSL Champions earned their best regular season record in club history of 12-3-5 (win-loss-draw). On paper, the 2016 Thorns looked to be the deadliest roster in the league - in part thanks to new head coach Mark Parsons, who previously coached the Washington Spirit for two and a half seasons. With the likes of former Paris Saint German attacker Lindsey Horan, Icelandic star Dagny Brynjarsdottir and former Sky Blue FC striker Nadia Nadim joining the club, the Thorns quickly became likely contenders for the 2016 NWSL Championship after missing out on playoffs last season - a first for the club.
Thorns on fire in 2016
Opening their season at home, the Thorns came out victorious in a 2-1 win over expansion team Orlando Pride and former Thorns forward Alex Morgan. Portland's goals that night came from their newbies Horan and Brynjarsdottir, and from there the Thorns took the season by storm. The club would continue on to a 12 game unbeaten streak with seven wins and five draws - tying teams such as back-to-back champions FC Kansas City and long-time rivals Seattle Reign FC.
This unbeaten streak would take Portland to the top of the table in early July. Just as Olympic players were heading out to join their national teams, the Portland Thorns would experience the end of their glorious 12-game unbeaten streak. On July 9 at Providence Park, two time champions FC Kansas City delivered Portland's first loss of 2016. As timing may have it, Portland would travel the following weekend to Texas, falling 3-0 to a Houston Dash team that needed that win more than anything. Just before the league-wide Olympic break, Portland made a huge comeback at home, defeating the Reign 1-0 in front of almost 20,000 fans.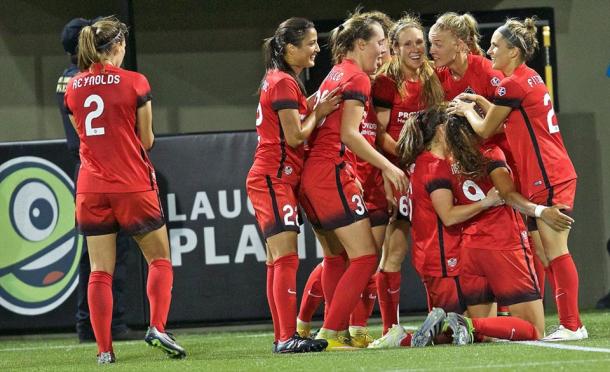 Portland's next meeting against Seattle wouldn't turn out as great, falling 3-1 on the road when the league resumed play post-Olympics. The Thorns bounced back a week later, thumping the last place Boston Breakers 5-1, scoring the most goals in a game for the club all season. Denmark forward Nadia Nadim earned herself a hat trick during the match, and the club would be alive and back to pushing for a playoff berth. They did exactly that just a week later when they shutout Houston 3-0 at home. The Thorns went on to win their last two matches of the season, solidifying second place on the table to give them a home play-off match as well as clinching the 2016 NWSL Shield in their final match of regular season against Sky Blue FC.
The Thorns would host fourth place Western New York Flash in front of over 20,000 fans for their semi-final match. In what would be a high scoring and exciting game, Portland would fall 4-3 to former Thorns head coach Paul Riley's dark horse team.
Biggest win
In a big year for the Thorns, who only suffered three losses in regular season, plenty of games could be considered for the team's biggest win. Narrowing it down, Portland's biggest win has to come from their 4-1 victory over the Washington Spirit, a team who ended up taking first place at the end of regular season and made it all the way to the NWSL Championship in October. With this win on May 21st, the Thorns ended the Spirit's undefeated streak and went on to be the last remaining club to lose a game - and would keep that title until early July.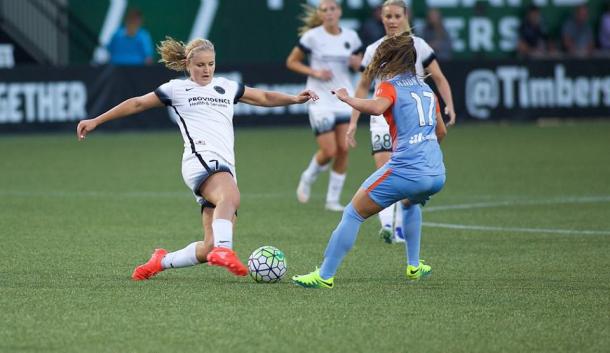 Biggest defeat
Without a doubt, Portland's biggest defeat occurred on July 9th when they lost 2-1 to FC Kansas City at home in front of 17,000. This loss marked the end of Portland's 12-game unbeaten streak. Without their internationals, Portland was unable to come away with the result due to new players finding their way into the 18 and just lack of experience playing together; it showed their vulnerability without their big stars. Despite their best attempts, the Thorns would continue to struggle in the next few games following this while their international players competed in the Olympics.
Player MVP(s)
On a roster this stacked, it's difficult to decide on just one MVP for the Thorns. Tobin Heath certainly came up big for Portland this season. She was unstoppable, leading the league with 10 assists for the year, a full three assists ahead of the next player in the league. A true, creative midfielder, having Heath on the field and on the ball made all the difference.
Another player that really helped Portland get far this season is goalkeeper Michelle Betos. Despite having to compete with fellow keeper Adrianna Franch, Betos capitalized every chance she could when she was in goal. She truly stepped, keeping her team in every match with incredible saves that could arguably make her next level. She collected four clean sheets this season with a total of 50 saves by the end of the season.
Lastly, somewhat of an unsung hero for the Portland defense, Emily Menges played a big part in her team's success this season. The 24-year-old Georgetown alum played and started in all 20 matches this season. She also played in every single minute of every match, giving her a grand total of 1,800 minutes logged. In a season where veteran defender Kat Williamson suffered injury, Menges filled her spot, pairing with national team regular Emily Sonnett in the back to keep Portland's backline organized. The defender has grown a lot in the past season alone, and it'll be interesting to see how she continues to develop in the future.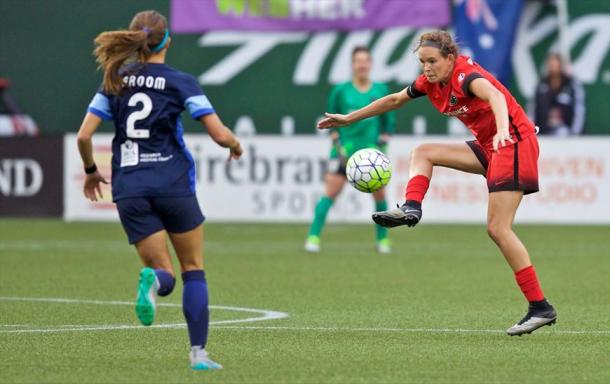 Player with an off-year
When a team's as successful and stacked as Portland, it's hard to pick out a player who had an "off-year." Even with all her talent, this one has to go to Canadian international and Thorns captain Christine Sinclair. In a year where she was fighting off minor injuries and called upon by her country to represent them at the 2016 Olympics, the Thorns couldn't rely on the forward as much as they previously have. When she was on the field she was able to make an impact, but she wasn't seen as productive as she's been before for her club. Hopefully with no major tournaments next year, Sinclair will be able to stay healthy and make a bigger impact that she's known for in the NWSL.
Improvements for 2017
With the end of 2016 came a big retirement announcement from veteran Kat Williamson. Williamson, who suffered an injury at the beginning of the season, was unable to find her way back to the starting XI once recovered. This only secures Menges at center back with Sonnett, a pairing that has been mastered over the course of the season. Going forward, Portland's roster is practically perfect for the club, and they can only strengthen it by adding more versatile and threatening players for next season, as well as having their whole roster healthy and back on the field.