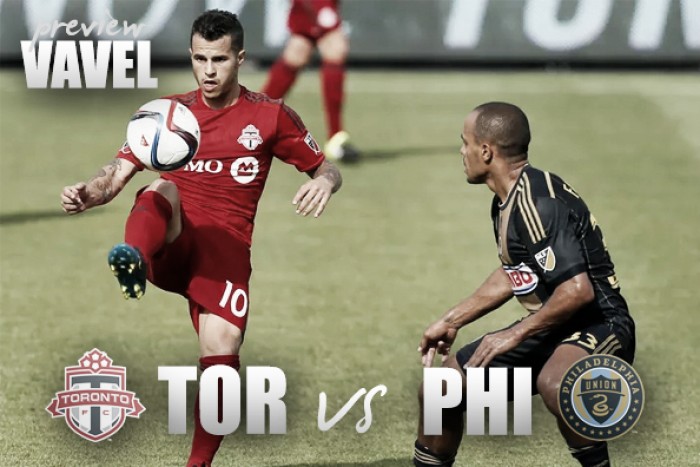 The Philadelphia Union travel to BMO Field to take on Toronto FC in the knockout round of the Eastern Conference Audi 2016 Major League Soccer Cup Playoffs on Wednesday night.
How things look going in
The Union come into the match as significant underdogs with Toronto FC at 1.62 betting odds to come out victorious. The Union qualified for the playoffs despite having failed to win a match in two months, going 0-5-2 since September. For contrast, Toronto were 2-1-4 in the same period of time with both wins having come against bottom dwellers, Chicago Fire. The poor form of both teams seems to suggest a more even field than most will admit; however, Toronto were fantastic at home in the regular season, having lost only three times at BMO Field.
Philadelphia coach, Jim Curtin did, however, make the mental state of the team abundantly clear in the team's weekly press conference - discussing the fact that given recent history, the pressure was on Toronto to perform, whereas his young Union team wasn't even expected to make the playoffs some seven months ago when the season started. Curtin also discussed their approach to the match as, a "new season" and the fact that the Eastern Conference standings had been torn from the walls of the locker room with the exception of one team- Toronto FC.
History to repeat itself?
Toronto and Philadelphia played most recently at the end of September in a match that saw a Giovinco-less Toronto salvage a 1-1 draw late in the second half in Toronto with goals from Justin Morrow and Alejandro Bedoya while the previous meeting in Chester saw Toronto emerge victorious by a score of 3-1, led by Sebastian Giovinco who scored on the night and terrorized Philadelphia defender Ken Tribbett who also scored the Union's only goal in the match.
All time, the Union hold a record of 6-6-5 against Toronto FC with their largest ever victory a 6-2 thrashing in Toronto coming in 2011, the only other season in which Philadelphia qualified for the playoffs.
Injuries and suspensions
Philadelphia and Toronto have a myriad of injured players between the two of them. "The Reds", are the far more fortune of the two, missing only defender Ashtone Morgan and midfielder Will Johnson with a stress fracture in the foot and a knee injury respectively, both are questionable.
As for Philadelphia, "The U" could be without as many as nine players. Defender Joshua Yaro and Maurice Edu have been confirmed as out for the match having picked up a left knee MCL sprain and while Edu has a left tibia stress fracture, both had just recovered from injury and would have been in line to start.
A number of other players remain questionable but are likely to play after picking up knocks in the Union's season curtain closer against the New York Red Bulls. Midfielder, Warren Creavalle underwent an MRI for a rib injury and is the least likely to play, while C.J. Sapong will undergo the mandatory protocol/testing having suffered a concussion, and Ilsinho came off in the second half of the match with an apparent right foot plantar fasciitis injury. Other more minor injuries also include a right big toe contusion for defender Ken Tribbett, (chronic) right knee arthritis for Tranquillo Barnetta, and a left hamstring strain for Chris Pontius. Neither team has any suspensions.
Key players and match ups
For Philadelphia, particularly playing away from home, the aim is likely going to be to frustrate a Toronto FC offense that's bloomed in patches with the Designated Player duo of Sebastian Giovinco and Jozy Altidore combining for 27 goals, nearly 50% of Toronto's total goal output this season. Youngsters such as Jordan Hamilton and Jonathan Osorio have also chipped in, with a combined nine goals; however, Toronto's better-known names were the focus on Jim Curtin's press conference comments, with the Union coach admitting that stopping Altidore was potentially near impossible and that Philadelphia's September draw with Toronto was in part due to the lack of presence of Giovinco in the team due to injury.
As such, one man, in particular, will be key for Philadelphia in their efforts to stop Toronto's dynamic duo and that man is Brian Carroll.
Despite his age, Philadelphia have looked like a completely different team with and without Carroll throughout the season. with the stand in Union captain acting as a shield for a particularly young Union defense, as well as breaking up plays, and starting plays with his excellent passing. His efforts to help keep Giovinco and Altidore apart as well as spark attacks for a team that's like to find most of their opportunities on the counter-attack will be crucial.
As for Toronto, given their recent defensive struggles, having conceded ten goals in their last six matches as well as the experimental switch to a 3-5-2 formation, the leadership and consistency that Drew Moor provides will be crucial. Having put his injury woes behind him, Moor started 32 of 34 matches this season and lead the Toronto defense to joint second best goals against tally with 39 conceded. Moor will have to organize his defense, stop the ever physical C.J. Sapong if he's fit to play and be aware of the runs that players like Chris Pontius and Fabian Herbers love to make off of the former Sporting Kansas City striker.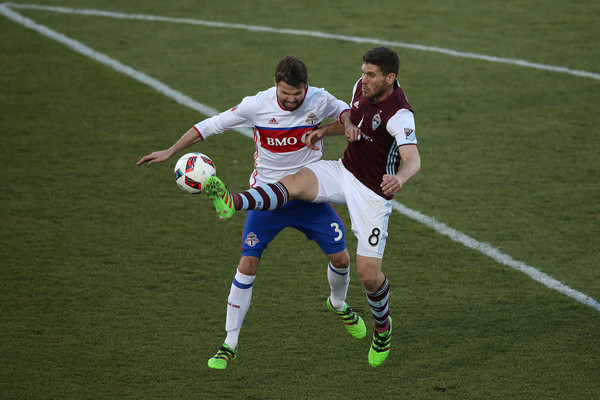 Match ups to look out for are: Sebastian Giovinco versus Ken Tribbett, a battle that's seen mixed results, with Giovinco having terrorized the rookie at times, while the defensive double pivot of Brian Carroll and Warren Creavalle did well to protect him otherwise- an option the Union are unlikely to have given Creavalle's injury. Also, C.J. Sapong versus Drew Moor could prove to be a key battle. While Sapong is struggling to score goals at the moment, his hold up play and the possibility of runners off of him providing an added threat make him a substantial danger to Toronto FC.
Line up and score prediction
GK: Andre Blake
Right back: Keegan Rosenberry
Centerback: Ken Tribbett
Centerback: Richie Marquez
Left back: Fabinho
CDM: Brian Carroll
CDM: Alejandro Bedoya
RM: Fabian Herbers
CAM: Tranquillo Barnetta
LM: Chris Pontius
ST: C.J. Sapong
Prediction: Toronto FC 2 Philadelphia Union 1