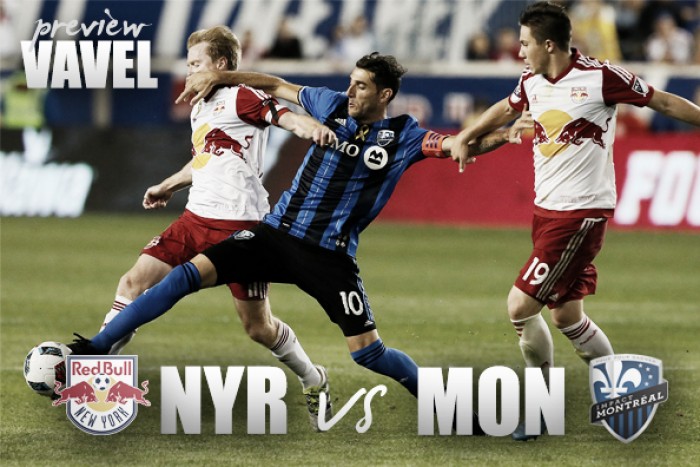 The Montreal Impact travel to Red Bull Arena in Harrison, New Jersey to take on the New York Red Bulls in the semi-final of the Eastern Conference Audi 2016 Major League Soccer Cup Playoffs on Sunday afternoon.
How things look going in
Montreal began the playoffs with a whirlwind 4-2 victory versus D.C. United at RFK Stadium in the Knockout Out round on October 27th, with goals from Laurent Ciman, Matteo Mancosu, and Ignacio Piatti before DC staged a late comeback attempt with goals from Lamar Neagle and Taylor Kemp.
Having won the Eastern Conference regular-season title, the Red Bulls earned an automatic bye to the Conference Semi-Finals. The two sides faced off in leg one on October 30th, with Montreal coming away victorious through a spectacular Matteo Mancosu goal and stout defending throughout the match. Much of the same is expected for leg two where the onus will be on New York to overcome the deficit but that could leave them vulnerable an away goal on the counter attack, which suits Montreal's style and puts the Canadians in the driver's seat in more ways than one.
Series History
The Montreal Impact are 3-8-2 in Major League Soccer regular season play against New York, having most recently lost to the Red Bulls 1-0 at Red Bull Arena back in September, courtesy of a Daniel Royer goal.
Injuries and Suspensions
Montreal continue to be without midfielder Andres Romero, a long term absence due to an ACL tear back in October of last season, while their goal-scoring hero of the first leg, Matteo Mancosu could miss the second leg, having injured his right hamstring in training on Wednesday but Didier Drogba, whose long-term future at the club remains unclear following reports that he was unhappy with recent his status as a substitute should be in line to start in his place, having recovered from a back injury.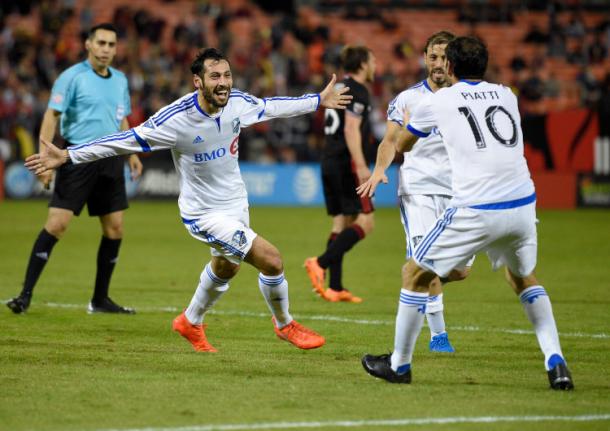 As for New York, striker Omer Damari is suspended following his red card in the first leg, while Mike Grella sustained a knee bruise but is expected to play in leg two despite missing training on Thursday, Kemar Lawrence is also expected to play despite leaving training early on Thursday, and Ronald Zubar may not recover in time from his groin injury to participate in leg two. Daniel Royer is expected to return having missed leg one through injury and will likely assume Damari's spot on the bench having played an impact substitute role since his arrival from FC Midtjylland in August. Gideon Baah and Connor Lade remain out for the season with a fractured left tibia and torn ACL respectively.
Key players and match ups
For the New York Red Bulls, the onus will be on them to score, as such their key player is Bradley Wright-Phillips. An obvious choice given the Englishman's 24 regular season goals in 2016, Wright-Phillips pace and finishing ability could cause havoc for the Montreal defense should they allow him to get in behind.
Hence, Laurent Ciman is the key player for Montreal. The 2015 MLS Defender of the Year and two-time MLS All-Star makes the Impact's defense tick, even earning a call-up to the Belgian national team for Euro 2016 thanks to his excellent form. Ciman will be tasked with organizing the defense as well as keeping Wright-Phillips and company off the score sheet. Ciman is also a major threat on set pieces, a key area in which Montreal could snatch a goal against the run of play.
Dax McCarty vs. Ignacio Piatti
Montreal's Argentinian midfielder technically plays out on the left wing but often likes to come inside and create like the number ten he is, as such it'll be up to New York captain and resident "destroyer," Dax McCarty to break up plays, stop the flow for Montreal, and spring counter attacks.
Dominic Oduro - Kemar Lawrence
It's no secret that Oduro is fast, and with Montreal's strategy-particularly away from home with a lead, Oduro is likely a guy they're going to be looking to get the ball to on the counter attack. Lawrence is likely going to have his hands full and how much of the ball Oduro sees is likely going to dictate whether or not Lawrence will be able to venture forward from his spot at left back to overall lap in the attack. Add to this the fact that he may not be 100% fit should he start and you get a potential major area of exploitation for the Montreal Impact.
Line ups and score prediction
Barring Mancosu's potential absence through injury, expect Montreal to line up the same as they did in leg one. A 4-3-3 formation with Evan Bush in goal, Hassoun Camara at right back, Victor Cabrera and Laurent Ciman at center back, Ambroise Oyongo at left back, a midfield three of Patrice Bernier, Marco Donadel, and Hernán Bernardello, and finally the attacking trio of Dominic Oduro, Didier Drogba, and Ignacio Piatti.
As for New York, while unlikely, Jessie Marsch could opt to play two up front in order to assure that the Red Bulls grab an early lead and bury Montreal at home, but with Marsch quite married to the 4-2-3-1 formation that appears unlikely especially given the absence of Omer Damari, with Marsch preferring to use his other option at striker, Gonzalo Veron as an impact sub. Should Mike Grella be forced out with injury, Marsch has a number of options including Shaun Wright-Phillips, Daniel Royer, and Gonzalo Veron. Homegrown duo and New York Red Bulls II players this season Derrick Etienne and Brandon Allen are also options, albeit unlikely ones. Expect the following line up: In goal, Luis Robles, Chris Duvall is likely to retain his spot at right back (although he could move to left back to make way for Sal Zizzo should Kemar Lawrence miss out due to injury), Aurélien Collin and Damien Perrinelle at center back, Kemar Lawrence at left back with a midfield of Dax McCarty, Felipe Martins, Alex Muyl, Sacha Kljestan, and Gonzalo Veron with Bradley Wright-Phillips at forward.
Score Prediction: New York Red Bulls 2 Montreal Impact 1 (Montreal advance on away goals).