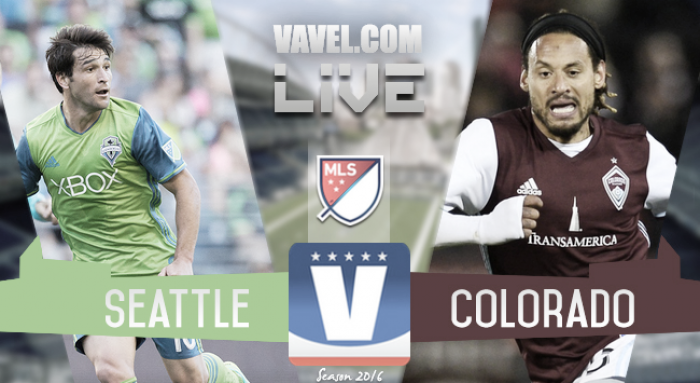 That's the game! Seattle wins 2-1. Thank you for joining my tonight.
Ball sent in by Lodeiro but Colorado clears it.
Two minutes of stoppage time in the second half.
90' - Seattle earns a corner late here in Seattle.
88' - Ivanschitz tries to make it three for Seattle but he isn't able to get a good shot off. Colorado heads the other way.
84' - Seattle slowing things down a bit here now.
Lodeiro has four playoff goals in four games. He is now the all-time leading goal scorer in Sounders playoff history.
79' - Save by Frei. Le Toux gets in the box but Frei was there to make the save. In the end, it wasn't the best shot by Le Toux.
Just outside ten minutes left here in Seattle.
77' - Seattle Sub: Morris out, Ivanschitz In
77' - Colorado Sub: Gashi out, Azira In
77' - Lodeiro almost doubles the lead for the Sounders.
75' - Sounders corner upcoming. Lodeiro to take. Ball sent near post and MacMath comes out to make the save.
74' - Evans back on the pitch.
74' - Gashi sends a shot but goes wide.
73' - Sounders playing with ten men on the field right now.
71' - Trainers on the field to tend to Evans. He just subbed on. Not good.
70' - Colorado Sub: Badji out, Hairston In
69' - Seattle Sub: Friberg out, Evan In
67' - Sam Cronin issued a yellow. Cronin will miss the second leg on Sunday.
65' - Colorado really looking for a second away goal.
42,774 in attendance tonight.
61' - Goal Seattle! Lodeiro with his fourth of the playoffs!!
60' - Penalty is given to the Sounders!
58' - Kevin Doyle is shown a yellow for persistent infringement.
56' - Colorado content to let Seattle have the ball and hit on the counter.
54' - Another ball sent in by Jones and MacMath makes a save and out for a Sounders corner. Ball sent in and eventually goes out for a Rapids goal kick.
53' - Joevin Jones sends in a cross but Colorado was able to clear it. Looked like he was looking for Nelson on that one.
51' - Badji heads a weak ball and Frei easily saves.
49' - Ball cleared away by the Sounders.
49' - Rapids fifth corners of the night coming up here. Gashi to take.
48' - Mears drives to the box and sends a cross in that flies too high for any Sounders on the field.
Seattle will look to keep Colorado off the board here in the second half.
46' - We are back at it here in Seattle.
That will do it for the first half. I will be back with you at the beginning of the second half.
Lodeiro sends in a cross but gets too much of it and it flies over the goal for a goal kick.
Two minutes of stoppage time.
43' - Cross sent in by Jones but nobody from Seattle to get there. Easy play for MacMath in goal.
42' - Not exactly the game I was expecting from Colorado. They have been very attack minded so far. Which is good as it makes for an entertaining game.
40 ' - Cross sent in by Friberg and Valdez just misses getting his head on it.
37' - Roldan has his legs taken out from under him by Doyle. He gets a talking to by Penso.
35' - Ball back in play.
Burch received a yellow for his troubles.
Stoppage in play as the ball went out but the players kept playing. Looks like Lodeiro took an elbow to the face from Burch.
Sounders have had the better of the chances the last few minutes. MacMath has kept the Rapids in the game so far.
31' - On the ensuing corner. The ball falls to Valdez but MacMath there to save the day.
31' - Lodeiro gets a shot on frame with a beautiful header but once again MacMath there to make the save.
30 minutes gone here in Seattle. All tied up 1-1.
Penso talking to Mastroeni as Pablo didn't like that Marshall was not called for a foul on Badji. Looked clean from my view.
Colorado taking over the game a bit and controlling possession.
26' - Jones takes a shot for Colorado but Frei able to make an easy save of it.
That goal by Morris was his first-ever MLS Playoff goal.
23' - Le Toux was one-on-one with the 'keeper and two defenders trying to slow him down but he whiffs on his shot.
19' - Goal Seattle. Roldan's shot stopped by MacMath but Morris was able to follow up and level the game 1-1.
18' - Another corner sent in by Gashi. Frei comes out and punches it away.
Penso already warning the Rapids about delaying.
That goal by Doyle ended the Sounders 277-minute streak of not conceding a goal at home.
15' - Sounders with their first corner coming up. Lodeiro to take. Penso whistles for a foul in the box and gives Colorado the ball.
13' - Goal Rapids. The shot was taken by Doyle. The ball deflects off of Marshall and into the back of the net.
12' - Gashi sends the ball into the box and the best the Sounders can do is kick it out for a thrown in for Colorado.
11' - Corner sent in by Gashi to the far post. Frei gets a fist to it for another Rapids corner.
10' - Seattle is really pressing Colorado and causing turnovers.
9' - Lodeiro takes a shot from about 30 yards but once again MacMath is there for the save. That was too easy for MacMath.
Make that five.
Eight minutes in and Colorado has already conceded four fouls to the Sounders zero.
7' - Lodeiro steals the ball and slots it to Morris but Morris can't get his shot off in time and Colorado was able to get back and block the shot.
6' - Ball sent in by Lodeiro and flicked on by Valdez but right to MacMath for the easy save.
6' - Valdez once again fouled by Colorado. Appears Colorado is looking to be physical in this game early on.
Chris Penso is speaking with both Jermaine Jones and Nelson Valdez about something.
5' - Gashi send the corner in and the Sounders are eventually able to clear the ball.
4' - Dangerous ball sent into the box by Badji. Cleared out by Seattle for the first corner of the game.
3' - Alonso earns a foul for Seattle.
15 seconds in and we have our first foul has Nelson Valdez is taken out.
1' - And we are off in Seattle!
Looks like Colorado will start it off, heading towards the South goal. That's left to right on your TV.
We are moments away from kickoff here in Seattle.
Players are heading out of the tunnel.
We are 15 minutes from kickoff here in Seattle.
Montreal 3, Toronto FC 2. The game sure is becoming exciting in Montreal.
The Sounders are riding a 266-minute streak of not allowing a goal at home. The last time they conceded at home was in the 5th minute against Real Salt Lake in the regular season finale.
Montreal 3, Toronto FC 1. Huge away goal for the Reds.
Colorado is also on the field for their pregame warmups.
In the other conference final, Montreal is leading Toronto 3-0 after 54 minutes.
The Sounders have made their way to the pitch for pregame warmups.
We are 55 minutes away from kickoff here in Seattle.
Here is Colorado's Starting XI.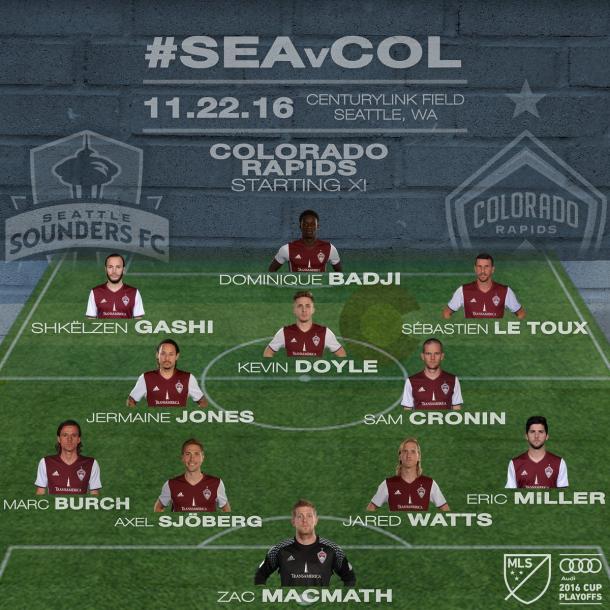 Here is your Sounders Starting XI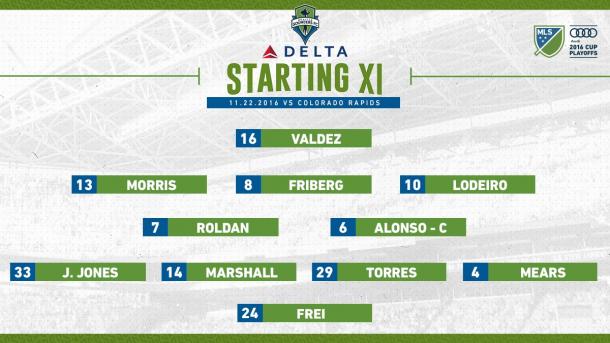 Sounds like the game will actually kickoff at 7:35 pm PT.
Sorry for the delay but I have finally made it to CenturyLink Field here in Seattle, WA. Give me one second and I will have the starting lineups for both teams.
Stay tuned for updates leading up to the game. The game is scheduled to kickoff at 10:00 pm ET and will be played at CenturyLink Field in Seattle, WA.
If the Sounders are able to jump on Colorado as they did against Dallas in the first leg, the Sounders go very well be on their way to their first-ever MLS Cup Final. There is still a lot of soccer left to be played but I like the Sounders in the first leg of the Western Conference Final.
The biggest question entering the game will be Morris' health as I mentioned earlier. If he can go, the Rapids could be in for a long night with his ability to relentlessly run at defenders for a full 90 minutes. Even if he can't go, the Sounders have enough skilled players to take his place but one can never really replace Morris.
This game will come down to defense from both teams. As mentioned earlier, the Rapids have the best defense in the league and they aren't easy to crack. The Sounders defense has been just as good as any in these last three months. With Alonso and Cristian Roldan playing the two defensive midfielders in front of the back line, the Sounders have been nearly impossible to score against.
The Rapids will do everything that they can to limit Lodeiro's time on the ball. However, the Rapids must be careful because the Sounders have tons of other playmakers on the team. After not being able to score all season long, Nelson Valdez has scored two goals in three playoff games. With Joevin Jones' ability to get up the field and send in decent crosses, the Rapids must do all they can to beat Valdez in the air.
Lodeiro has been the sparkplug that the Sounders missed for the first four months of the season. Since his arrival, the Sounders averaged two points per game over their last 14 games. That was good enough to allow the Sounders to climb from ninth place in the Western Conference to secure the fourth seed in the West.
Tim Howard is out for the next few months and will be replaced by Zach MacMath in goal. MacMath was in goal the previous two times these two teams played, holding the Sounders to just one goal in those games. However, this is a different Sounders team then they last time they met.
Former Seattle Sounders midfielder Marco Pappa is also listed as questionable has he has been dealing with a hamstring issue the last few weeks and it recently flared up again for the Guatemalan international.
Colorado also has injury issues of their own to deal with. MLS Goal of the Year winner, Shkëlzen Gashi was injured just before halftime of the Rapids game in leg two of their Western Conference Semifinal against the LA Galaxy. Head coach Pablo Mastroeni said they will wait until game time to decide if Gashi will play or not.
Andreas Ivanschitz and Alvaro Fernandez are also listed as questionable. These two have not been seen on the pitch for the Sounders since early October.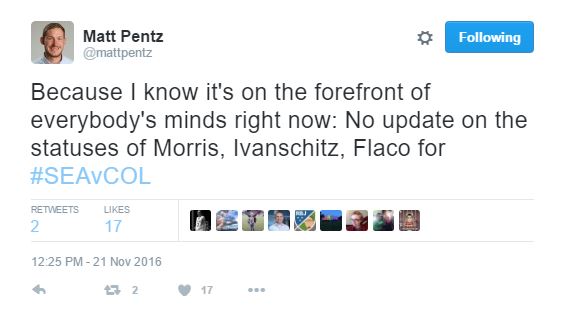 A majority concern for the Sounders will be the health of MLS Rookie of the Year, Jordan Morris. Morris has been questionable for this game after he was subbed out at halftime of the second leg of the Western Conference Semifinal against FC Dallas.
The Sounders are looking to book their first-ever trip to the MLS Cup Final. Standing in their way is the best defensive team in all of MLS in the Rapids. Seattle will be led on offense by MLS Newcomer of the Year Nicolás Lodeiro and on the defensive side of the ball, Osvaldo Alonso.
Hi, and welcome to VAVEL USA's live coverage of the Western Conference Final between the Seattle Sounders and Colorado Rapids. My name is Chris Blakely and I will be bringing you updates and commentary of Tuesday night's game at CenturyLink Field in Seattle, WA. Kickoff is scheduled for 10:00 pm ET.