It was yet another exciting weekend down under as the fifth week of the W-League came to a close. Melbourne City and Sydney FC continue to dominate the top of the table as the rest of the teams scramble below. NWSL loans continue to make an impact as the season progresses as new faces arrive to replace those injured
Canberra United salvage a tie after giving up 1-0 lead
Canberra United took on Adelaide United on Saturday in a match that was expected to be an easy enough win by most. Although the match was away in Adelaide, Canberra currently sits third in the table, five places above their opponent. All things seemed to be going according to plan when Ellie Brush, a former member of the NWSL's Houston Dash, opened the scoring in the 26th minute. Adelaide answered only six minutes later, though, with Racheal Quigley scoring the equalizer. An own goal by Hannah Brewster towards the beginning of the second half spelled trouble for Canberra, but an 83rd-minute goal from Portland Thorns and Canberra United player Hayley Raso allowed the team to exit the weekend with a point.
Sydney FC hold onto second place with win over Newcastle Jets
Sydney FC traveled to Newcastle this Sunday hoping to continue their winning ways and grasp a firmer hold on the very top of the table. The match began with a goal from Kyah Simon, Australian national and member of the Boston Breakers, in the 17th minute. That was the last of the action until the 47th minute when Jen Hoy put the Jets on the board and Nicola Bolger converted a penalty kick for Sydney. Despite the bit of hope Hoy's goal provided, they simply could not find the back of the net again, and the game finished 2-1 in Sydney's favor.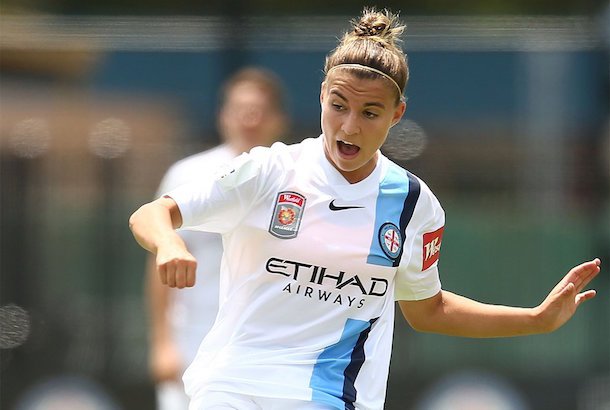 Perth Glory defeat Melbourne Victory 2-0
Melbourne Victory continues to struggle, adding yet another loss to their record. Currently 0-1-4 so far this season, this defeat further secures their place at the bottom of the table. A goal in the 17th minute from Rosie Sutton is the game's only, until the 65th minute when Chicago Red Stars member Vanessa DiBernardo put another one away. Perth moved up a spot in the table to fourth as a result of their Sunday victory, but Melbourne remains trapped in ninth and last place.
Melbourne City defeats Brisbane Roar 2-1
Melbourne City remains at the top of the table after two early goals seal their victory. Katrina Gorry of Brisbane opened the game up with a goal only two minutes in, but it wasn't long before Melbourne City put one in too. Four minutes later, Jess Fishlock, of the Seattle Reign and Welsh National team, equalizes and creates a more intense game. A goal in the 25th minute from Erika Tymrak, another player on loan from the NWSL, is the last of the game, and City wins yet another match.
Five weeks of the W-League have come and gone, but there are still nine more weeks and nine more matches for teams to prove themselves worthy of the top spots in the league.