As the 2017 NWSL season is quickly approaching, Seattle Reign confirmed they have re-signed defender Rachel Corsie to their roster for the 2017 season. Corsie joined the Reign in 2015 and has been with them since. As the Reign announced their re-signing of their contract, this continued addition of Corsie will allow her to come back as a stronger player as she hasn't had as much playing time this past season due to a knee injury.
2016 season at a glance
This past August, Corsie had a knee operation and was out longer than expected. Before her injury, she had started in 11 season games and made a total of 12 appearances this past season. She scored one goal in a game against the Boston Breakers, in which the Reign broke another record by earning their fifth consecutive road win.
Comments from the training staff:
"Rachel has worked extremely hard to get herself back to full fitness. Her commitment and attitude to the program has been excellent."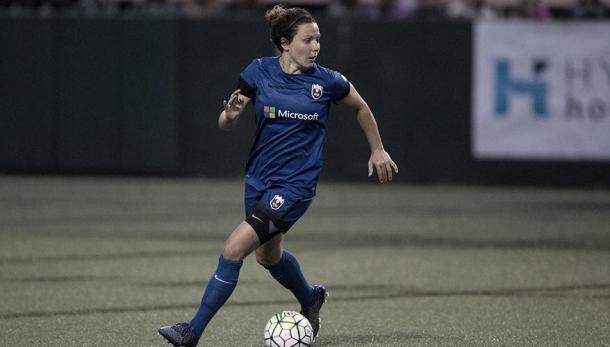 Seattle Reign, Glasgow City, and Scotland?
On the National level, Corsie also represents the Scotland Women's National Team. She was even the captain of the U-19 team in 2008. During this time she also joined a club team called Glasgow City from Aberdeen. The 27-year-old will be well enough to be able to participate in the Scotland National Team camps that are in preparation for their games in January. Corsie will also be ready and available to be back on the pitch again with the Reign at the beginning of this upcoming season. The Seattle Reign defender shared her excitement for the 2017 NWSL season:
"I am absolutely delighted to be staying for another year. I love both the club and the city of Seattle and I really feel I have found a second home here. I am very grateful for the opportunity to continue wearing the Reign jersey. I know the club has huge ambitions and I am proud and excited to be a part of the successes ahead. Let it Reign!"
The Reign re-signs for 2017
Within the past several months, the Reign has finalized their roster with the signing of midfielder Christine Nairn, the re-signing of forward Beverly Yanez, and even a new contract for head coach and manager, Laura Harvey. As the 2017 season is on it's way, the Reign's latest additions of players along with the skill of their continued players allows for them to work together to bring success for heir upcoming season in Seattle.