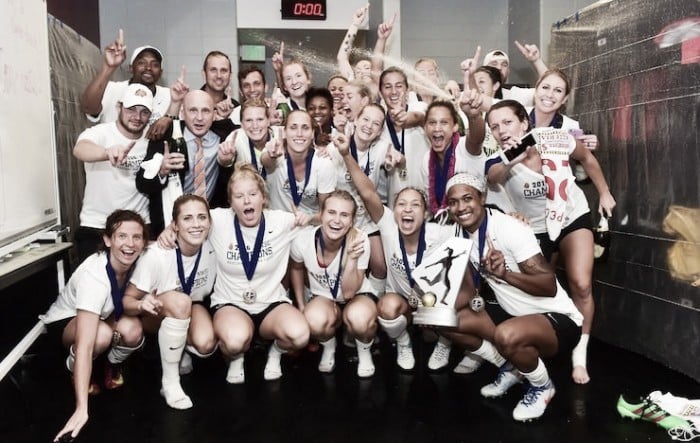 Coming off a championship run, the Western New York Flash are rumored to move south to North Carolina. Late last year, the Carolina RailHawks rebranded to North Carolina FC (NCFC) ahead of their push to join MLS. From the very start, NCFC were vocal about creating an NWSL team before the start of the 2017 season. NCFC owner Steve Malik said he wished to have a women's team in less than six months, and he got his wish. It was a large question as to how a non-MLS team would be able to brand and build an NWSL team, but no one imagined an existing team to relocate.
With the NWSL only starting its fifth season, things are still rather new in the league. No team has folded (knock on wood) or relocated in this league, which makes the Flash the first team to move. Additionally, Malik trademarked the name Carolina Courage in September, that was the name of the 2001-2003 North Carolina Women's United Soccer Association (WUSA) team. It's safe to assume the name could be making a comeback.
The reactions
There have been mixed emotions flying about this move since reporter Dan Lauletta initially broke the news. Some think it's a smart move, while other show plenty of valid concerns. WNY's official supporters group, the Flash Mob, aren't too happy about the relocation; they have a point. They say it's a "slap to the face" for those that have supported women's soccer in the area. It really is a slap in the face to the season ticket holders and the potential ones. As a supporters group, they have the right to be upset because the Flash did have a good number of dedicated fans and were sure to have more with the recent signing of Debinha from Brazil.
Their attendance was higher than a lot of other teams, but it's important to mentions the stadium they play in holds just over 13,000 seats with all seats being open. Their average attendance numbers have never even come halfway to 13K. At least the Chicago Red Stars understand filling a 20,000 seat stadium isn't realistic for now and block off a smaller section for fans. Other teams may have smaller attendance numbers, but at least they would sell-out, or almost sell-out, their venues. The Flash's new home at WakeMed Soccer Park may have 10,000 seats, but North Carolina has an arguably better soccer culture than Rochester/Buffalo, so selling out WakeMed is a larger possibility.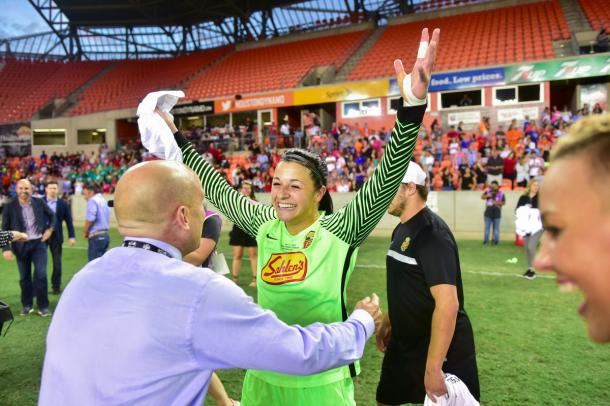 It's known that anyone that attends University of North Carolina, Chapel Hill loves that area. A few former Tar Heels have recently voiced their opinions about the new team in their old stomping grounds. Portland Thorns and USWNT midfielder Allie Long gave the new team her support while also giving good reason why the move is just convenient for everyone. Heather O'Reilly, who still lives in Chapel Hill, expressed excitement the day NCFC was announced. On the flipside, Amber Brooks didn't seem to enjoy the announcement since she was just traded to the Houston Dash in 2015 as a part of the Alex Morgan trade.
It's unknown how Malik wants to set up the team, but it's said the coaching staff is looking to be replaced including infamous Flash head coach Paul Riley. Even with the coaching switch, it'll be most interesting to see how the actual team is built. They could be like the Orlando Pride or Chicago Red Stars and attempt to target homegrown players, but that could fall through since this isn't an expansion team. The big question is which big name Tar Heels will ask and receive trades.
A rightful concern of many is what impact North Carolina's HB2, or Bathroom Bill, should have on the Flash moving there. HB2 states that a person has to use the bathroom of the assigned sex on their birth certificate, which is widely regarded as transphobic. Even the NCAA has moved basketball championships from the state as a consequence. However, it seems as if the people of North Carolina don't like the bill as they've elected a new HB2-opposing governor, Roy Cooper.
Subsequently, Malik has shown support for Cooper and prides himself on creating an accepting, inclusive environment for fans. Malik already sounds like a better owner than the Sahlens considering they had the Flash and Seattle Reign play on a baseball field where Flash forward Jessica McDonald's throw-ins nearly became goals. Frankly, HB2 shouldn't stop the Flash from relocating there, but the discussion shouldn't be swept under the rug. No matter what, the next coming months are sure to be interesting.
On January 9 NCFC will make an announcement at 2 pm ET at WakeMed Soccer Park, which the NWSL commissioner Jeff Plush is said to be attending.