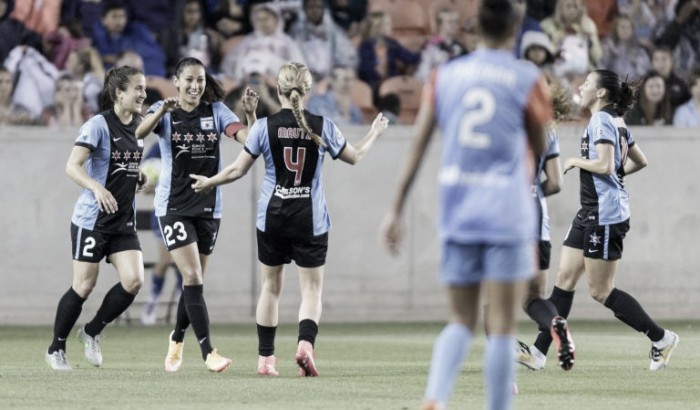 Despite a few ups and downs throughout the season, 2016 was a pretty successful year for the Chicago Red Stars. After their first playoff appearance the year before, Chicago consolidated their place in the top four with a roster that experienced little player turnover. In 2017, Rory Dames' side seem to be taking a similar approach of retaining key players and adding a few youngsters to complement the current team.
Continuing drafting success
Head Coach Rory Dames is certainly full of drafting know-how, mostly thanks to his involvement at the youth level with Chicago ECNL side Eclipse Select, for whom he is Club President. The team won back-to-back Rookie of the Year honors in 2014 and 2015, as now-U.S. international Julie Johnston and midfield dynamo Danielle Colaprico shone respectively.
Dames also likes to keep things local - no fewer than nine Eclipse alum have played in Chicago's NWSL, and six of the current Red Stars roster hail from Illinois - including Chicagoland natives Katie Naughton, Sarah Gorden, and Courtney Raetzman, all of whom were picked up in the 2016 College Draft. With this outlook, Dames knows exactly what he's getting with his draftees, as well as putting himself in the best position to keep the players, in a league where many retire early on as they struggle with finances.
Consolidation
With USWNT players Alyssa Naeher, Julie Johnston, and Christen Press, as well as newbie Casey Short, the Red Stars already have a very solid spine and have plenty of young talent to back them up. Many have lamented the lack of national team opportunities for midfield duo Colaprico and Vanessa DiBernardo, who have been impressive in their two and three seasons respectively.
The aim for Chicago this draft will certainly be to add options to the strong core group they already have - all of the 2016 squad was offered a new contract at the tail end of last year.
Chicago have two picks in both the second and third round, as well as the second last pick overall. While the top players are beyond them, they have a great opportunity to pick up some very solid players.
Morgan Proffitt, Marquette
Marquette's three-year captain Morgan Proffitt was named on the 2016 Mac Hermann Trophy Watch List and has been part of the US U23 WNT squad for the last year, including the Nordic Cup tournament win last June.
While the central-midfield pairing of Colaprico and DiBernardo is undisputed, Proffitt's towering height at 5'11" puts her (literally) above them, and her ability to win aerial battles and sweep up the midfield could see her push for a starting spot if drafted for the Red Stars. Also, if either of the two current starters were to be injured, there isn't currently an obvious backup on the Red Stars' roster.
Proffitt's ability to play both centre-back and defensive midfield could give her an edge as well, as she could also challenge Naughton and Johnson for a spot in the backline.
Although the Indiana native isn't a name everyone is talking about, she is well known to Dames; Proffitt was part of the Red Stars Reserves team who made it to the WPSL semi-final in 2016. It wouldn't be a surprise if Dames continues his tradition of sticking to what he knows, and drafting Proffitt.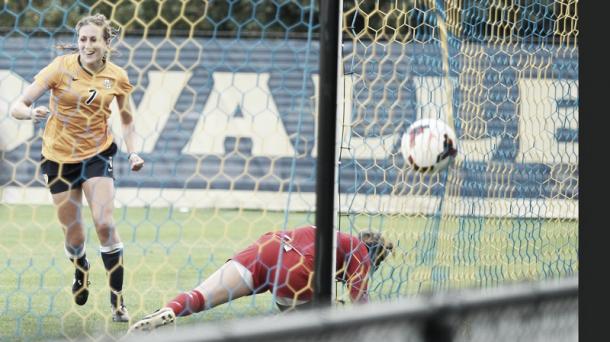 Toni Payne, Duke
Another member of the Nordic Cup winning U23 side, Toni Payne is a player who immediately became a mainstay for Duke, and never really dropped pace. A goalscorer in all four seasons, Payne's speed on and off the ball could well suit a Red Stars team whose attacking style focuses on counter-attacks and quick ball movement.
Chicago's frontline is already quite crowded with Press leading the line with various partners - 2013 draftee Jen Hoy is still a reliable goalscorer, but with Cara Walls, Sofia Huerta, and Alyssa Mautz still fighting for attacking spots, along with the recent acquisition of Steph McCaffrey, Payne would likely find herself on the bench - although she would likely make a good impact-sub at the next level. There would certainly be an opportunity for her to break into the team as an attacking winger.
Abby Reed, DePaul
Another attacking option for Dames in this draft is DePaul forward Abby Reed. Reed certainly fits Dames' bill - she is an Illinois native and was also part of the Red Stars Reserves team in 2016. She contributed four goals in her five matches, so will she will undoubtedly be on the team's radar.
After a record-breaking freshman season with Indiana State, Reed transferred to DePaul and tied the school record for goals in a season with twelve in her first season with the Blue Demons.
In her senior season, she helped DePaul to the Big East regular season title, although they fell in the conference semi-final.
Similar to Payne, she is likely to find a starting spot but could add options up top on the few occasions when the national team players are away, or in case of injury.
Both Proffitt and Reed were on the Red Stars' "Roster Outlook", along with Rashida Beal (Minnesota) and Gracie Lachowecki (Miami).
Eleven of Chicago's current roster have come from previous College Drafts - so you can be assured that whoever Dames and the Red Stars select, they will be more than ready to make an impact in the NWSL.