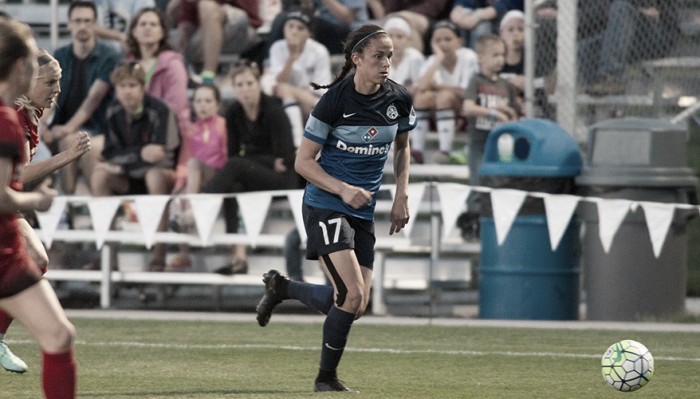 On Tuesday, the Boston Breakers announced the signing of former Seattle Reign FC, Western New York Flash, and FC Kansas City defender Amanda Frisbie as a discovery player. After being waived by FC Kansas City, she now has a place on the Breakers roster as the 2017 NWSL season is about to begin.
Frisbie with the NWSL
Frisbee played in four season games for the Flash during their 2015 season. Then prior to the beginning of the 2016 season, she was traded to FC Kansas City where she recorded 270 minutes of playing time on the field.
In July, Kansas City waived Frisbie. Meaning, that she wasn't part of the team, but open for other club teams to pick her up as a player. After she was waived by Kansas City, she spent time in Iceland where she played nine games with Stjarnan and took part in achieving the Úrvalsdeild championship.
Now, seven months later, Frisbie has been using this offseason to train and still remain active for the NWSL.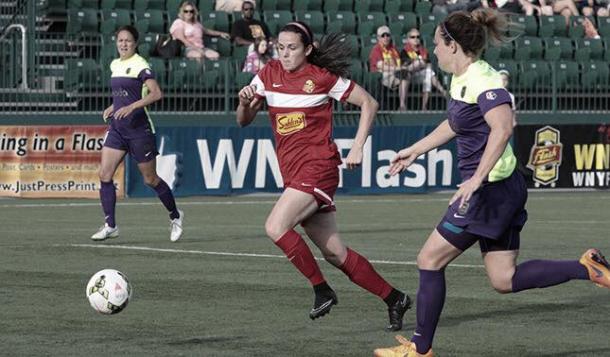 An advantage for the Boston Breakers
Head coach Matt Beard of the Breakers stated:
"I'm delighted that we have managed to bring Amanda to Boston. She's done very well in Iceland, playing as a center back. We monitored her progress overseas, and she will be another good addition to the roster."
With the NWSL College Draft taking place this Thursday, the Breakers have the advantage of the first pick in the draft. Along with this addition of Frisbie, Beard has many other options to acquire other young players as well as trade in order to have the best possible mix of players.
Frisbie, an alum from the University of Portland, took part in the 2014 NWSL College Draft. The Reign selected Frisbie as the seventh player in the draft. Unfortunately, due to an injury she missed the season and was then traded to WNY Flash.
What does a discovery player mean for Frisbie?
The Breakers signed Frisbie as a discovery player. According to the NWSL Roster Rules, this title means that the player isn't under contract with the League. The player has to make a discovery player request and must be approved by the League in order to be on the official Discovery List. In order to be on the list, a process of approval must take place in order to eventually have the player on the official roster.
As Frisbie works with the Breakers to achieve this, her position on the field will be a process worth fighting for.