 This past Saturday, January 7th, the Chicago Fire announced the signing of Jorge Rodrigo Bava as a discovery player. Bava signed a one-year contract and there are club options for 2019 and 2019. He will be added to the Fire's roster once he receives his ITC and P1 Visa. Let's take a look at Bava to learn who he is and where he has been.
Life Before the Windy City
Jorge Rodrigo Bava has a long career, trailing back to 1998 where he suited up for his hometown side, CA Progreso for two seasons. He would stay in Montevideo, Uruguay to join Peñarol on a one-year deal. The ensuing three seasons saw him suit for Uruguayan outfits, Juventud de las Piedras, Club Nacional de Football, and Bella Vista.
Bava re-joined Club Nacional from 2003 until 2006, in which he helped the team win the 2003 and 2004 titles. He then moved to Paraguayan side, Club Libertad from 2007 through 2012. While at Libertad, the 'keeper was loaned to Mexican club, Atlas in 2008. He was then shipped out on loan, yet again, to Argentina's CA Rosario Central for the 2010 and 2011 seasons.
After his contract ended in Paraguay, Bava returned to Uruguay to play for Club Nacional once more, from 2012 through 2015. 2016 saw him dress up for Atletico Bucaramanga of Colombia's top flight, before signing a one-year deal with the Chicago Fire on a free transfer.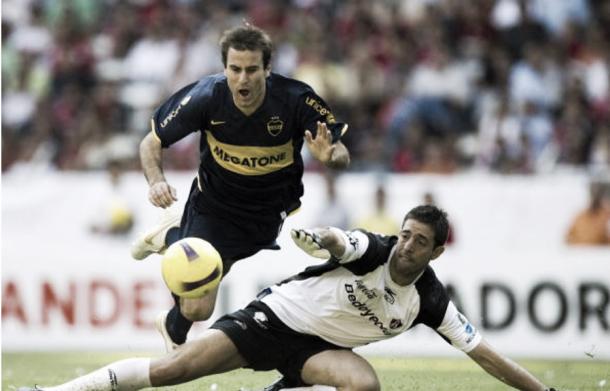 Will He or Won't He?
A thought that is burning through many Fire supporters' minds. Will Bava perform well enough in the preseason to earn a starting role? Or will he play second fiddle to current 'keeper, Matt Lampson? There is hope that Bava receives his International Visa in time for the preseason so that he can showcase his skills between the posts in front of his new supporters. At 6'4", Jorge Bava has the stretch to save even the toughest of shots in Major League Soccer. He may be 35, but maybe that is a good thing.
Time to get optimistic. Looking at Bava's history and noting that he has hoisted several league titles in South America, Toyota Park could potentially have a Gianluigi Buffon or Tim Howard type of player on its field. Don't you know who Gigi Buffon is? Please find your nearest copy of FIFA 17 and entertain yourself for a while. Now, Bava doesn't exactly have the same experience as Howard and Buffon but as an avid Fire fan, the community can only hope, right?
Bava is coming to a very unfamiliar setting. The first couple months of the 2017 season will be cold. The first game is away, against the Columbus Crew on March 4th. New teammates, new coaches, new atmosphere. All this points towards a fresh start filled with new challenges. Will he or won't he? That question will also burn through head coach Veljko Paunovic's mind every week. Regardless of the decision come game time, he will still provide experience, depth, and diversity.