On Thursday, January 12th, the fifth NWSL College Draft provided plenty of food for thought for many teams but for the Chicago Red Stars, it was an understated yet successful afternoon.
Chicago kicked it off by springing the first trade of the draft, taking the 11th overall pick from the Boston Breakers (who had already made four picks in the first round), which gave them back-to-back selections at the start of the second round.
True to form the trades continued deep into the draft, and the Red Stars ended up taking just the three players from the five picks they had at the start of the draft. Overall, they gained four picks for the 2018 draft - a wise move given that there are few holes in their current roster thanks to almost no turnover this offseason.
Michele Vasconcelos, BYU
With the 11th pick, Coach Rory Dames chose BYU midfielder-turned-forward Michele Vasconcelos. Perhaps a pick that other teams may have slept on, she is clearly rated by the Red Stars who traded up to get her. Statistically, a very efficient player, her ability to turn shots-on-goal to goals is staggering - Vasconcelos finished 16 of her 25 SOGs in 2016. She also scored 13 assists in her senior year, totaling 96 points over her college career. Although it's difficult to see where she fits in with all the speedy attacking options Chicago already have, she's certainly got the potential to make a mark on this team.
Morgan Proffitt, Marquette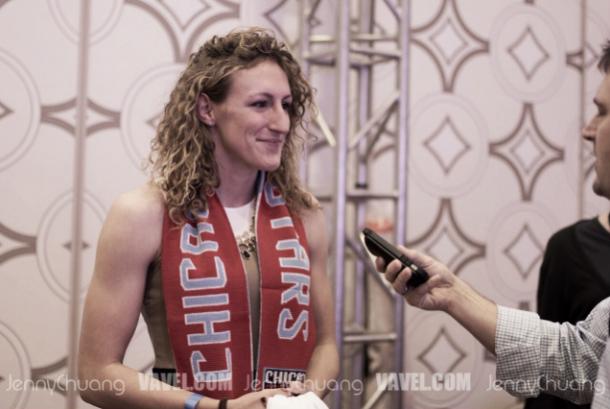 Morgan Proffitt is an interesting selection so high up the draft (at 12th overall), as despite being part of the US U-23 WNT for the past couple of years she wasn't on too many teams' radars prior to the draft. She's well known to Dames, however, as she was part of Chicago Red Stars Reserves side who won the WPSL National title in 2015 and reached the semi-final last year.
As we mentioned in the Red Stars Draft Preview, a plus-side of drafting Proffitt is her ability to play as both a centre-back or holding mid. Depth in the midfield is certainly something Chicago were after, as any injuries to either Danielle Colaprico or Vanessa DiBernardo would leave a significant hole in the starting 11. USWNT international Julie Johnston is also yet to find a consistent partner in central defense with Samantha Johnson and Katie Naughton sharing the role; Proffitt could be a secure choice there. Either way, I wouldn't be surprised to see her making a big impact in her rookie season.
Lauren Kaskie, UCLA
In the penultimate pick of the draft Chicago picked up midfielder Lauren Kaskie from 2013 NCAA Champions UCLA. A versatile and hard-working player, it's hard to see Kaskie getting significant minutes this season, but she has the making of a solid squad player who can make it at the pro-level. Being left-footed, she also offers something a little different to those currently on Chicago's books.