Sky Blue FC has announced the signing of Georgetown's all-time leading goalscorer Daphne Corboz. Corboz has spent the past two seasons in the FA Women's Super League with English side Manchester City and is waiting for the receipt of her International Transfer Certificate (ITC).
New Jersey native returns home
Corboz played her youth club soccer with the Players Development Academy (PDA), which is Sky Blue's U.S. Soccer Girls' Development Academy partner. She went on to play college soccer at Georgetown, becoming one of the most decorated players go come through the program. She made 80 starts in 82 appearances as a Hoya, collecting 134 points along with 47 goals and 41 assists. Her 47 goals is still at the top of Georgetown's record books. She was named an NSCAA All-American three times throughout her career.
"Bringing Daphne into our club is especially gratifying because I have personally known her and the Corboz family for quite some time," said Tony Novo, Sky Blue FC's President and general manager in the press release. "It has been fantastic to watch her development throughout the years, both as a player and a person."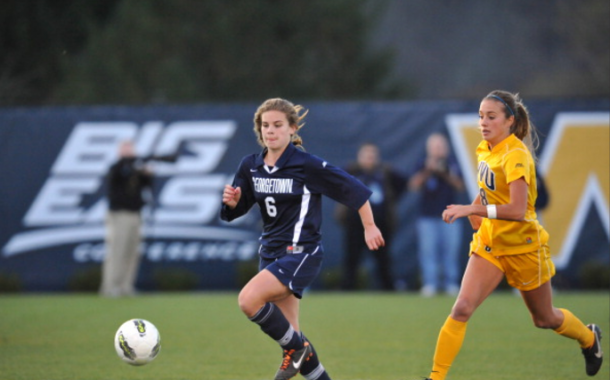 The Jersey native was originally drafted by Sky Blue in the 2015 NWSL College Draft as the 22nd overall pick. She already shared her intent to join Manchester City, but still wanted to secure her rights with an NWSL team.
Holly excited for Corboz
Christy Holly, Sky Blue FC head coach, is ecstatic to have Corboz join his squad this upcoming season:
"We are delighted to have signed Daphne Corboz. She is going to be a key piece to what we are trying to achieve over the next number of seasons, and she is an attractive player to us for many reasons. For starters, she is a New Jersey girl and has a full appreciation of what it means to wear the Sky Blue FC crest. She is someone who brings a huge amount of qualities on the field, and she also has a great personality off the field as well."