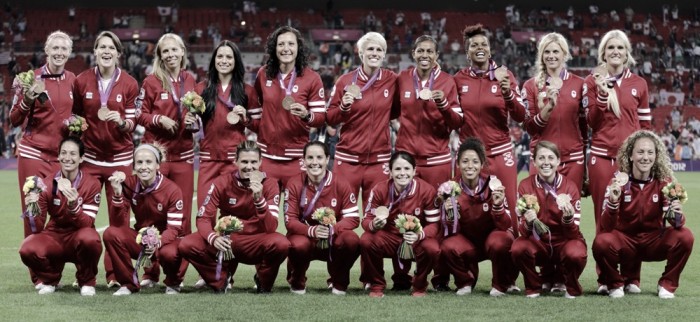 In preparation for their upcoming friendlies, the Canada Women's National Team has already begun it's season training in Los Angeles. With their training and conditioning to work towards a successful game in Vancouver against Mexico on February 4th, the team has released their roster, which includes 11 NWSL players.
Roster Information
The Canadian team will still have veteran players such as striker Melissa Tancredi, forward Christine Sinclair, as well as the strong defenders Rhian Wilkinson and Marie-Eve Nault, who keep the defense in tact. Among the 22 players for the ensuing friendlies, 11 of them are from various NWSL teams.
The Washington Spirit have the most players from their team participating with Canada. Among those includes defender Shelina Zadorsky, midfielder Diana Matheson, goalkeeper Stephanie Labbé, and forward Lindsay Agnew, who was drafted in this year's NWSL College Draft.
Houston Dash forwards Nichelle Prince and Janine Beckie were also brought up to the national squad. Prince has previously played with Canada and has made 21 appearances with a record of six goals.
Allysha Chapman, the 27-year-old defender from the Boston Breakers has also played with Canada before and even participated in the Canadian Youth team's. She was a fixture on the U-20 Women's team that won the gold medal at the CONCACAF World Cup.
The 21-year-old goal keeper Kailen Sheridan of Sky Blue FC hasn't had much playing time as she made her single debut appearance with the Canada National Team, but has had experience in the youth team's and will be a great attribute to the roster.
Head coach John Herdman also called in goalkeeper Sabrina D'Angelo from Carolina Courage, who were formerly known, and are current NWSL champions, as Western New York Flash. D'Angelo has also played on the youth teams and won a silver medal at the 2016 CONCACAF Women's Olympic Qualifying Championship. Last March she made her first appearance with Canada and has a total of three caps with them.
Desiree Scott from FC Kansas City is a Canadian native of Winnipeg. The midfielder has 118 caps to her name and was named to the starting lineup on 84 occasions. She's been in the senior squad now for seven years and even won an Olympic bronze medal with Canada at the WWC in Rio last year.
Forward Christine Sinclair, one of the most familiar faces of the Canada team returns to represent her colors once more. Last August she marked her 250 cap and has 165 goals. As an alum from the University of Portland, the Canada native also plays with the Portland Thorns. A legend such as Sinclair has been named Female a player of the Year for Canada 11 consecutive times, winning the award from 2004-2014.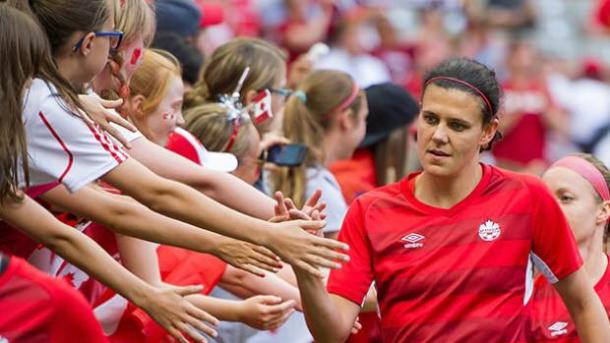 Training and conditioning for Canada
Head coach John Herdman of the Canada National Team expressed the significance of the training camp for the players:
"This training camp is an important step for us as we are at the beginning of a four-year cycle that will culminate at the 2020 Tokyo Olympics, so we are keen to use this time to assess both existing and new players coming up through our EXCEL development pathway. This camp is about introducing and evaluating those players, physically testing the core squad, and creating connections both on and off the pitch."
With the intention of training players and providing them with the proper tools and skills needed to succeed on the field, the training camp will be an opportunity to familiarize new players with the plays and playing style of the team.
Herdman also went on to state:
"Many of the young players coming into this camp have just experienced FIFA youth international competition, so bringing them into the Women's National Team environment now continues their development and gives them more opportunities to grow as players within the Canadian system."
First home match of 2017
Canada will gather together for their first home match since the 2016 Rio Olympics, where they were awarded back-to-back bronze medals. Their next match will take place in Vancouver at BC Place on February 4th as they face Mexico.