The Philadelphia Union announced the signing of Bosnian midfielder, Haris Medunjanin from former Israeli champions, Maccabi Tel Aviv on Tuesday afternoon.
Who is Medunjanin?
The thirty-one-year-old is a key member of the Bosnian national team. He has accumulated 54 caps and eight goals for "the dragons" since his debut in 2009. He played in their first ever World Dup as an independent nation in 2014 with the Bosnian's failing to make it out of the group stage on their first try following defeats to Argentina and Nigeria and a win versus Iran. He was also a member of the team who lost in the qualifying playoff for the 2010 World Cup and 2012 and 2016 European Championships.
Medunjanin arrives on a two-year contract and an option for a third year, with the Union having used Targeted Allocation Money to obtain him. The Sarajevo-born midfielder began his career with Sporting Director Earnie Stewart's former club, AZ Alkmaar (however, their time at the club never coincided), as well as spells in Spain with Real Valladolid and Deportivo La Coruña. Despite spending four years in two separate spells with Maccabi Tel Aviv, Israel's most successful club, Medunjanin never won the league with Tel Aviv. However, he did get to play in the Champions League group stage with Tel Aviv during the 2015-16 season as well as the 2011-12 Europa League group stage.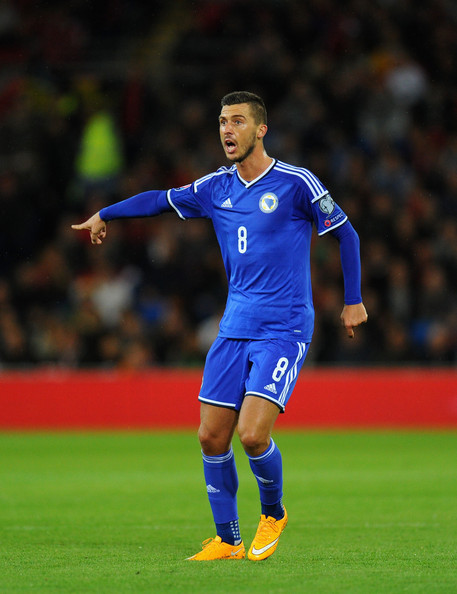 Medunjanin should fill the spot vacated by the departure of Vincent Nogueira
Described as, "[A] Great guy, knows how to thread the needle, deadly left foot, very shifty on the ball and knows how to find the open man." by SportsRabbi.com founder and Jerusalem Post contributor, Josh Halickman. He's expected to finally fill the spot in midfield vacated by the abrupt departure of French midfielder Vincent Nogueira back in June 2016 that coincided with the Union's drop in form in the 2016 Major League Soccer season. Halickman's sentiments certainly seem to be backed by statistics with Goal.com rating the Bosnian's vision an eight out of ten as well as his creativity, an eight and a half out of ten. Medujanin has also accumulated an impressive 47 goals in 285 career matches at the club level.
Union Sporting Director, Earnie Stewart had a similarly positive sentiment about the midfielder, stating, "We are extremely happy to add a player of Haris' caliber. Having played at the highest levels of our game, be brings both quality and experience to our midfield,"
Medunjanin is likely to be joined by American forward Fafa Picault as one of two Philadelphia Union signings on Europe's winter transfer deadline day.