 On Thursday, the San Jose Earthquakes added international flavor to their squad with the signings of forward Danny Hoesen on a season-long loan from FC Groningen and defender/midfielder Florian Jungwirth from SV Darmstadt. Both players were acquired using Targeted Allocation Money (TAM).
Earthquakes brass pleased
Earthquakes GM Jesse Fioranelli praised Hoesen's ability to provide something which was missing in San Jose's attack last season in a club statement.
"Danny Hoesen gives us a player with a strong frame that is tall, but also has a fast pace," he said. "He can attack the space in counterattack situations. He can also work in tandem with whichever striker will be supporting him. He's a player that comes from very attack-minded football in Holland and will be the perfect striker to give us an additional element in the box that we may have been missing."
He was also complementary of Jungwirth's pedigree, and his ability to add something to the dressing room dynamic.
"Florian is capable of playing all defensive positions. He came up through the German national Team system and won the European Cup with them," said Fioranelli. "He grew up as a central defender, on both the right and the left. He was later moved to defensive midfield because he is a player that has a strong presence and is very logical and careful when it comes to possession and build-up situations. He is a player that has a lot of heart and has been very much liked on every team that he's played for because he will fight for his teammates and is a natural leader."
Jungwirth brings wealth of experience
After coming through the youth ranks at 1860 Munich and Germany schoolboys, Jungwirth got his break in first team football with Dynamo Dresden before moving on VfL Bochum. He has spent the majority of his career in the 2.Bundesliga but for the last two and half years plied his trade with SV Darmstadt, helping them earn promotion to the Bundesliga in the 2014-15 season.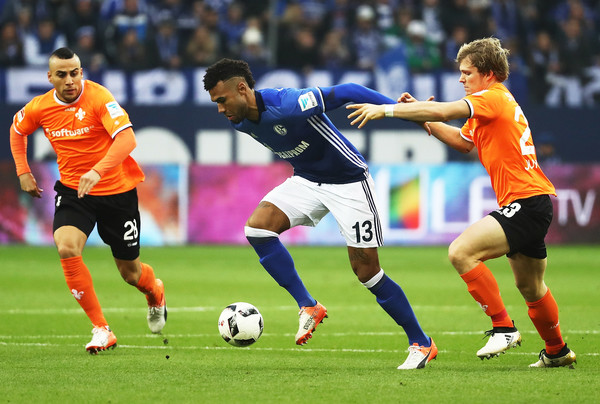 Hoesen has dined at Europe's top table
Prior to moving to Gronigen, Hoesen was on the books with Ajax Amsterdam where he made 32 appearances including several in the UEFA Champions League, where he scored against both Borussia Dortmund and Barcelona. He too has appeared at the international youth level, earning appearances with the Netherlands U-17 and U-21 sides.
Less than a month until MLS action begins
The Earthquakes season will begin in less than a month when they host the Montreal Impact on Saturday, March 4th.