 New York City FC has announced the signing of Manchester City midfielder Yangel Herrera on a season-long loan.
The 19-year-old midfielder was signed by the Citizens late on transfer deadline day, and due to the lack of a work permit, Herrera has been shipped off to City's American sister club.
Joining from Venezuelan side Atletico Venezuela, the youngster joined the two-time Premier League champions for a reported fee of £1.7 million.
One of the most promising Venezuelan players in last years
Speaking to NYCFC.com, Herrera said: "I'm very happy to take this next step in my career. To have the opportunity to play with such a high caliber of players is very exciting and to join a team that has a good football philosophy is very important to me."
"I'm looking forward to playing under Patrick Vieira as he's someone who played my position and I know I'll be able to learn a lot from him. I want to absorb all the good things from Patrick and the other players."
A star in the making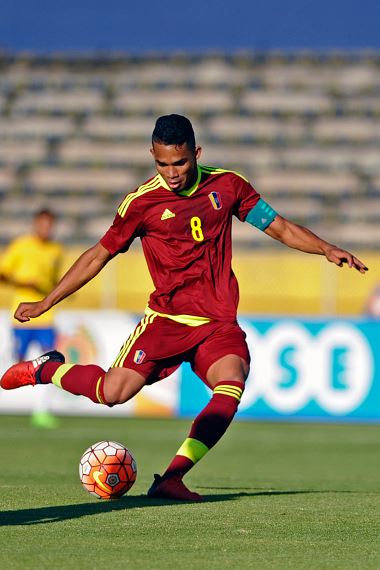 The defensive midfielder is one of the most promising players to come out of Venezuela for some years. The midfielder was one of the best players during the 2017 South American Youth Football Championship in Ecuador this January, scoring two goals and captaining Venezuela to a third-place finish in the competition.
During his first full season with Atletico Venezuela, Herrera made 28 appearances for the club, scoring three goals and making four assists. His domestic performances earned him an international call-up for la Vinotinto for the nation's 2018 World Cup qualifying games against Bolivia and Ecuador
Vieira also spoke to NYCFC.com on the acquisition of his new signing, saying: "Although Yangel is just starting out on his career, we believe he will make an impact in Major League Soccer once he's settled into a new country and has adapted to our system of play."
"He's a tactically intelligent midfielder who is strong in the tackle and reads the game well. Yangel also has good passing range and spatial awareness, which is crucial for a player in his position. I look forward to welcoming him to our squad after the South American Championships where he's been playing very well for Venezuela."