 FC Dallas expedition towards more silverware will resume on Thursday when they cross swords Panamanian side Arabe Unido in the first leg of the CONCACAF Champions League at the Toyota Stadium. The club from Texas is still unbeaten in this competition, having won two and drawn the other two throughout the group phase against Real Esteli of Nicaragua and C.D. Suchitipequez of Guatemala.
Arabe Unido, Armando Cooper's former club who now features for Toronto FC, took the three points home in all four matches, including against Liga MX giants Monterrey and minnows Don Bosco of Haiti.
FC Dallas point of view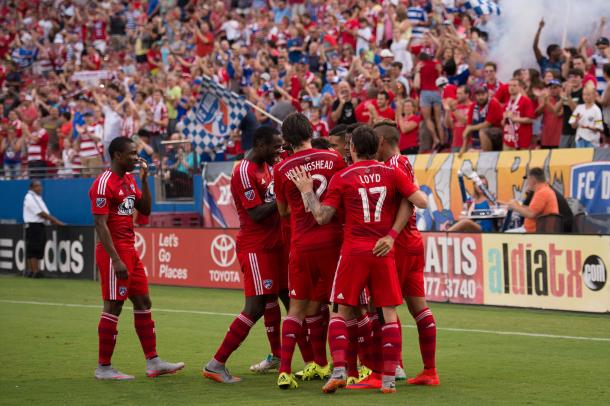 In a bid to arrive for this encounter in the best possible form, considering MLS clubs are currently pursuing their pre-season training, Oscar Pareja headed Dallas to Argentina for a 10-day training camp, where they were involved in eight friendly matches. During the training camp, Pareja often paired Designated Player Cristian Colman who joined the club from Paraguayan powerhouse Nacional FC and Max Urruti upfront while Javier Morales is clearly the replacement for Mauro Diaz.
Pareja will have his full squad available barring star player Diaz who is still recovering from an Achilles' injury while youngster Coly Craft is currently involved in the CONCACAF Sub20 Championship with the United States in Costa Rica.
Meanwhile, midfielder Kellyn Acosta spoke to the official website of Dallas, indicating this match as very important.
"We need to just wipe that year away. New year, new beginning for us. We have new goals to accomplish, starting off with the Champions League. Thursday is a big opportunity to reach that point."
Predicted formation (4-4-1-1):
Chris Seitz; Hernan Grana, Walker Zimmerman, Matt Hedges, Maynor Figueroa; Michael Barrios, Kellyn Acosta, Carlos Gruezo, Roland Lamah; Maximiliano Urruti; Cristian Colman.
Past appearances:
Dallas returned to this competition for the first time since the 2011/2012 season, where they were knocked out from the group phase in a group which comprised MLS rivals Toronto.
Arabe Unido point of view
Experienced side Araba Unido have already featured in seven domestic matches this season, therefore they have already acquired fundamental playing minutes. Contrasting this positive though is their form, as they went 2-4-1.
Coach Juan Guzman praised their opponents during his media duty at pre-match.
"It's a difficult team that likes to attack, they have the checkbook open to get players, and for this season they brought several who are well known. Strong in the midfield, and up front. Their weakness, I say, is the defense, that I see a bit slow, but full of experienced players," said Guzman to Arabe Unido's official website.
For this encounter, Guzman will have all his squad available as there are no suspended or injured players or members of the team who have international duty.
Predicted formation (4-4-2):
Miguel Loyd; Roberto Chen, Fidel Caesar, Rigoberto Nino, Daniel Ortiz; Leslie Heraldez, Abdiel Macea, Amilcar Henriquez, Josimar Gomez; Jose Gonzalez, Enrico Small.
Past appearances:
The Panamanian giants are not a new face in this competition but they have never really went beyond the quarter-final stage, which they reached twice, during the 2009/2010 and the 2013/2014 seasons.
Second leg
Both teams will cross swords with each other on March 1 for the second leg, when Arabe Unido will host Dallas at the Estadio Armando Dely Valdes. The winner of this tie will clinch a semifinal berth against either Saprissa of Costa Rica or Pachuca of Mexico, who tied 0-0 in their first leg, last Tuesday.