As the Portland Thorns have their first season game against Orlando Pride on April 15th, they have re-signed two of their players for the 2017 NWSL season.
Defender Emily Menges, who was the Thorn's 25th overall pick at the 2014 NWSL College Draft resigns for the upcoming season.
Portland Thorns head coach Mark Parsons made a statement regarding Menges:
"Emily was one of the key reasons we had such a great defensive record last season. She made great progress throughout 2016, and I look forward to supporting her on making big strides again this season."
This past season the 24 year-old defender started in all 20 season games and played every minute with the Thorns. In November of 2016 she also received her first call up with the USWNT.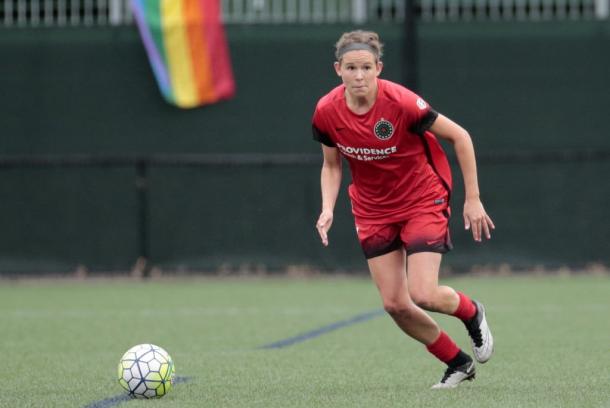 The Thorns only allowed in 19 goals in their 2016 season, which is the least amount in the league. With Menges' defensive tactics, her presence on the back line is extremely significant and a wise choice by Parsons to re-sign the the NWSL 2016 Best XI selection player.
In addition to the re-signing of Menges, the Thorns have also re-signed with midfielder Mana Shim, who has been with the team since April of 2013 as she was first seen at an open tryout.
In 2013, she was helped play an important role as the Thorns gained the 2013 NWSL Championship title in a 2-0 victory against formerly known Western New York Flash.
Parsons also made a comment on Shim as well:
"Mana showed her ability to link and create while also developing her game on the defensive side in 2016. I look forward to seeing her continue this work and be ready to help the team any way she can."
Shim has put much dedicated time into this team as she has started in 43 career games while appearing in a total of 68 games and has scored nine goals with an addition nine assists over the course of her four seasons playing with Portland.