As March rolls in, it is time again for the SheBelieves Cup, the tournament hosted by the United States that becomes the center of high-quality women's soccer for a whirlwind two weeks. The host team will take on England, Germany, and France again this year, equipped with a roster full of faces familiar and new.
Young players brought into camp
Jane Campbell, a young goalkeeper just out of Stanford University and drafted to the Houston Dash, is making her return to camp, poised to take the starting spot vacated by Hope Solo in a few years. Rose Lavelle, who was brought into camp a few times prior to this tournament, has also recently graduated and will be looking to make a larger impact on the senior team after playing a key role in the youth national teams. Mallory Pugh is back with the senior team after multiple tournaments with the youth teams that caused her to delay her start at UCLA. High School junior Brianna Pinto is making her first appearance with the senior national team. A member of CASL ECNL team and a University of North Carolina commit, the young midfielder will be trying to break into the program at a very early age.
Players return from overseas clubs
Crystal Dunn, Carli Lloyd, and Alex Morgan will be returning from their European clubs to attend camp and the subsequent cup games. Morgan is playing in Lyon, France before returning to the Orlando Pride in the middle of the summer. Dunn, who is playing for Chelsea Ladies, and Lloyd, who is playing for Manchester City, have also found success with their new teams overseas, and all three players will be facing many of their teammates and league opponents during the tournament.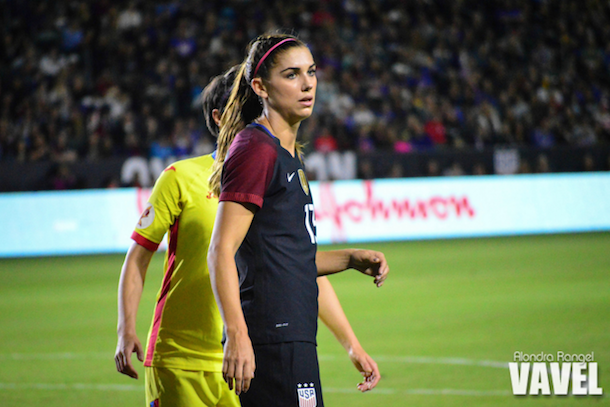 Making the new starting roster
The challenge, as always, largely falls in the hands of head coach Jill Ellis, who is still trying to piece together fragments of the World Cup winning roster fractured by retirements, injuries, and pregnancies. Many fans will be looking to see if the controversial three-back system will make a reappearance in games with a much more skilled opposing attack with more on the line. Finding which keeper will sit behind that line is just as big of a task; All three keepers have less caps compared to Solo, so choosing whether to give experience to Ashlyn Harris or Alyssa Naeher who, while they have had more professional experience, are looming close to retirement age, and Campbell, who has less professional experience but more time to grow and turn into a "new Hope Solo", will be a difficult choice to make, and one that has the potential to make or break the United States' hopes to retain their title.