The wait is over - after a disappointing 2016, that chapter of the Portland Timbers book is thankfully closed. The Timbers launch their mission to reclaim MLS Cup in 2017 with a home game this Friday, March 3, against Minnesota United FC, one of two new teams to MLS this season. Kickoff is at 6.30 PM at Providence Park in Portland.
Start me up
The Timbers will look to be stronger out of the gate than they have in their previous MLS history, which has seen them collect on average a whopping three points in each March since 2011. An opener in front of the Timbers Army, against a brand new team, should be a good start. The Timbers have been playing like they've got something to prove in their preseason, and now that the games start for real, they actually do have something to prove.
MUFC, on the other hand, are just getting started. After spending six years in the NASL, the Loons, owners of the best crest in the league (sorry Timbers fans, I said it and I meant it - the axe is great and I love it, but look at this beauty), have made the jump to MLS this year. After an offseason that didn't see them fill out their roster until about two weeks ago, and didn't see them unveil their kit until last week, it's fair to say there's a lot of uncertainty around this team right now.
Coach Adrian Heath has experience guiding a startup - he was Orlando City's first manager in their 2015 inaugural MLS season - but very large question marks remain over MNU's defense, which may be bad enough that it negates the potential awesomeness of Kevin Molino and the attack.
Just stop it
The Timbers' quest to be contenders could be blunted if the back line continues to leak goals the way they did in 2016. Worst in the Western Conference as far as goals allowed, the Timbers will need to significantly improve on that if they want to make noise in November and December. New signing Lawrence Olum will get the start at CB next to Liam Ridgewell while the Timbers wait for Roy Miller to arrive from Deportivo Saprissa in the next couple weeks.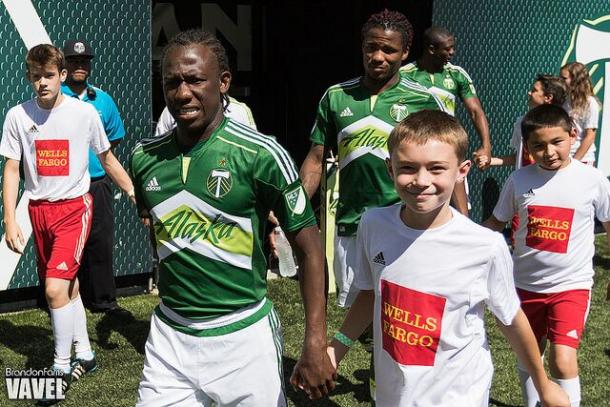 Having David Guzmán in the CDM role behind designated destroyer Diego Chará should be a huge help in that regard, both while the Timbers wait for Miller and also while they search for a long-term solution at CB.
Injury news/predicted lineups
The Timbers come into this first match in good health - the only significant injury being that to Gbenga Arokoyo, out for the season with a ruptured Achilles. MNU, unsurprisingly, is also relatively healthy going in to game one.
TIMBERS:
Gleeson: Powell, Olum, Ridgewell, Farfan; Guzmán, Chará, Blanco, Valeri; Nagbe, Adi
MINNESOTA UNITED:
Alvbåge; Davis, Demidov ( c ), Calvo, Venegas; Warner, Ibarra, Schuller; Kadrii, Molino; Venegas
WHAT/WHERE/WHEN
Timbers vs. Minnesota United FC
Friday, 6.30 PM PT/8.30 PM CT
Providence Park, Portland
TV: Fox Sports 1 (national broadcast)
Streaming: FuboTV, FoxSoccer2Go, Fox Sports GO, Fox Deportes
For info in your time zone or country, check livesoccer.tv