FC Kansas City announced that they have signed forward Shea Groom ahead of the 2017 National Women's Soccer League season. Per team and league policies, the specific terms of her contract were not disclosed.
2017 will be Groom's third season in the NWSL and third season with the Blues. The former Texas A&M University standout was selected 12th overall in the 2015 NWSL College Draft by Kansas City. Since being drafted in 2015, she has made 28 starts in 32 appearances for FC Kansas City.
As a rookie in 2015, Groom started in nine of the 13 matches she made appearances in for the Blues. She scored four goals and tallied two assists and was named the NWSL Player of the Week in Week 13 after scoring the game-winning goal against the Boston Breakers. The forward also helped FC Kansas City win their second championship as a rookie.
Last season, she started all 19 games she played in. With eight goals on the season, Groom not only led her team, but also was fifth in league for goals scored.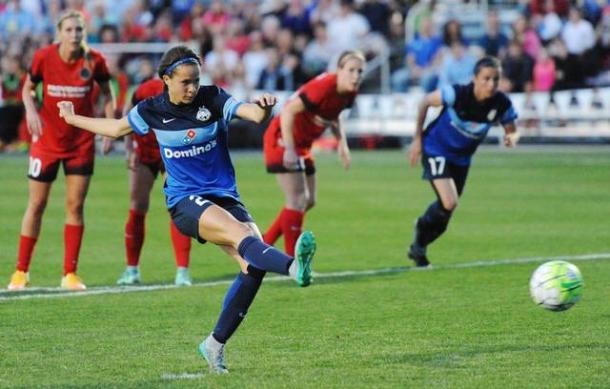 "I'm extremely excited to continue my career in Kansas City for a third season," she expressed in the official press release. "It's home and there's no other place in the league I'd rather be."
FC Kansas City head coach Vlatko Andonovski said, "I'm very happy to have Shea back this year. I think she did an excellent job last season and I'm excited about coaching her this season and into the future."
Shea Groom along with the rest of her FC Kansas City teammates will report into preseason on Monday, March 13. The team will open their fifth NWSL season against the Boston Breakers on Sunday, April 16 on their home field, Swope Park Soccer Village. Kick-off is at 5 PM Eastern Time.