 Two matches in and the 2017 SheBelieves Cup is well under way. In the second round of matches, two old rivals will look to find a way to get an important win at this point in the tournament for both sides. France come into this match with a late 2-1 win over England in their first match of the tournament while Germany were defeated in a 1-0 loss to the United States of America. In short, Germany needs the points more than France does and both teams will want to use this match as a way to prepare for the upcoming 2017 UEFA Women's European Championships.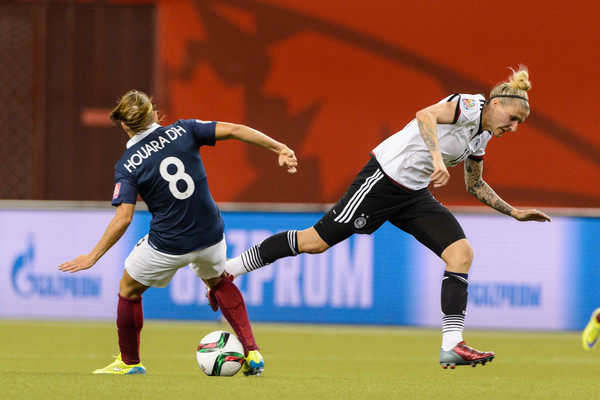 France look to strikers to keep their good form going
Marie-Laure Delie was the starter for France as they started a slightly less-stronger first team against England a few days ago and her performance earned her a place in the starting eleven against Germany. Delie had her opportunities all throughout the game to equalize for the French and eventually got her goal in the 80th minute of that game. Waiting in the wings during that game was Eugénie Le Sommer who, along with Delie, is having a great season for her club team. Either of those two players could start and potentially make the difference for France or, if head coach Olivier Echouafni decides to deviate from his usual one-striker system, then both players will start.
During their game against England, France had a large share of the possession but they did present England with gaps they could have exploited on the break if their play had been better. No doubt Echouafni will have noticed that and will look to address that before playing Germany, who if presented with similar opportunities, will make them count.
Germany need to up the tempo 
During their match against the USWNT, Germany looked lethargic and short of ideas once they entered the US half of the field. This limited their opportunities and also starved their strikers of service. Germany are missing key players through injury but that is no excuse for those currently in the squad to not perform as well as many know they can. A change in tempo could be the difference for the Germans in this upcoming game as a quicker speed of play could exploit any gaps that the French midfield leave as they try to keep the ball. Someone like Anja Mittag or Sara Däbritz could benefit from a quicker transitional game as they have the speed and technique to find the back of the net if given enough opportunities.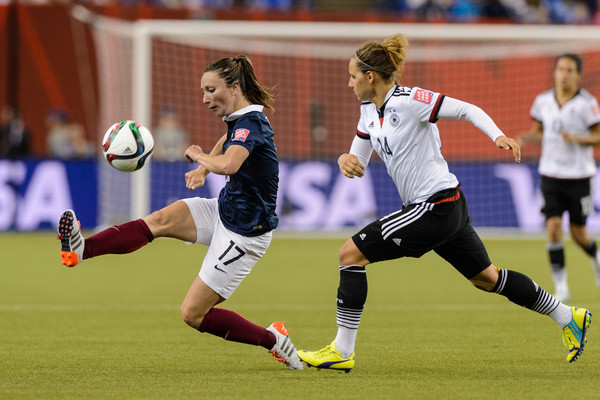 The backline for Germany is a cause for concern. Against the US, Babett Peter and Isabel Kerschowski were exposed one too many times for head coach Steffi Jones' liking. Both players were largely at fault for the only goal of the game as Kerschowski was robbed of the ball in her own half and Peter was unable to close down Christen Press in the lead up to the goal. There's a good chance that Pauline Bremer will get the nod over Kerschowski in the game against France as Bremer has been in fantastic form this season and Jones may be looking to see how she will fare against many of her club teammates on the French team.
Prediction
Germany are lacking the killer instinct that made them such a force in last year's Olympics while France, although shaky against England, can look to the fact that many of their star players were on the bench for most of that game, and thus have more to offer than perhaps the Germans do. Both teams are capable of beating each other and most of their meetings over the years have always been tight affairs, with Germany coming out on top. This may be the first time in a long time that the French get over their big tournament hurdle and beat a high-ranked team when it matters.
France 2, Germany 1.