 In Saturday's second match of the 2017 SheBelieves Cup, the USWNT will take on England. England will look to bounce back after their heartbreaking stoppage time loss to France on Wednesday, while the USWNT looks to continue their roll after their 1-0 victory against Germany.
England driven to win
Despite the loss, England are technically third on the table due to goal differential separating them and Germany. They will need to come out strong against the USWNT in order to be a threat. For the first half of their match against France, England was the more threatening team with plenty of chances and a very dangerous look to their play. It will be important head coach Mark Sampson and company do the same again against the number one team in the world.
Having a high attacking line is key for England, seeing how much havoc they caused in the first half of their last game. Having Jordan Nobbs in the attack will be huge for England. Not only did she score a goal against France, but she also was able to get multiple shots off in dangerous areas. Houston Dash's Rachel Daly placed at right back in Sampson's three-back system is key, too. With Daly's attacking mindedness, England will be able to look incredibly threatening coming from outside the back.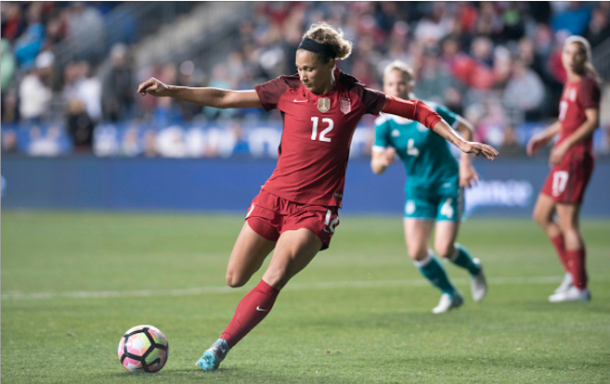 Something Sampson and company need to keep in mind is the need to always have urgency. France quickly gained control in the second half onward last match, and a large part of that had to do with England's complacence of being up 1-0. If they are able to do this, then they will make it very difficult for the USWNT to come away with a clean win
USWNT have to be cleaner, sharper
Although the USWNT did come away with the win against the 2016 Olympic gold medalists, it wasn't easy by any means. The experimenting happening throughout the field has many positives, but there are many areas for improvement for the tournament hosts. Gaining control of the midfield will be key for the USWNT. In their match against Germany, it seemed hard for them to gain control of the game when it came to connection and building through the midfield. This Saturday, using a player such as Morgan Brian to help build and maybe calm the game down would be huge in terms of being in control.
Head coach Jill Ellis seems to be thoroughly enjoying the three-back system they have going on. The difference this weekend will be that between England and the United States, England is better adapted to this system. It's worked very well for them for the most part. For the USWNT, they seem to still be figuring it out. Allie Long, who originally plays in the midfield, has been adjusting to the position for about a year. With Long as the lone center back, Becky Sauerbrunn is put as one of the outside backs, causing an imbalance to the backline. So far, it hasn't cost the USWNT anything major, but playing against a team who knows how to expose those holes is incredibly dangerous if they can't figure it out fast enough.
The USWNT face off against England on Saturday, March 4 in Red Bull Arena. Kick off is at 4 P.M. Eastern Time. Before the match, U.S. Soccer will honor legend Christine Rampone.