2016 MLS Cup runners-up Toronto FC crossed swords with Real Salt Lake in Rio Tinto Stadium, where the Canadians had never snatched a point, until last weekend as both teams shared the spoils in a 0-0 draw.
Despite neither side finding the back of the net, there are still a lot of talking points from this encounter in particular on what both sides have shown throughout the 90 minutes.
One of the commandments in soccer is that the opening game from any league across the world is the biggest lie of the season, yet it can still be an indicator on how things might go, or how they don't might go.
Wasteful Real Salt Lake
RSL may not be considered as the top favorites for the ultimate prize, but their gameplay against TFC underliend that at home they can be quite harmful and making Rio Tinto a fortress will be a key factor for their chances.
Yet, in order to boost their chances, they have to convert their numerous goal-scoring opportunities which the offensive department is able to create. Between the first and second half, RSL had chances from Jordan Allen, Yuri Movsisyan and Joao Plata but neither of them could capitalize their actions.
On the other hand, these chances were also the consequence of great quality in the centre of the field, where their reference point was Kyle Beckermann, who missed the entire pre-season but was perfectly in shape and lucid throughout the whole encounter.
Meanwhile, the back-line is not exactly RSL's forte but Chris Schuler can end up being one of their most fundamental players. Shaky when trying to impose the game from the back, Schuler was a rock when he had to deal with aerial balls or when confronting the likes of Jozy Altidore and Sebastian Giovinco.

Last year he played for only seven games in MLS, having been called up by the parent club while featuring for their USL side, Real Monarchs. And despite all that, he may have not lived up to the expectations of being the next big defensive thing in US Soccer, Schuler has plenty of time to prove critics wrong.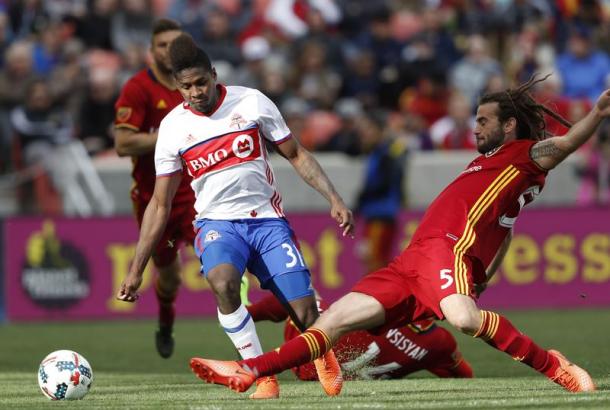 Work in progress for TFC
Greg Vanney fielded the same starting XI which ended its MLS commitments last December against Seattle Sounders. It is a favorable system for the team as it easy for Vanney to transform it into a defensive or offensive one, having the required tools to interchange throughout the whole 90 minutes.
One of the main problems for Toronto was that they could not penetrate RSL's backline from the center and whenever they tried to widen the field, and attack from the flanks, both fullbacks, in this case Justin Morrow and Steven Beitashour were constantly double-marked.
Also, RSL's defensive-duo, David Horst and Schuler, were constantly battling with Altidore and Giovinco and they prevailed most of the times due to their physical stature which enables them to have the better of their opponents.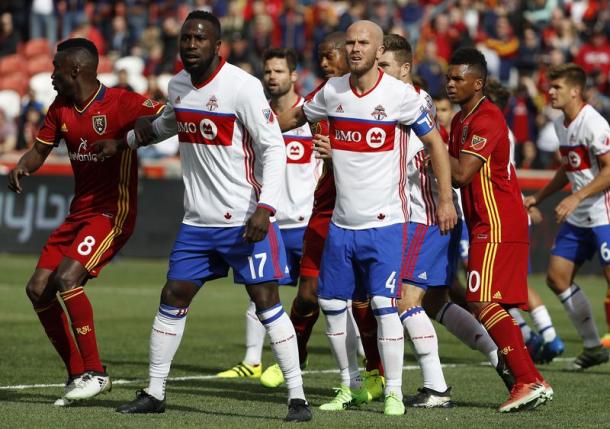 As time goes by, we will definitely see a different TFC side which plays at a much quicker pace, especially with the introduction of Victor Vazquez who despite having been fielded for the last half-hour, he had enough time to launch a quarter-back-style ball towards Giovinco, even though the latter did not find the back of the net.