 Although the 2017 SheBelieves Cup is still underway, the four top teams current rank in the tournament consist of France in first place with four points, England in second place with three points, the United States with three points, and Germany with one point.
Among the four matches that have taken place, three out of the four teams have had a triumphant victory. With Germany being the second ranked team in FIFA standings, they have yet to score a goal or achieve a win out of the matches.
Germany and England have yet to compete so far and will do so tomorrow night at 4p.m ET in Washington D.C at RFK Stadium. They will compete just before the final match against the US and France match.
Insight to German side
In regards to their last game against France that resulted in a scoreless match, new head coach
Steffi Jones made a statement about their structure against their first standing opponents in the tournament:
"Our goal will be again to have lots of possession. We also want to work on our defense. Playing against a well-rounded French team, it will be important to have a good structure and give support in attack. We will stay true to our course and continue to give a lot of players a chance to play while we're here. That's why we will field a different formation against France."
Last year at the SheBelieves Cup, Germany took a 2-1 victory in a match against England.
Since Jones changed up her player formation by wanting to improve on the defensive tactics while having a strong offense, her tactics in competing against England may change once again.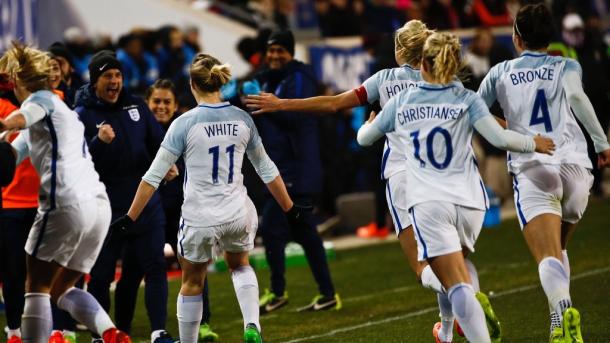 England's victory over Germany
Although England took a loss to France of 2-1 in the first game of the Cup, they were still able to score against their French competitors unlike Germany, who had a 0-0 match result against the French.
England's recent victory of 1-0 against the US also shows their perseverance of scoring in the 89th minute of the match.
With England being the fifth ranked team, their German competitors are number two in the nation and have the advantage of a strong defense to override England's offense if they don't come out with a strong start.
Forward Ellen White from Birmingham City recently lead the team to a 1-0 victory against the US in the final minutes of the match.
From the Union of European Football Association (UEFA) qualifying matches, England won group seven as they won seven matches and scored 32 goals with one against them. White is one of the six goal scorers from the England team to participate in the SheBelieves Cup that came from the UEFA qualifying matches.