This means that the USA-France match will decide the tournament victors. We'll have that game covered here at VAVEL USA, so follow along for live updates. The game is being shown on Fox Soccer. I've been Willa Grefe, thanks for joining me.
A tough result for England, who had the run of the first 15 minutes, but failed to create many clear chances. Redemption for Germany, who put together their most complete performance and finally got that elusive goal.
It's Germany's first win of the tournament. The result eliminates England from the title race.
FULL-TIME: Germany defeat England 1-0.
92' Stinging strike from Popp, who caught the ball sweetly on the volley. She was far enough out that Chamberlain had time to read the flight of the ball and make the save.
92' England offside.
91' Chance for England! The ball fell fortuitously to Scott in the box, but she could only snatch at it under pressure.
Germany substitution: Pauline Bremer enters the game, replacing Sara Dabritz.
4 minutes of stoppage time will be added.
86' Marozsan bends in a cross, but it's straight to Chamberlain. As Chamberlain cleared, Popp stepped in front of her path and blocked her kick. Popp receives a yellow card.
84' Cleverly worked by England around the edge of the penalty area. The ball ended with Duggan, who saw her slotted cross blocked before it could reach the center of the box.
Germany substitution: Lena Petermann will come on for Anja Mittag. Mittag's goal currently stands as the winner in this game.
We're in the final 10 minutes and Germany still lead 1-0. If England don't get at least a point out of this game they cannot win the SheBelieves Cup.
81' England are going for some highlight reel stuff. Nobbs hit a first-time cross to Bright, who only-half connected on her volley.
80' England just miss out on a good break, but Jill Scott's pass is just a touch too far in front of Nobbs.
Germany substitution: Sara Doorsoun replaces Lina Magull in the 79th minute. Strong showing from Magull today.
76' Stokes tests the keeper! The defender had pushed up for a corner kick and caught the ball on the volly about 20 yards out. Weis makes the save without giving up a rebound.
76' A minute later Mittag goes into the book for a rash challenge on Bronze.
75' Miss by Mittag! She had a chance to double England's lead but puts her header just over the bar.
England substitution: Jade Moore is replaced by Jill Scott.
72' Carney whips in a great ball to the back post, but White's header is wide of the net.
71' Foul by Faist, who receives a yellow for bringing down White.
70' Yellow card to Demann for a challenge on Karen Carney.
67' Yellow card to Jordan Nobbs, who caught Mittag with a late challenge.
65' Timeout called as Popp has to be attended to by the German training staff. The forward is holding her face but already motioning to be let back on the field.
64' Very calm work by Lucy Bronze. She dealt with a long ball running toward her own goal, with Dabritz pressuring on her left and Mittag arriving on her right. The England defender was able to clear for a throw in.
White scored off the bench in England's last game: can she do the same tonight?
England substitution: Ellen White replaces Jodie Taylor.
Rain coming down heavily now. You can see the players trying to adjust to the conditions as possession breaks down for both.
58' Another sub for Germany: Verena Faist enters the match for Isabel Kerschowski.
57' England's high press pinning Germany back on their line. Second-half subs Demann and Weis do well to distribute the ball under pressure.
54' Taylor denied in the box! Nobbs had played her in, and the striker decided to try and cut past her mark rather than shooting it first time, and the ball was cleared.
52' Steph Houghton speared in the box during an aerial challenge with Alexandra Popp. The England captain will leave the field but looks ok to reenter.
51' Delightful football from Marozsan, who cesses her options and flights a ball to the back post. Popp can't reach it, but Demi Stokes is forced to clear it for a corner.
50' England make a substitution: Millie Bright replaces Fara Williams
49' England goalkeeper Chamberlain called into action to deal with a cross by Mittag.
Germany made one change at halftime. Kristin Demann enters the game for Leonie Maier.
46' Chance for England! Jordan Nobbs curls a lovely shot to the back post but it bends wide.
Germany will make a change in goal, with Lisa Weis replacing Laura Benkarth in the 46th minute.
SECOND HALF UNDERWAY
First half stats for England: 6 S, 1 SOG, 0 Saves, 3 Corners, 7 Fouls, 0 Offside.
First half stats for Germany: 8 S, 1 SOG, 1 Save, 1 Corner, 4 Fouls, 3 Offside.
If the score remains the same, England will be eliminated from SheBelieves Cup contention.
Steady drizzle starting to come down here in RFK. That's not good news for a pitch that's already seen players slipping on it.
That was Anja Mittag's 50th goal for her country.
That will do it for the first half. Germany go into the locker room with a 1-0 lead.
The referee has added two minutes of stoppage time.
Dabritz started the play with a run up the left flank. She laid it off, Mittag stepped over the ball and continued her run into the box. Magull found her run with a perfect pass, and Mittag blasted her shot into the far corner. A wonderfully worked goal, and Germany's first of the entire tournament.
44' GOAL GERMANY! Anja Mittag puts the Germans ahead 1-0.
Things still scoreless in RFK as we approach the final minutes of the first half.
40' Great chance for Germany! Marozsan floats a perfectly weighted cross to Popp at the back post, but it's a touch too tall for her and she can only head it into the bottom side netting. It sounded like the crowd thought it was in!
39' Carney makes a run into the box, and Henning does well to shield her of the ball without giving up a foul.
37' Yellow card awarded to Toni Duggan for a tackle from behind.
36' Now a chance for England. Duggan takes a good separation touch inside the box and has a free look at goal, but her shot is straight into Benkarth.
34' What a sequence by Germany! Popp goes down in the box under a slight touch, the referee rightly allows play to continue and Magull rings a shot off the corener of the crossbar and upright.
32' A nervy moment at the back for Benkarth, who took a heavy touch setting up the ball and had Taylor hot in pursuit.
30' Blasse chases a ball into the corner and finds Maier trailing behind her. Maier curls a cross towards Popp at the back post, but it's over her head.
Play resumes and Duggan returns to the field for England.
26' Time-out on the field as Toni Duggan is down in the center circle. She landed awkwardly after a challenge in the previous play and is being attended by England's training staff.
25' It's Kerschowski again with some lovely skill on Germany's left flank. She finds Dabritz in the box, but she's swamped by England defenders and Chamberlain has time to claim the ball.
24' Corner cleared by England, and on the ensuing attack Maier is whistled for offside.
23' Marozsan goes on a long run upfield and shoots from the 18. It's blocked by England and Popp lets it roll out for a corner.
20' Foul called on Blasse, who nudged Duggan from behind. Free kick for England in front of the German bench.
That was the best opportunity for either side, but the score remains tied 0-0.
16' Miss by Mittag! Anna Blasse put it on a platter for her, driving hard to the endline and sending a driven cross to the penalty spot, but Mittag puts the shot wide.
15' Germany's longest spell of possession so far, but England doing a good job of closing their angles.
13' Wizardry from Popp to work herself out of a tight space in her defensive third. England pressure stifling the German movement, but individual skill on the ball has kept them out of trouble so far.
12' Brilliant German move down their left flank. Kerschowski works some magic to get out of pressure, and Mittag and Maroszan play a one-two that frees Lina Magull up for a shot, but the striker can't muster any power behind it.
11' Leonie Maier tries to bring the ball under control by the corner flag, but the ball bounces off the uneven surface and goes out for a goal kick.
10' Shross by German outside-back Anna Blasse, who had pushed forward on their last counter. Germany have settled into a rhythm now.
8' Jodie Taylor scuffs a shot wide of the far post. England are really monopolizing their right flank early, and making it hard for Germany to get out of their own half.
7' Germany springs a break down their right flank, working one touch give-and-go's, but they can't get off the final pass.
5' Shot by Jordan Nobbs. The striker's shot from outside the box deflects out for a corner.
3' Jade Moore gets a shot off in the box, but Germany clogs the area and clears the corner. England regain possession and look to build down the right flank.
2' England work a corner off a long service by Houghton. Carney settles in the corner and it deflects off Germany over the endline.
1' Jordan Nobbs floats a service into the box, but it's too close to Benkarth and the German keeper makes an easy save.
KICK-OFF: England start us off, with Houghton sending a long service forward.
Germany are in their all white kits, England in the red tops and shorts and blue socks.
National anthems over and done with. It's gametime at RFK Stadium.
USA will win if:
they defeat France, and England lose or tie.
they defeat France, and are ahead of England on goal differential if England defeat Germany
France will win if:
they defeat USA, regardless of the Germany-England result
they tie the USA, and England lose to OR tie Germany
England will win if:
England defeat Germany & USA-France ends in a tie, or USA beats France but England are ahead on goal differential.
Before we get underway, I'll run through the scenarios for England, France, or the United States to win the tournament. With two losses, Germany cannot win the tournament.
Less than half an hour remains until the start of the game. Both teams have finished warm-ups and are headed into the locker room. The last day of the SheBelieves Cup is about to begin.
England have now taken the field for warmups.
Germany have taken the field for warmups. Less than an hour remains before kickoff.
Dzsenifer Marozsan will captain Germany, and Steph Houghton will captain England.
Long-time England goalkeeper starts on the bench this game, with Siobhan Chamberlain getting the starting nod.
England substitutes: Bardsley, Earps, Bright, Christiansen, White, Daly Bonner, Scott, Parris, Williams.
England Starting XI: Chamberlain, Stokes, Bronze, Houghton, Nobbs, Moore, Taylor, Bassett, Williams, Duggan, Carney
German goalkeeper Laura Benkarth gets the start, replacing Almuth Schult.
Germany substitutes: Schult, Weis, Bremer, Islacker, Petermann, Faist, Demann, Kayikci, Doorsoun, Rauch, Dallman.
Germany Starting XI: Benkarth, Henning, Maier, Peter, Popp, Marozsan, Mittag, Dabritz, Blasse, Kerschowski, Magull.
For Germany, the game will come down to their ability to manage England's high pressure style and finish their chances. Their offense, including Marozsan, Alexandra Popp, and Anja Mittag, created more chances against France but still couldn't apply the finishing touch. One reason for this was a lack of numbers in the attacking third. Too often a striker or midfielder found themselves in an advanced position with only one target to aim at, odds that certainly won't hold up against England's backline. Germany needs their wide players like Kerschowski or Dabritz more involved in the attack, and their forwards to be razor-sharp in front of goal.
The key for England today will be managing their emotions. The Lionesses are sure to be riding high after their victory against the United States, arguably their program's biggest ever win, and after a result like that it would be easy for them, as is so common in soccer, to overlook or come out unfocused against their next opponent. That wouldn't be wise, because although Germany has looked lackluster, you can never count the Germans out in a tournament, and they'll have plenty to prove today.
Today's match is streaming free on FOX Sports Go.
The match is being held in Robert F. Kennedy (RFK) Stadium in Washington, D.C., which boasts a 45,423 spectator capacity. The stadium has hosted the US WNT 9 times before today, most recently in October 2014, when the US defeated Haiti 6-0 in a World Cup qualifier.
Germany will be wanting to shake off their last two performances and gain more confidence as they prepare for the European championship this summer, which they, as current title-holders, are favored to win. The reigning Olympic champs have yet to score a goal this tournament and have only a point to their name. One area that has been a success for Germany is their player rotation. Perhaps because of their disappointing opening loss to the United States, Germany made eight changes to their starting 11 against France, getting young players important competitive minutes. Dzsenifer Marozsan has remained a consistent starter and for good reason; she has been their best and most dangerous player through two matches. One player in particular who will be hoping for a good performance is Mandy Islacker, who had multiple chances to put Germany ahead of France, including a poorly taken penalty that was saved by French goalkeeper Sarah Bouhaddi.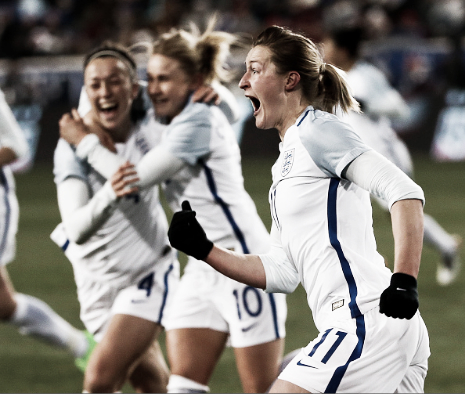 That leaves it all to play for, so both teams can be expected to bring their strongest lineup. England have had a spell of bad luck, losing defenders Alex Scott and Casey Stoney to injury, but it hasn't hurt them on the field, with Steph Houghton, Lucy Bronze, and Laura Bassett keeping their backline secure. On the forward end, youngster Nikita Parris has impressed, her pace and tenacity causing problems for any team hoping to build out of the back. Ellen White has been effective off the bench as evidenced by her game-winner against the United States on Saturday. That upset means that England enters this game with all the confidence in the world, so look for them to use the athleticism of the likes of Parris to put Germany on the back foot and put the game away early.
After two days of action, the standings could hardly be more unsettled, with three of the four teams still in contention to win the tournament. Only Germany has been eliminated from the running, having only one point in two games. England, however, come into the final day of action as surprise favorites after upsetting the US 1-0 in Harrison, N.J. The Lionesses could steal the tournament from the heavily favored hosts by a victory against Germany if they get some help from France, whom England need to tie the US or lose by a number of goals less than England's total goals scored. If Germany beat England, the cup will go to either France or the United States.
Hello and welcome to Vavel USA's live minute-by-minute coverage. Today's game sees Germany take on England in the penultimate match of the 2017 SheBelieves Cup. The match is scheduled to start at 4:00 pm ET, but we'll have plenty of pre-game commentary and analysis from me, Willa Grefe, before then. Be sure to follow along.