 The Portland Thorns announced today that they have officially signed Australian forward Ashleigh Sykes. She will be added to the roster pending on the receipt of her P-1 visa and International Transfer Certificate. Per league and club policy, terms of the deal were not disclosed. Just a few weeks ago, sources confirmed to The Oregonian that the Thorns had signed the Australian, but it was not official until today.
The 25-year-old most recently won the Westfield W-League Golden Boot for the 2016-17 season having scored 12 goals for Canberra United. She also helped her club, Canberra United, win its third Premiership title this season, having previously won it back in the 2011-12 and 2013-14 W-League seasons. In 2014, the forward scored the W-League Goal of the Year in order to secure Canberra United a spot in the 2014 W-League Playoffs, going on to score a brace against Perth Glory and earning Canberra's second W-League Championship.
Sykes made her professional debut at only age 17 in the 2008-09 season. As of right now she had made more than 90 professional appearances in Australia. Over the course of her professional career, she has scored 30 goals in nine seasons.
On the international level, Sykes has made 19 appearances for her home country of Australia. She made her international debut in the 2008 AFF Women's Championship, in which she helped Australia win the tournament and scored her first international goal against the Philippines. Sykes was also part of the 2015 Women's World Cup squad that made history for Australia, coming on as a substitution twice throughout the tournament.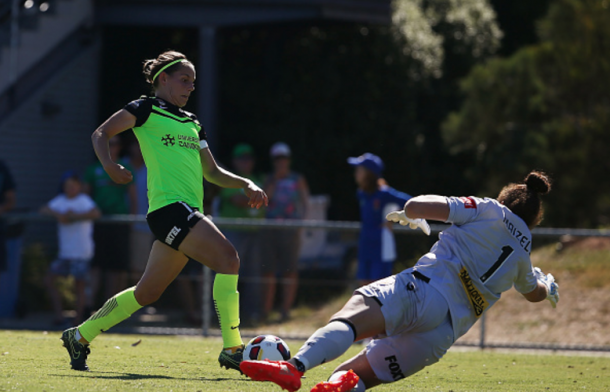 "Ashleigh is a dynamic forward with great ability to create and score goals," said head coach, Mark Parsons, in the official press release. "She is very capable of playing wide or down the middle in the front line. That versatility, with her pace and winning mentality, makes her an important addition to our team."
Despite officially signing, Sykes will not join the NWSL until later on in the season. The 5'5" forward will be added to the Portland Thorns' roster on June 10.