The SheBelieves Cup is a competition against other countries as well as a competition within the team. Jill Ellis, coach of the USWNT, has made many changes and experiments such as the players, positions, and formations. Starting positions aren't guaranteed for many. The SheBelieves cup was a great opportunity for the players to showcase their talents against some of the top teams in the world.
Ashlyn Harris and Alyssa Naeher are the top contenders for goalkeeper. According to US Soccer, Jill Ellis has stated her desire to continue "the theme of making sure that Alyssa (Naeher) and Ash (Harris) both gain experience. And a tournament experience where getting on a podium is at stake, both need to experience that pressure."
Goalkeeping at the SheBelieves Cup
Alyssa Naeher started against Germany on March 1. Her first save came in the 12th minute when Sara Däbritz kicked the ball outside the circle towards Naeher's left side. Naeher made a diving save to keep the score 0-0. Another of Naeher's saves came in the 38th minute when Dzsenifer Marozsan took a shot, going through Allie Long's legs, but was a relatively easy save for Naeher. Naeher kept a clean sheet with 0-1.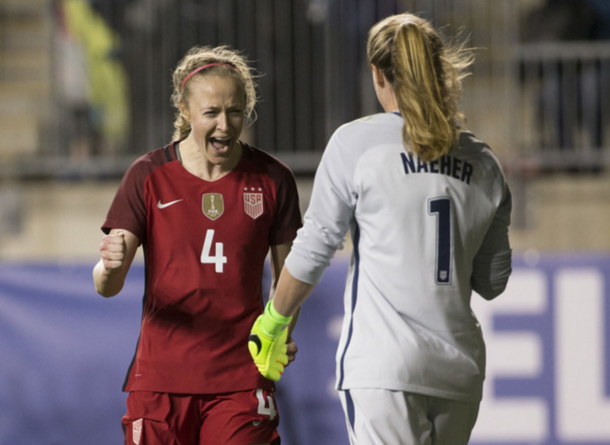 On March 4 Ashlyn Harris started against England. Harris made 2 noticeable saves. The first was in the 32nd minute when England had a free kick and she made a quick reflex save. Her next noticeable goal came in the 71st minute when England made a dangerous free kick that bent around the wall, ending with Harris batting the ball away from goal.
Harris showed clear confidence, showing that she knew when to come off her line. Unfortunately, though Harris had a great game while the US lost to England 1-0. The goal occurred in the 89th minute when a corner kick caused chaos for the US. Julie Johnston and Morgan Brian both tried to clear the ball away but ended up colliding in the box. That created an opportunity for Ellen White to score the game winning goal.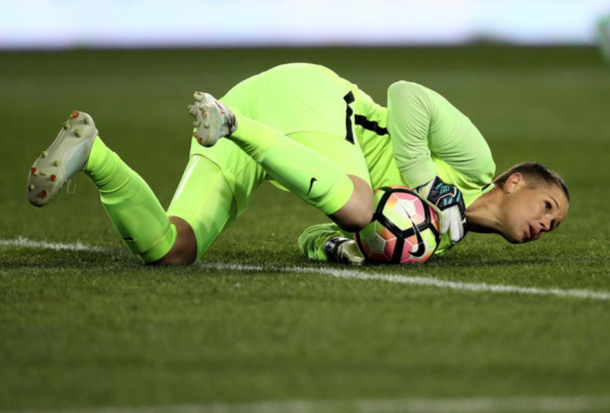 Tuesday, March 7, Alyssa Naeher started against France. In the eighth minute, Naeher earned a yellow and was unable to block the penalty kick. A minute later, Eugénie Le Sommer broke through the US defense and outran Allie Long, creating an opportunity for to score. Naeher ended up making 3 saves in total. However, the game ended with USA 0 and France 3.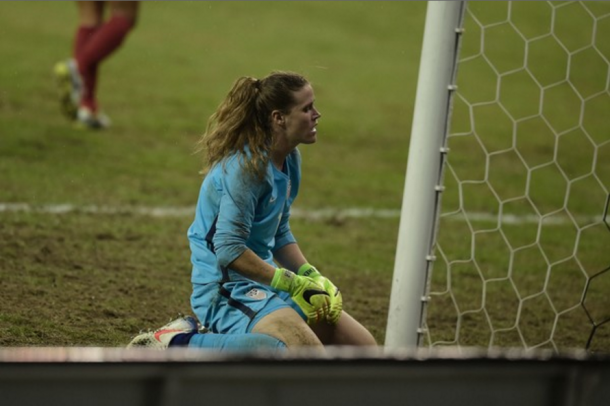 Aftermath
Not only were Alyssa Naeher and Ashlyn Harris examined, but so was the 3-back formation. From the disappointing results of the tournament it shows how much the 3-back is not working for the USWNT. Both Naeher and Harris had their ups and downs, but only more games will show where their futures are on the USWNT. Jill Ellis may soon have Jane Campbell in goal with the rate she is introducing new players.
While goalkeepers are important, so is their defense. So far, the 3-back formation has been less than impressive. While Allie Long is a good midfielder, her performance as a center back has room for improvement. It will be interesting to see how Jill Ellis continues after these back to back losses against England and France.